MARYVILLE, Tenn. — Thousands of eastern Tennessee residents were returning home Friday after they were evacuated when a CSX train car carrying hazardous material derailed and caught fire.
An evacuation order has been lifted for about 5,000 people who live within a mile-and-a-half radius of the crash site, Maryville City Manager Greg McClain said during a Friday news conference. Most of those evacuated received urgent knocks at their doors between midnight and 6 a.m. Thursday by emergency workers who told them they should leave immediately.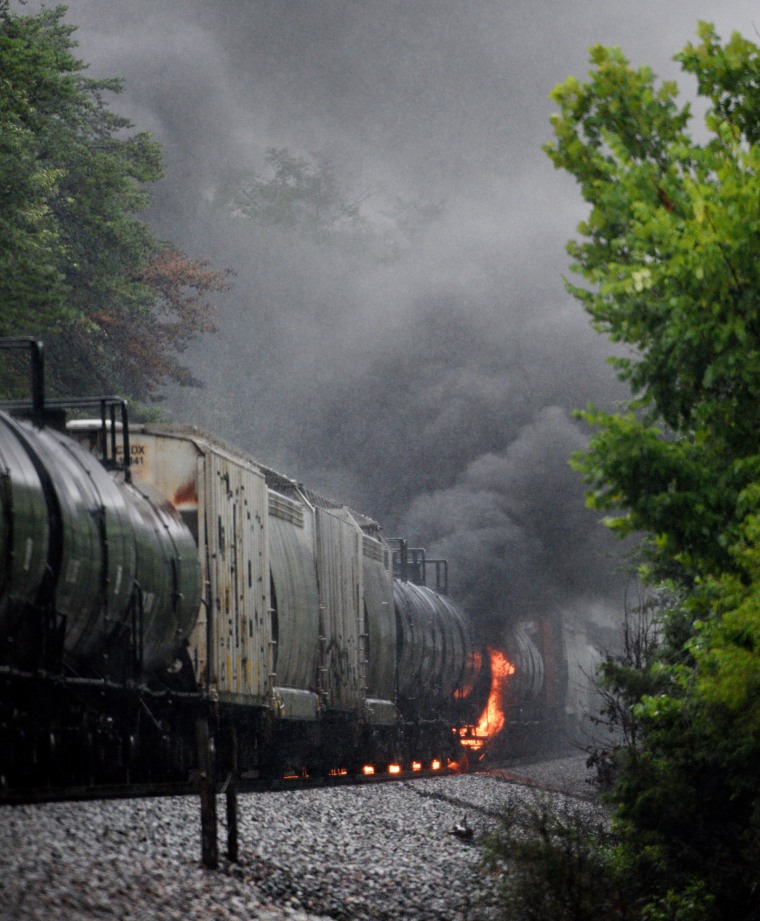 The concern stemmed from the contents of the car that derailed: liquid acrylonitrile, a hazardous material used in multiple industrial processes including making plastics. It's flammable and it's dangerous if inhaled. The EPA says some effects of breathing acrylonitrile include headaches, dizziness, irritability and rapid heartbeat.
Officials said tests to monitor air quality have shown no danger to residents.
"It is safe to go home," McClain said.
Eighty-seven people were treated at Blount Memorial Hospital in Maryville, and 36 were admitted, hospital spokesman Josh West said. None had life-threatening injuries, but they were experiencing respiratory issues, skin irritation and nausea, West said.
CSX has offered to reimburse people for expenses stemming from the sudden evacuation.
Smoke had stopped rising from the site by 6 p.m. Thursday, Blount County Mayor Ed Mitchell said.
Officials asked residents near the derailment site not to drink well water until they are told they can; officials said there was no indication yet whether well water was affected by the accident. CSX was providing bottled water to residents at a local middle school.
Kevin Eichinger, an on-scene coordinator with the EPA, said air, water and soil samples were tested. McClain said air samples have been "very, very favorable," and Eichinger said the hazardous product did not appear to make it into a nearby creek.