The Tennessee police chief whose department was roiled by revelations that at least five male officers had sex with a female officer — both on and off the job — has been fired.
La Vergne Police Chief Burrel "Chip" Davis was let go Monday after a "third-party investigator" concluded that he had been aware of what was going on but failed to discipline any of the officers, the city said in a statement.
"The conclusion also states that Davis impeded the initial investigation into sexual misconduct, 'contrary to City policy and permitted — if not encouraged — conduct potentially contrary to state and federal law,'" the statement said.
Deputy Chief Brent Hatcher has been named interim chief of the 60-person department in the Nashville suburbs while the city searches for a permanent replacement.
"There aren't words to describe the disappointment and frustration felt by myself and other city leaders," La Vergne Mayor Jason Cole said. "Officers are held to a higher standard, even more so is their chief."
Davis' departure came after the former officer at the center of the sex scandal, Maegan Hall, filed an Equal Employment Opportunity Commission complaint with the state alleging that Davis fostered an environment that encouraged this kind of illicit behavior, the NBC affiliate WSMV of Nashville reported.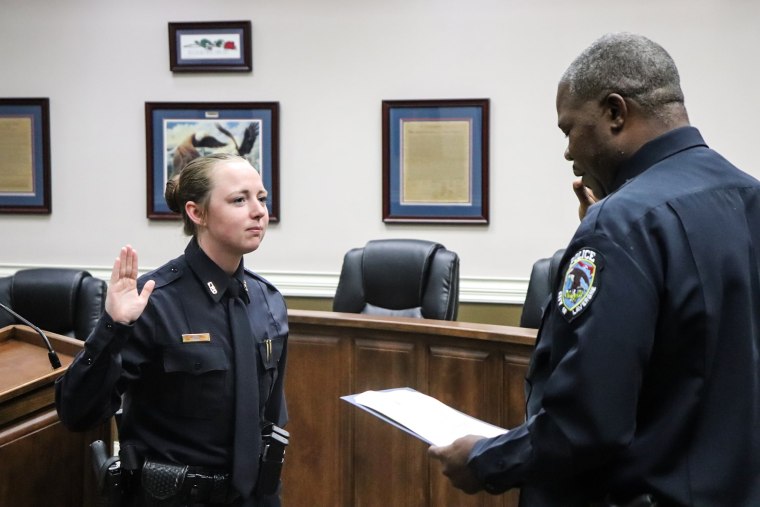 The ex-chief, who is not accused of sexual misconduct, was put on paid administrative leave after the city was notified that Hall had filed an EEOC complaint, according to the affiliate.
"The actions of a few do not represent the department as a whole," Davis declared last month when the story broke. The officers involved were accused of taking part in "Girls Gone Wild"-type parties, having sex in the police station, and sharing cellphone photos of their genitals.
Hall was fired last month along with four male officers: Sgt. Lewis Powell, Sgt. Henry Ty McGowan, Detective Seneca Shields and Officer Juan Lugo-Perez.
Officers Larry Holladay, Patrick Magliocco and Gavin Schoeberl were suspended.
Magliocco and Schoeberl are back from their suspensions, while Holladay has resigned from the force, city spokeswoman Anne Smith said.
In addition to trying to reach Davis for comment, NBC News reached out to all of the officers who were dismissed or suspended but received no response. They were also accused of impeding the investigation by lying about their actions as well as violating departmental rules against having sex while on duty.
The investigation into the department began on Dec. 12 after a police sergeant informed Cole that Hall "was having intimate relationships" with fellow officers, according to a report obtained by WSMV that laid out the allegations in graphic detail.
Under questioning, Powell, Magliocco, Holladay, Shields and Lugo-Perez all admitted having had sex with Hall, the report stated.
Hall also admitted having had sex with those officers and with McGowan, as well. She said she also shared nude images with Holladay, Magliocco, McGowan and Schoeberl.
Shields told city investigators that Hall performed oral sex on him in the police gym after initially claiming, "I have never had sex with Maegan Hall," the report said.
Powell also initially denied having sex with Hall, the report said. He later admitted in the report that he, too, engaged in oral sex with Hall on duty in a police substation.
Magliocco told investigators that in addition to having sex with Hall, she also proposed "doing things" with him and his wife. Holladay also reported that Hall floated the idea of having a threesome with him and his "ex."
In what the report described as contentious interviews with police brass, McGowan admitted he went to Hall's house with another female and exposed his genitals. He was also accused of trying to intimidate a city human resources assistant by grabbing her by the neck.
"McGowan claims it was playful however it was unwanted and an aggressive form of physical contact that is not permitted at work," the report said.