A Tennessee surgeon was fatally shot by a patient in an exam room in an act police described as a "targeted" attack. 
Dr. Benjamin Mauck, who specialized in elbow and hand and wrist surgery, was killed Tuesday afternoon at Campbell Clinic Orthopedics in Collierville, Police Chief Dale Lane said at a news conference Tuesday.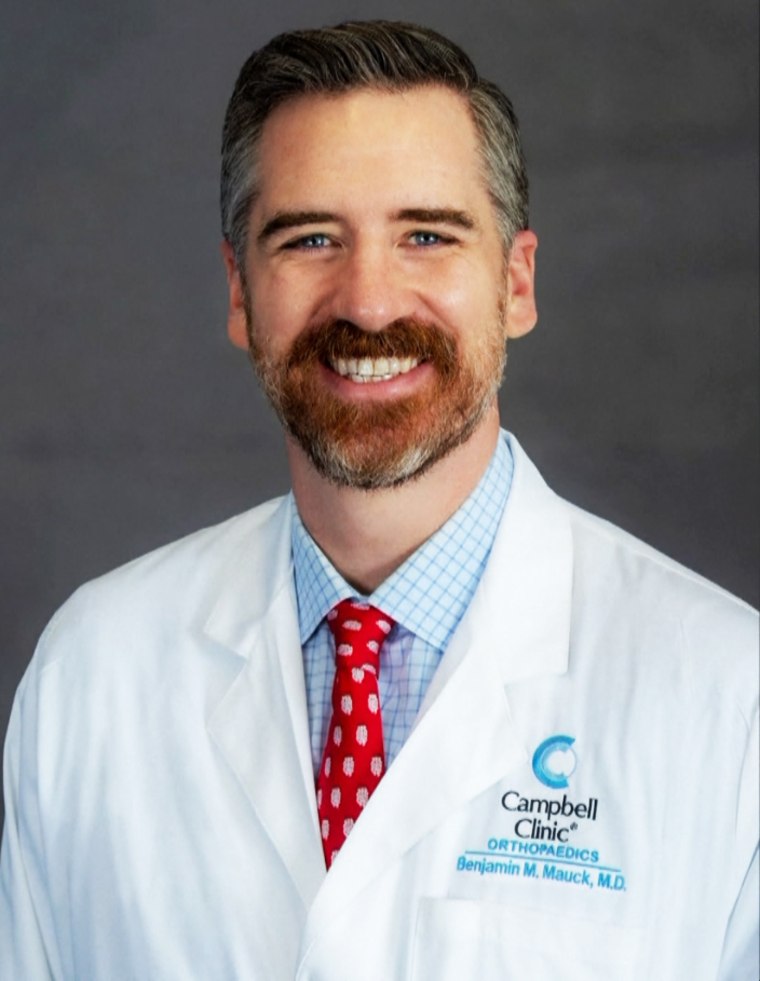 Officers responded to reports of a shooting at the clinic around 2 p.m. local time and within five minutes found the suspect and took him into custody "without incident," Lane said. 
The suspect was identified Wednesday as Larry Pickens, 29, of Memphis. He has been charged with first-degree murder and aggravated assault, police said in an update.
Lane said Tuesday that the suspect was found with a handgun "on his person" but that it wasn't in his hand. 
Police searched the facility multiple times to make sure it was secured. 
"This appears to be a one-on-one interaction. It occurred in an exam room," Lane said. 
He said that the patient had been at the clinic for "several hours" but that it's not clear yet what precipitated the shooting. Police said no one else was wounded. 
Police said Wednesday that they had no previous reports about Pickens and that investigators are checking with other agencies to see whether he has a criminal history. 
Pickens' bond has been set at $1.2 million, and he's scheduled to be arraigned Thursday. The shooting remains under investigation. 
The hospital said in a statement: "We experienced a single shooter event inside our Collierville clinic.
"We are shocked and heartbroken to confirm the incident resulted in the tragic loss of one of our highly respected and beloved physicians, Dr. Ben Mauck. We ask that you please lift his family in prayer," said Irina Ollar, the clinic's director of marketing and public relations.
"We appreciate our local law enforcement officers who responded within minutes. We will continue to work closely with authorities as this remains an active investigation," she added.
All Campbell Clinic locations are closed Wednesday. 
Just last week, Mauck had been named one of the "2023 Top Doctors in Memphis" by Memphis magazine. 
He had worked at the Campbell Clinic since August 2012 and boasted a 4.9 rating in patient reviews. Mauck was also the director of the Congenital Hand Deformities Clinic at Le Bonheur Children's Hospital.
Dr. Trey Eubanks, the interim president and surgeon-in-chief at Le Bonheur, said in an email to staff members Tuesday: "Ben was a friend to so many of us — a respected member of our Le Bonheur family, a beloved colleague and a dedicated physician to so many patients. We already miss him.
"His death is an unthinkable tragedy, and I am at loss at what to say. I am so sorry to those who loved and knew him, for those who worked alongside him every day." 
The shooting came almost two years after the Kroger supermarket shooting in Collierville in 2021, when a third-party vendor shot 15 people, one of them fatally, after he was asked to leave his job.