A mandatory evacuation affecting nearly 200,000 people around Lake Oroville in California was downgraded to an evacuation warning Tuesday — with the caution that the condition of the dam that imperils the area could still change quickly.
Butte County Sheriff Kory Honea said told the tens of thousands who were forced to leave their homes were free to return, but he urged them "to remain vigilant and prepared as conditions can rapidly change."
An evacuation center at the Silver Dollar Fairgrounds will remain open, but all other locations in the county will close, the sheriff's office said.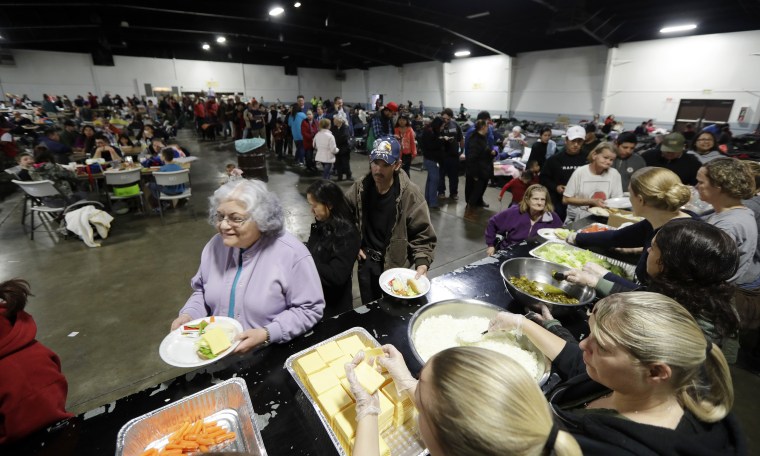 Officials were still racing to shore up the Oroville Dam's emergency spillway before more rains can pummel the area and place the structure under even greater stress.
Engineers were trying to lower the water level in Lake Oroville, which lies behind the United States' tallest dam. The dam itself hasn't been damaged, but because the water levels are so high, the emergency spillway had threatened to flood nearby communities if it failed.
Photos: Crippled Oroville Dam Threatens California Gold Rush Town
After authorities rapidly drained water from the lake at 100,000 cubic feet per second and bolstered the area with boulders and reinforcements, the risk has been greatly reduced, Honea said.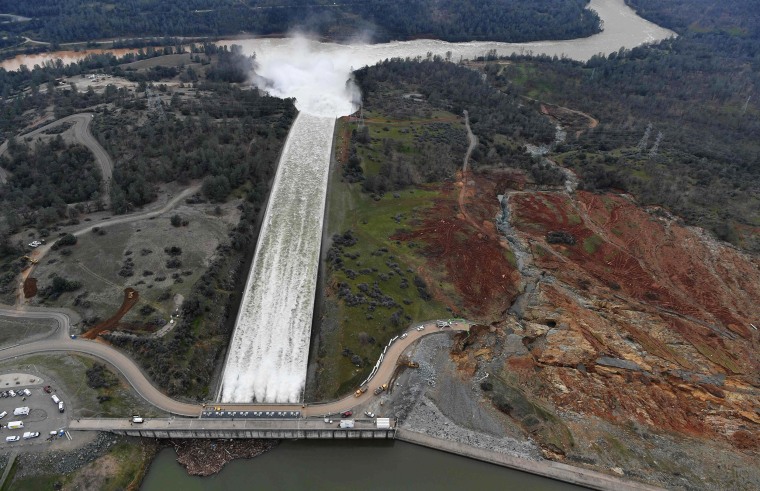 A storm forecast for later this week had threatened to increase the risk of the spillway's failing, but Honea said that with less rain being predicted, the threat wasn't as great as had been thought.
Bill Croyle, acting director of the state Water Resources Department, agreed that the situation had been stabilized and said crews were making "significant gains in removing water from the reservoir, which ... can further reduce the risk to our situation."
Related: Officials Race Against Rains to Prevent California Dam Disaster
In addition to the updated weather forecasts, Honea said the decision to lower the evacuation order was made because of lower lake levels, new inspections and work to shore up the spillway.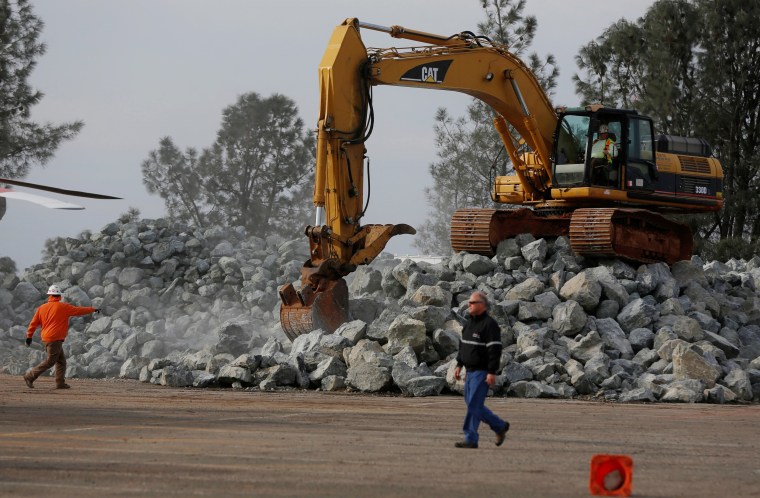 Since the threat of a spillway failure was identified, reinforcing boulders have been placed at the rate of 40 truckloads per hour, and helicopters also moved reinforcements every minute and a half, Croyle said.
Croyle added that design teams were in place to reconstruct parts of the spillway, which was built in the 1960s, and that there would be a seamless transition into rebuilding the infrastructure.
"There's about 125 construction crews on point. So there's a lot of people, a lot of equipment. ... We're not holding back on addressing this issue," he said.