The jury that acquitted an Oklahoma police officer this week in the fatal shooting of an unarmed driver agreed that she was justified in her actions, but still questioned her decision for pulling the trigger.
In a letter made public through the courts Friday and obtained by NBC affiliate KJRH, the jury foreman said that despite what the verdict may suggest, many jurors had reservations about Tulsa police officer Betty Shelby's judgment and ability to perform as an officer. They took particular issue with Shelby's decision to not use a Taser and pull her gun after encountering Terence Crutcher on a roadway last year.
"Because of this perceived option that she may have had, many on the Jury could never get comfortable with the concept of Betty Shelby being blameless for Mr. Crutcher's death," the foreman, who wished to remain anonymous, wrote.
Still, the jury returned a not guilty verdict after nearly nine hours of deliberations Wednesday after Shelby, 43, testified that she feared for her life as Crutcher, 40, failed to listen to commands and moved unpredictably. His death was the latest in a number of high-profile shootings by police of unarmed black men.
"The jury concluded that any officer put in that situation at that exact moment and regardless of the skin color, gender or size of the suspect, would have performed the same way, which is in accordance with their law enforcement training," the foreman wrote.
He also said that the shooting was "unfortunate and tragic, but justifiable due to the actions of the suspect."
Following the emotional trial that left Crutcher's family leaving the courtroom in tears, the Tulsa Police Department announced Friday that Shelby will be returning to work — but not to a patrol position.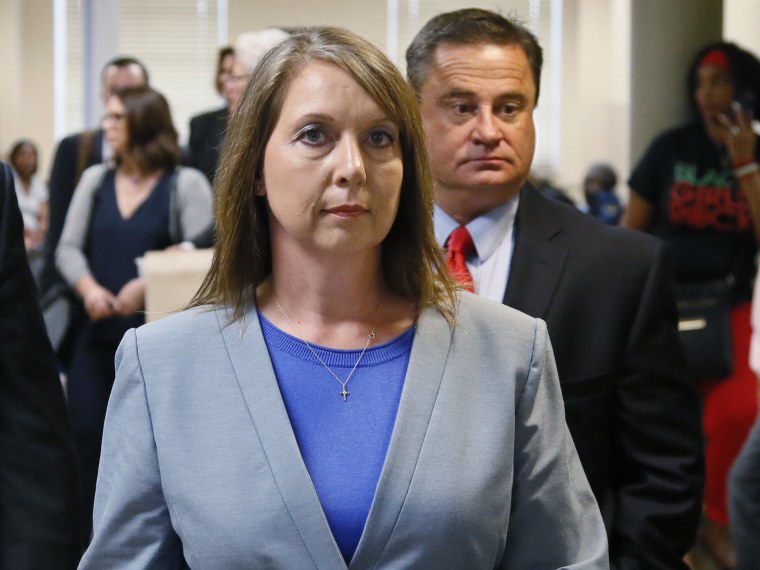 Last September, Shelby shot and killed Crutcher while responding to a report of a stalled vehicle in what appeared to be a routine traffic matter. In footage released from the police cruiser's dashcam, the father of four can be seen walking with his hands up as he moved toward his car — but the video failed to capture the moment he was shot.
A toxicology report revealedthat Crutcher was on two hallucinogenic drugs, including PCP, during the incident. It took at least two minutes after Shelby fired at Crutcher, striking him in the lung, before police attempted aid, according to officers.
Shelby's defense lawyers argued that Crutcher failed to respond to commands and reached into the driver-side window while approaching his car. Believing Crutcher was reaching for a weapon, Shelby told the court that she fired her gun. Another officer at the scene had also fired his Taser.
Prosecuting attorney Kevin Gray told the court that Crutcher was never aggressive toward police or actually produced a gun, and that Shelby was merely "guessing" that he had one.
Related: Tulsa Pastor Following Officer Shelby Acquittal: 'We're Broken'
Jurors concluded that even though she chose to use her service weapon, Shelby acted in accordance to her training as an officer.
"It is possible she acted exactly as her training would dictate," the foreman wrote.
But he ended the letter by questioning whether ultimately, Shelby should have a future in law enforcement.
"If she had any opportunity or flexibility of judgment to subdue the suspect with a less lethal force in the moments before the event culminated tragically," the foreman wrote, "then her ability and judgment as an officer under pressure has to be called into question."
Shelby did not speak to the media after Wednesday's verdict, and her attorney, Shannon McMurray, said Shelby was "elated and very proud of her jury."
It's unclear exactly when Shelby, who was on unpaid leave, will return to the Tulsa police force. NBC News reached out to her attorney for further comment.