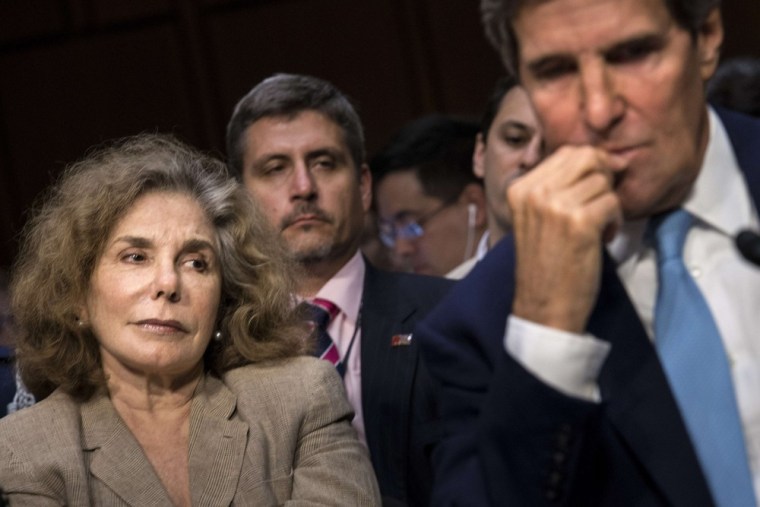 Teresa Heinz Kerry, the wife of Secretary of State John Kerry, made her first public appearance Tuesday since suffering a seizure in July.
She sat in the row behind her husband as he testified Tuesday afternoon at a U.S. Senate hearing on potential military action against Syria.
The secretary of state and the chairman of the Committee on Foreign Relations, Sen. Bob Menendez, D-NJ, both remarked on her appearance.
"I just want to acknowledge the presence — and we're thrilled to see her here today — of Teresa Heinz Kerry" on "this momentous occasion," Menendez said. "I'm glad to see you so well and being here with us."
Secretary Kerry responded, "Mr. Chairman, thank you for welcoming Teresa. This is her first public event since early July, so we're all happy she's here."
Heinz Kerry, 74, suffered a seizure at the family's Nantucket home July 7. She was treated at a Nantucket hospital and the Spaulding Rehabilitation Hospital in Boston before being discharged three weeks later.
Related: Teresa Heinz Kerry released from hospital
In a statement released July 27 by Kerry's spokesman, Glen Johnson, Heinz Kerry praised the treatment she received from hospital physicians and staff.
"It was amazing, a miracle," she said, according to the statement. "They are the kindest people, who love what they do and do it superbly well."
Heinz Kerry, a breast cancer survivor, is the mother of three adult sons from her marriage to the late Pennsylvania Sen. John Heinz, who died in a 1991 plane crash. She is heir to the eponymous ketchup company fortune.
Becky Bratu of NBC News and The Associated Press contributed to this report.