A terminally ill man from Ohio was able to give his daughter away at her wedding Saturday — with the assistance of an all-volunteer hospital caravan.
Lying in a gurney and connected to a portable ventilator and heart monitor, Scott Nagy, 56, who suffers from metastatic urethral cancer, was transported by ambulance from University Hospitals Seidman Cancer Center in Cleveland to First Lutheran Church in Strongsville, nurse practitioner Jacky Uljanic, who helped organize the event, told NBC News.
"The planning had to be pretty strategic," she said. "It took probably about three weeks to get everything together."
Uljanic said two paramedics had volunteered their time as well as their ambulance to take Nagy to the wedding. Other volunteers included a nurse, an additional nurse practitioner and a doctor who followed the ambulance to the church.
"When we walked in with him at the church there were tissues to faces," she said. "The entire congregation started clapping."
Uljanic said Nagy was able to stay for the entire wedding and even had a little extra time after to pose with family and friends in the church parking lot.
Janice Guhl, director of media and public relations with University Hospital Seidman Cancer Center, lauded the staff for their willingness to volunteer.
"The nurses really rallied and were able to take him to the church," she told NBC News.
Alicia Reale, media relations manager with Seidman, said the nurses even had scheduled a barber to visit the hospital to groom Nagy's beard and cut his hair.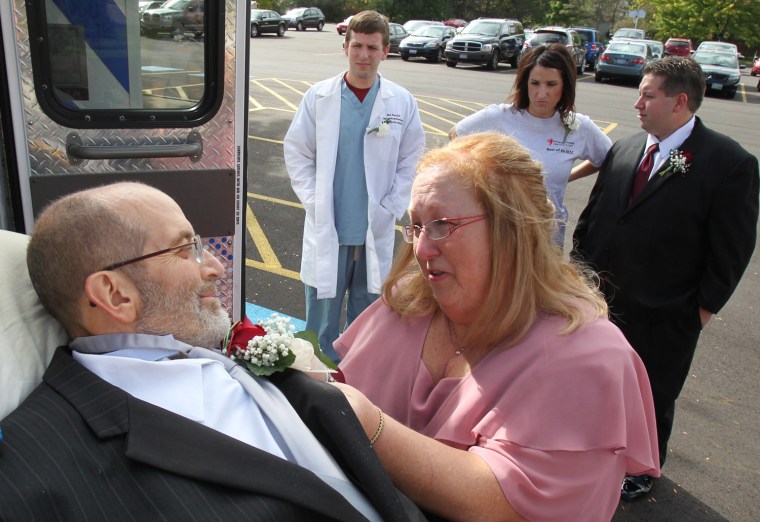 "I think it went so far as they helped to get sheets for his gurney that would match the wedding colors," Reale said.
Nagy, who was first diagnosed with the deadly disease last November, has been at Seidman's intensive care unit since August and has undergone chemotherapy, Uljanic said.
Scott's wife, Jean, told NBC News that she was sharing texts with her husband before he arrived at the church and that she was grateful for the efforts of the volunteer hospital personnel. 
"I was just teary eyed most of the day," she said.
Jean added that the family had rented a big screen and a projector so that her husband could give the ceremonial toast from his hospital room.
She said his toast included well wishes to the newlyweds as well as an encouragement to the wedding revelers.
"He wanted to make sure everyone had enough to drink and enough to eat and dance as much as they could – to have a good time," Jean said.
Uljanic said it was Nagy's goal to survive long enough to attend his daughter's wedding, which was originally scheduled for next year, but moved up in March, according to the Cleveland Plain Dealer. 
"He was very thankful we could make this happen for him," she said.