A 40-year-old Tulsa unarmed man fatally shot by police last month had the hallucinogenic drug PCP in his system at the time of his death, according to results of a toxicology report released Tuesday.
Terence Crutcher died in a Sept. 16 roadside encounter with police, who were called to the scene on reports of a broken down SUV.
Several officers approached Crutcher, and one of them, Betty Shelby, fired at him while his hands were up beside the car, according to police. A second officer shot him with a Taser.
Related: Tulsa Cop Betty Shelby's Past Under Scrutiny After Terence Crutcher Shooting
Crutcher, hit in the chest, was pronounced dead soon after arriving at a nearby hospital.
Videos taken by a police helicopter included pilots telling each other that they believed the "black dude" in the scene was dangerous and "needed to be Tasered" for not following commands.
One of the pilots, according to local news reports, was Shelby's husband. But Shelby did not hear those remarks, police said.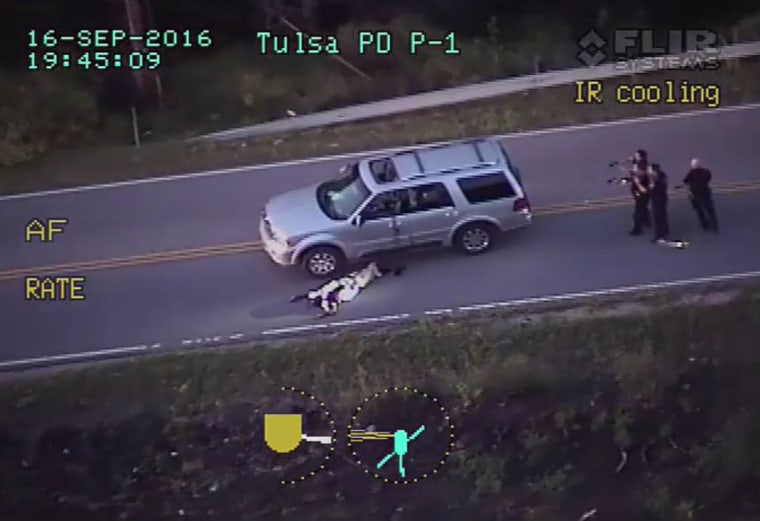 Shelby has been charged with manslaughter. Her lawyer told NBC News last month that Crutcher had ignored her commands and appeared to be under the influence of drugs. Police said they found a vial of PCP in his car.
Related: Terence Crutcher Remembered as a Church-Going Family Man
The toxicology report, released by the Oklahoma Chief Medical Examiner's Office Tuesday afternoon, indicates that PCP, known medically as Phencyclidine, was found in Crutcher's blood. Traces of a similar hallucinogenic drug, Tenocyclidine, were also found.
It is unclear how the toxicology results could impact the case against Shelby, who prosecutors said "reacted unreasonably" and became "emotionally involved to the point that she overreacted."