Authorities have long focused on the threat of online recruiting by terror groups, but now there's increasing concern about a form of Islamic radicalization that takes place where electronic surveillance can't see it — around the dinner table.
Many of the most notorious terror attacks on U.S. soil, including this month's massacre in San Bernardino, were carried out by family units. The 2013 Boston Marathon bombings were a plot by two brothers, and three sets of Saudi brothers took part in 9/11. Two weeks ago, husband-and-wife team Syed Farook and Tashfeen Malik killed 14 people in San Bernardino.
And the problem may be increasing, since the number of arrests of ISIS wannabes with family ties to each other jumped in 2015.
"[I]t is increasingly a challenge for us to see the threat of somebody radicalizing, consuming poison in the privacy of their own home, because they may only show signs of radicalization to a very small group of people," FBI Director James Comey said on Wednesday in a speech in New York.
The big worry is that none of the tools used to track and penetrate terror networks, including electronic surveillance and monitoring communications, can thwart plots hatched between individuals who are in regular physical contact.
"It's a very difficult issue," said one U.S. intelligence official who tracks terrorists, echoing Comey. "Penetrating a family unit is extremely difficult, particularly if they don't communicate outside the family."
Two studies by Fordham's Center on National Security show the role of family radicalization in recent terror plots.
In a study of 50 high-profile terror attacks since 2001, radicalization in at least 10 cases, including Boston and San Bernardino, occurred within families, often involving a mentoring relationship between someone older and someone younger.
"Several terrorism prosecutions in the United States have included fathers and sons, brothers, and even cousins," said Karen Greenberg, director of the Fordham center. "The importance of this is to underscore the way in which the personal and the political often intersect in these cases — and also the importance of the effect of an influential often older person or figure in pushing the radicalization along."
In a study of the criminal cases brought against ISIS "wannabes" since March 2014, 14 of the 70 individuals charged had family ties to other defendants. A husband and wife from Mississippi were stopped at the airport on their way to Syria and indicted for material support to a foreign terrorist organization. The 16-year-old brother and 17-year-old sister of a Chicago man were arrested with him at O'Hare airport as they all prepared to board a plane for Syria.
Greenberg said that personal connections increasingly stand out as motivators in many of the ISIS cases. All 14 of the ISIS defendants with family ties to other defendants were arrested or charged in 2015. And across the Atlantic, four of the nine ISIS-directed attackers who killed 130 people in Paris were related to each other — two brothers and two cousins.
"The trend is definitely up," said Greenberg. "Its significance is now quite pronounced."
The U.S. terror case that best illustrates family radicalization, however, and the way older relatives can influence younger relatives, is probably the Boston Marathon bombing, carried out by the Tsarnaev brothers.
Family members told authorities early on in the investigation that older brother Tamerlan had encouraged younger brother Dzhokhar to embrace radical Islam. The brothers' mother, who returned to Russia before the bombings, also had reportedly become more radical.
"They all loved Tamerlan. He was the eldest one and he, in many ways, was the role model for his sisters and his brother," Elmirza Khozhugov, 26, the ex-husband of Tamerlan's sister, Ailina, told the Associated Press in 2013. "You could always hear his younger brother and sisters say, 'Tamerlan said this,' and 'Tamerlan said that.' Dzhokhar loved him. He would do whatever Tamerlan would say."
In his 2015 trial, Dzhokhar's lawyers attempted to save their client by showing the influence that 27-year-old Tamerlan had over his 20-year-old sibling. The strategy failed. Dzhokhar was convicted on all 30 counts with which he was charged and sentenced to die.
In San Bernardino, husband-and-wife killers Farook and Malik appear to have mutually supported each other's radicalization over several years, with neither yet emerging as a controlling force. On Wednesday, Comey described how their mutual interest in jihad was evident before they married.
""Late in 2013," said Comey, "during their courting phase, they were exchanging direct messages."
"Before there is a physical meeting of these two people and resulting in their engagement and journey to the United States — they are communicating online, showing signs in that communication of their joint commitment to jihad and to martyrdom. Those communications are direct private messages."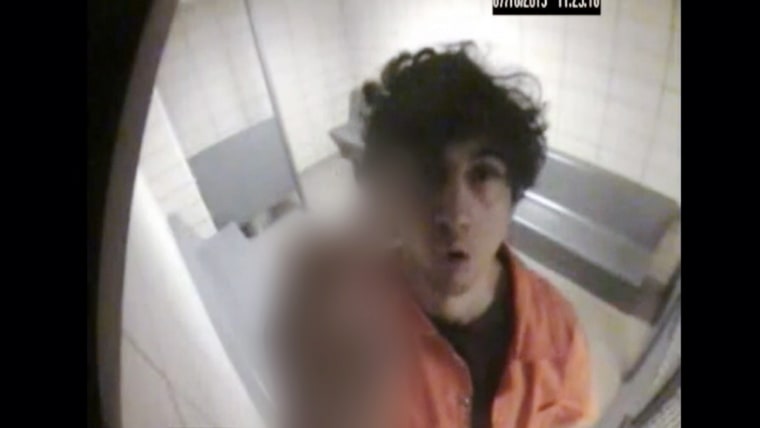 Comey said that how those messages went from shared interest in jihad to a sophisticated attack plan remains uncertain.
"[U]ntangling the motivations of which particular terrorist propaganda motivated them and in what ways remains a challenge in these investigations and our work is ongoing there," he said.
The most famous terrorist to launch an attack on U.S. soil was aware of the risks of the family radicalization. In a four-page will published by a Kuwaiti newspaper shortly after his death in 2011, Osama bin Laden tried to justify his terrorist activities, but warned his kids against emulating him.
Unfortunately, three younger bin Ladens — Khalid, Hamza and Sa'ad — had already entered the family business.
Khalid died with his father in the Navy SEAL raid on their compound in Abbottabad, Pakistan, and Sa'ad was killed in a U.S. drone strike in Pakistan in 2009. The whereabouts of Hamza bin Laden, who was reportedly being groomed to be his father's successor after Sa'ad's death, are unknown.
Robert Windrem is a fellow at the Center on National Security.