The crash of an SUV into the main gate at Travis Air Force Base in California this week is not believed to be terrorism-related, an FBI official said on Friday.
But the motive for the mayhem, which resulted in the driver's death, is still not clear, said Sean Ragan, the FBI's special agent in charge in Sacramento.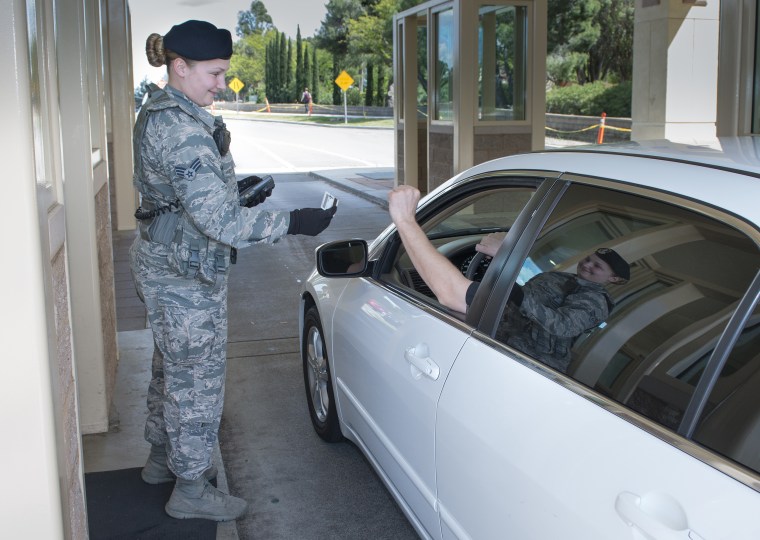 The driver, Hafiz Kazi, 51, was a lawful permanent resident from India who had been living in the U.S. since 1993, Ragan said. He had a gasoline can on his lap that he set ablaze when he roared through the checkpoint. Detectives from the FBI and Air Force Office of Special Investigations initially spelled the driver's first name as Hasiz.
"We know what happened, but now the question is: Why?" Ragan said at a briefing on Friday. "Why was he there? What led him there? And we don't know the answers to that."
Kazi was found dead inside the SUV after first responders doused the flames and a robot was deployed to make sure there was nothing else combustible in what was left of the vehicle. Five propane tanks and three plastic one-gallon gasoline cans were also in the vehicle, the FBI said.
Ragan said Kazi had recently worked as a cabdriver in the San Francisco Bay area. But authorities have yet to determine where he was living.
An initial check of three cellphones found in the vehicle did not turn up any jihadist propaganda, Ragan said.
The base, which is about 30 miles southeast of Sacramento, employs more than 26,000 active-duty, reserve and civilian personnel.
The drama began around 7 p.m. PT (10 p.m. ET) Wednesday when the SUV roared through the gate and crashed, then burst into flames.
Videos posted on a Facebook forum for members of the Air Force show the vehicle ablaze inside the gate with thick gray smoke billowing above it.