Northern California prosecutors on Monday filed attempted murder charges against a motorist who was behind the wheel of a Tesla that went over a cliff, nearly killing himself, his wife and two children.
Dharmesh Patel, 41, was charged with three counts of attempted murder, according to court documents filed by San Mateo County Deputy District Attorney Dominique Davis.
Two of those charges include special allegations of domestic violence and intent to cause great bodily injury.
He's accused of driving off Devil's Slide, a roughly 250-foot cliff 20 miles south of San Francisco, in an attempt to kill his wife, 41, and their two children, 4 and 7.
Patel's wife has yet to be interviewed by authorities but San Mateo County District Attorney Steve Wagstaffe said she told rescuers on the scene that the crash was no accident.
"A couple of paramedics rappelled down the side of the cliff and as they were helping her out, she said in a very loud voice, to the effect, 'He tried to kill us, he intentionally tried to kill us,' " Wagstaffe told NBC News on Tuesday.
That kind of hearsay could be allowed at a preliminary hearing against Patel, under California law, but would face a stiffer challenge to be admitted at trial.
"We hope that, when her health improves, she would be able to give us a statement," Wagstaffe said.
Patel made a brief appearance before a San Mateo County judge Monday afternoon and was ordered held without bail.
Patel and his family survived the horrific plunge — something one expert has described as "kind of a miracle, considering the impact severity."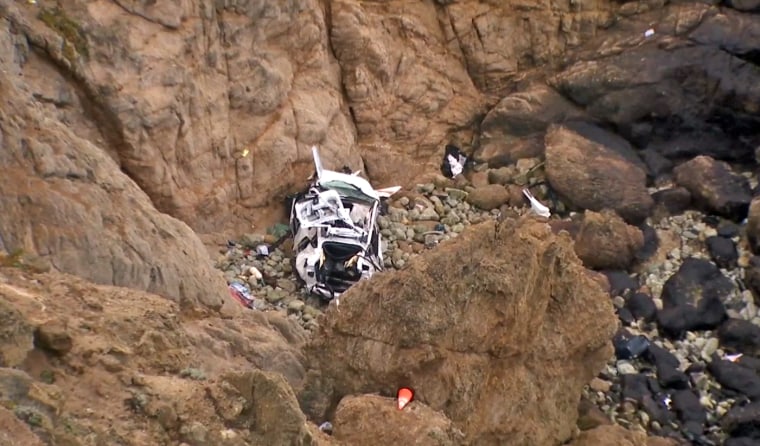 The crash initially raised some questions about Tesla's self-driving mode and if mechanical failure played any role.
But California Highway Patrol investigators quickly found that wasn't an issue and shifted the probe's focus to Patel, a doctor from Pasadena.
The suspect remained hospitalized until late last week, when he was moved to jail ahead of the filing of charges on Monday, officials said.
Authorities have not publicly disclosed what the suspect's motive could have been.
Patel's attorney Josh Bentley declined to speak to reporters as he left court on Monday and he couldn't be immediately reached for comment on Tuesday.
No one on Monday answered a cellphone number that's listed for Patel.