SAN ANTONIO — Outside the Alamo Women's Reproductive Services clinic Thursday, Teresa Cathcart joined a small group of anti-abortion rights activists, just as she does twice a week, every week. But this time, it was different: She had the backing of Texas' new highly restrictive anti-abortion law as she urged patients to reconsider entering the clinic.
In the 2½ years that she has been driving nearly an hour from Spring Branch to the San Antonio clinic, she has tried to change the minds of women who are up to 11 or 12 weeks pregnant and seeking abortions.
"I felt like women were being reckless and irresponsible with these late-term abortions," Cathcart said, using a term that is typically used to describe abortions that occur late in the second trimester.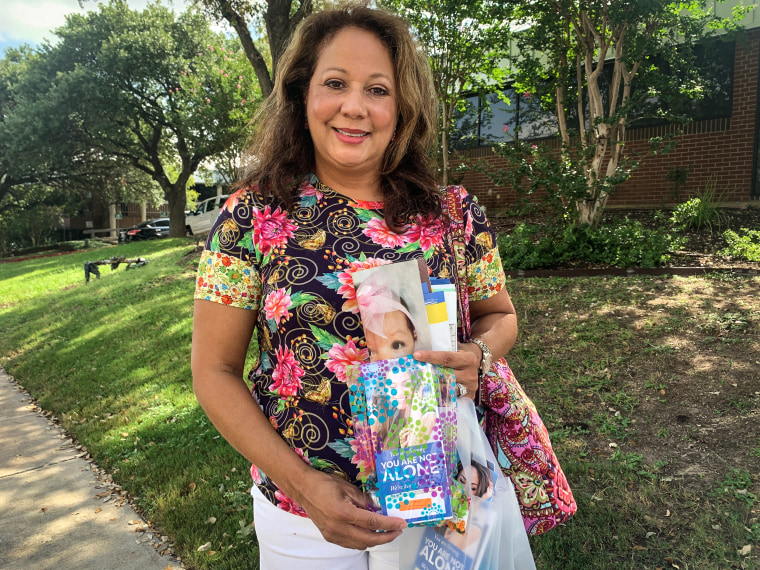 Texas' new law, known as Senate Bill 8, went into effect at midnight Wednesday after a divided Supreme Court declined to block it. It bans abortions once fetal cardiac activity can be detected, which is as early as six weeks into a pregnancy — before many women are even aware that they are pregnant.
The law came as a relief to Cathcart, who became pregnant with her son in college. Her pregnancy wasn't planned; he grew up to earn a doctorate in pharmacy — a shining example, she said, of why abortion clinics such as Alamo Women's should be shut down.
Outside the clinic with Cathcart was Catherine Nix, the executive director of the San Antonio Coalition for Life, an anti-abortion rights group founded in 2007. Nix said S.B. 8 was "a wonderful turn of the law."
"For us, it is what we have always prayed for. But abortion is still legal, and we will be out on the sidewalk until abortion is not," she said.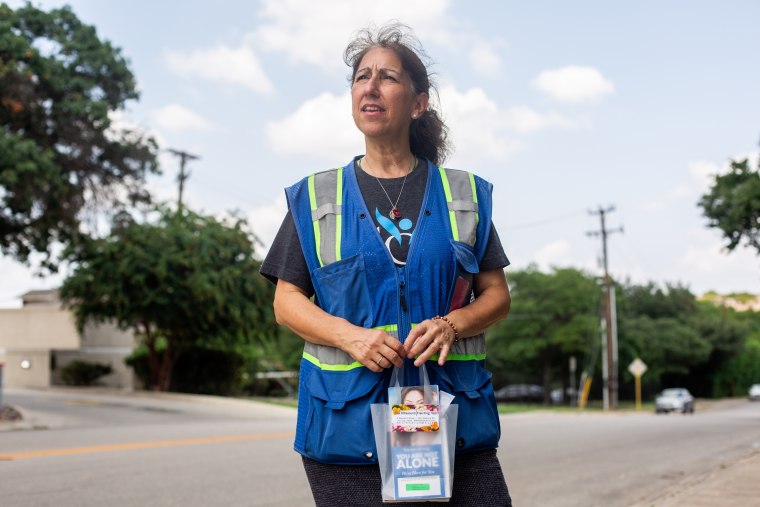 What makes S.B. 8 different from other states' anti-abortion laws is how it is enforced: The state government doesn't ensure that the law is followed. Instead, private citizens, including those outside Texas, can sue abortion providers or people who help women get abortions after the six-week mark, and they can receive $10,000 plus the cost of their legal fees if they win.
That means anyone who drives a pregnant woman to get an abortion could be the target of such a lawsuit, as could an organization that helps a woman pay for an abortion.
The Center for Reproductive Rights was one of a coalition of pro-abortion rights groups that had filed an emergency request with the Supreme Court to block the Texas law, which it has called a "bounty-hunting scheme."
John Seago, the legislative director of Texas Right to Life, the state's largest anti-abortion rights organization, said that was "overblown rhetoric" Thursday.
"That is a long-lasting enforcement mechanism that is used in public policy when you have a compelling state interest that you want to protect but you know that the government is not in the best position to enforce it," he said, comparing it to Medicaid fraud.
"We think it's an important public interest that physicians follow the law and don't fraud our Medicaid system, so we give them the ability to do that," he said. "It's the same thing with the Texas Heartbeat Act."
The highly restrictive law makes abortions nearly impossible to obtain in Texas. The average one-way driving distance for pregnant women will go from 12 miles to 248 miles, according to the Guttmacher Institute, a nonprofit organization that researches reproductive rights.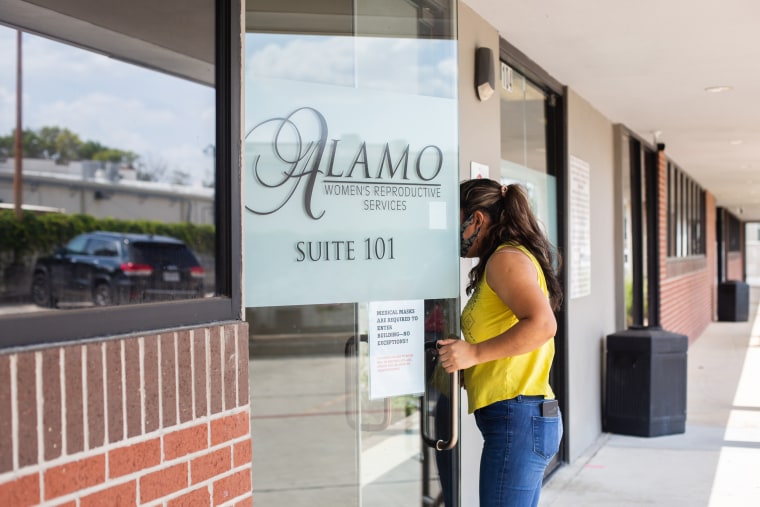 Dr. Alan Braid, owner of Alamo Women's, said Thursday that he feared for the future of patients across Texas.
Braid had worked for a gynecological practice as an intern in 1972, before the Supreme Court's decision in Roe v. Wade upheld a woman's right to an abortion. Three teenage patients died from sepsis after they got abortions that were not medically safe outside the practice, he recalled.
"I am deathly afraid we are going to see abortion deaths in Texas," he said.
Tina, 36, who asked to be identified by her first name only to protect her privacy, was at Alamo Women's on Thursday awaiting an ultrasound test to determine how far along she was in her pregnancy. She learned about Texas' new law from a friend last week. Tina, a mother of two teenagers, a 4-year-old and a 9-month-old, said she didn't want another child.
"I don't think it's right. I already have four children," she said. "I'm going to have to travel out of state."
S.B. 8 is the latest way that Texas has whittled away at abortion clinics' ability to practice over the years. Past data have shown that access to abortions has been curtailed for Latinas far more than for any other group by the restrictions that have been implemented.
The consequences of the laws are far-reaching. In 2015, a study from the University of Texas at Austin's Texas Policy Evaluation Project found that at least 100,000 women had tried to self-induce ending pregnancies without medical assistance and that such attempts may be more common in Texas compared to other states.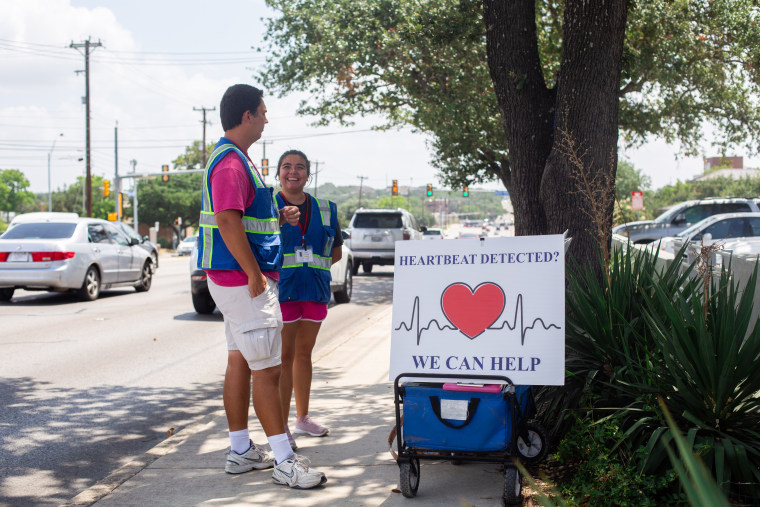 Those opposed to abortion rights see the passage of S.B. 8 as an opportunity to help girls and women in crisis in different ways. Outside the Alamo Women's clinic, Nix, of the San Antonio Coalition for Life, said her group realized it would need to redouble its efforts to be a "fall net."
"We are going to see more girls coming out who thought they could have an abortion, and they can't," she said, adding that her organization refers such cases to pregnancy assistance centers that offer mentoring, maternity clothes, diapers and car seats. "They are going to be more needy, more confused."
Braid responded that they would need more than what the assistance centers could offer.
"Once your uterus is empty in Texas, nobody takes care of that child except you," he said. "But if it's in your uterus, they are all over it."
Suzanne Gamboa reported from San Antonio. Elizabeth Chuck reported from New York.