An Army sergeant who was convicted of murder this month in the fatal shooting of a protester in 2020 in Austin — and who Texas Gov. Greg Abbott said he wants to pardon — posted on social media and sent messages about killing demonstrators and shared racist memes before the shooting, new court documents revealed.
Daniel Perry, 35, was found guilty by a Travis County jury on April 7 in the death of Garrett Foster, 28, on July 25, 2020, during protests in downtown Austin decrying police brutality and racism.
Though Perry had claimed he opened fire in self-defense, a newly unsealed filing reveals that Perry appeared to be increasingly disgruntled with the protests and looting that unfolded across the nation in the wake of the May 2020 police killing of George Floyd, and was also critical of the Black Lives Matter movement and talked about killing and shooting people.
White power memes and messages about killing people
A 76-page filing, dated March 27, was unsealed Thursday and revealed Perry's social media footprint and private messages.
Perry had searched on his phone for information on protests going on in Texas and Seattle several times. Some searches included key words "protests tonight," "protestors in Seattle gets shot" and "riot shoot outs," the filing said.
A review of information extracted from his cellphone also revealed several racist memes: One was a white box with the text "It's okay to be white" and another used the N-word.
Another meme found on his phone sent on May 29, 2020, had the text "my employer" with a photo of a building with a sign on it that said, "White power, White county power & light co," the filing said.
He had also sent several messages about guns and killing others.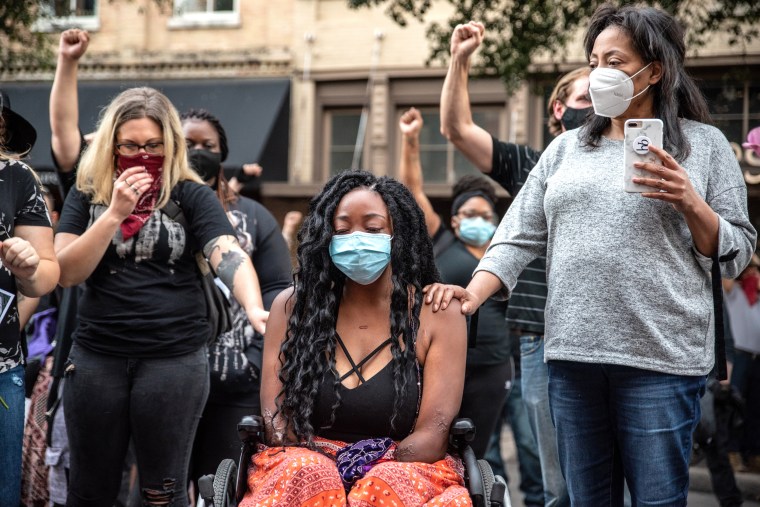 He also shared a meme on his Facebook page on March 17, 2020, that showed a girl sitting in her dad's lap with a book. The girl in the meme was depicted saying: "Daddy, why do you play video games? and the dad said, "Because slaughtering people in real life has so many complications."
After George Floyd's death and amid the background of heightened national tension and protests, Perry posted and spoke more frequently denouncing protesters and expressing a desire to attack looters, and complained multiple times that looters had "destroyed" his barber shop.
Perry messaged a person on May 29, 2020, saying: "I might go to Dallas to shoot looters."
On May 30, he posted on Facebook: "it is getting bad black people are even attacking cops right outside the base gates." And commented, "This is Texas I wonder why no looters have been shot yet."
On May 31, 2020, he told a person on Facebook messenger: "I might have to kill a few people on my way to work they are rioting outside my apartment complex."
Perry told that person, "no protesters go near me or my car" and the friend replied, "can you catch me a negro daddy" and he replied "that is what I am hoping," the filing said.  
On June 1, 2020, Perry shared a Facebook status that said: "It is official I am a racist because I do not agree with people acting like animals at the zoo. I was on the side of the protestors until they started with the looting and the violence."
On multiple occasions in 2020 he compared the Black Lives Matter movement to "zoo full of monkeys flinging their s---."
And on June 1, 2020, he shared on Facebook a YouTube link with the title: "Protestors looters get shot San Antonio Texas." Perry posted this with the text "Glad someone finally did something."
NBC News has reached out to Perry's attorney for comment on the unsealed filing.
The fatal shooting
On July 25, 2020, Perry was driving in downtown Austin when he came to a stop after encountering protesters. Foster was legally carrying a semi-automatic rifle when he approached the intersection where protesters had gathered, police said, and was fatally shot by Perry, who stayed in the vehicle and used a handgun. At the time, Perry was based at Fort Hood, about 70 miles north of Austin.
Foster, an Air Force veteran, was pronounced dead at a hospital.
Perry claimed to police that Foster had pointed the weapon at him and Perry shot in self-defense, officials said.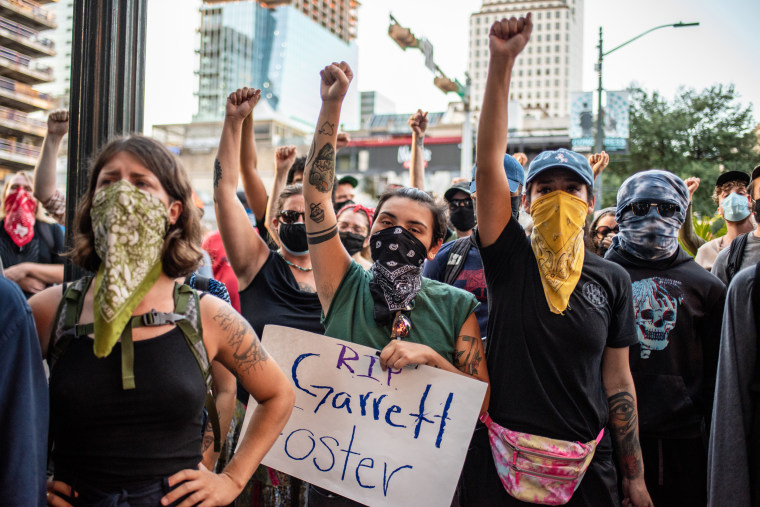 Prosecutors argued that Perry deliberately drove into the crowd of peaceful protesters and provoked the confrontation with Foster, The Houston Chronicle reported.
Where the case stands now
Abbott appeared to disagree with Perry's conviction, tweeting on April 8: "I am working as swiftly as Texas law allows regarding the pardon of Sgt. Perry."
He cited the state's "stand your ground" law, which allows Texans to open fire when people or property are threatened with serious violence, kidnapping or robbery. The law considers homes and vehicles primary spaces for such a defense.
Abbott has made an expedited request to the Board of Pardons and Paroles to determine whether Perry should be granted a pardon. Under the state Constitution, the governor can only issue a pardon based on the recommendation of the board.
A spokesperson for Abbott responded to a request for comment Friday, saying: "All pertinent information is for the Board of Pardons and Paroles to consider, as this is part of the review process required by the Texas Constitution."
Travis County District Attorney José Garza called the governor's intervention "deeply troubling."
Garza said Abbott "has undermined the rule of the law in the state of Texas" in "refusing to accept the lawful verdict."
Garza on Tuesday requested an appointment with the Board to present evidence in the case before they make their final recommendation. 
Perry's attorney also filed a motion on Tuesday asking for a new trial.