The pilot of the hot-air balloon that crashed in Texas, killing 16 people, had a record that includes arrests for driving while intoxicated and drugs — but his ex-girlfriend said he had been sober for years and would never put his passengers in danger.
"He wouldn't have taken anybody into an unsafe environment," Wendy Bartch said of Alfred "Skip" Nichols.
Nichols, who was certified to fly balloons, was killed in Saturday's accident. The cause is under investigation by the National Transportation Safety Board, which has not determined if pilot error was involved.
Public records show that Nichols served nearly two years in a Missouri prison after a 1999 marijuana arrest. He was still on parole when he was busted for felony DWI in 2007 and went back to jail for 21 months. He also pleaded guilty to DWI misdemeanors in 2000 and 2002.
According to one court record from 2010, his license to drive was suspended until 2020, though it's not clear that if that was still in effect at the time of the crash.
The Federal Aviation Administration said in a statement that all pilots are required to report DWI offenses within 60 days, which can lead to license suspension or revocation.
The FAA said Monday that it had no record of any action against Nichols' pilot license or against his company, Heart of Texas Hot Air Balloon Rides, but cautioned that some records are expunged after two years.
However, Nichols' court file includes a 2013 letter from the FAA saying it was investigating his latest DWI and asking for copies of paperwork in the case.
The FAA came under attack from the NTSB on Monday evening, with the lead investigator saying it's "unacceptable" that federal regulations don't require a medical certificate for balloon operators like they do for airline pilots.
Since Nichols was reportedly in recovery, it's unclear if his past substance abuse issues would have made him ineligible to fly now.
Bartch told NBC News that she had known Nichols since 1989 and worked for him on a regular basis starting in 2012. He stopped drinking several years ago, she said.
"Skip had changed his life," she said. "He was 100 percent sober and I know it to be a fact. He did everything to promote his sobriety. His life was different."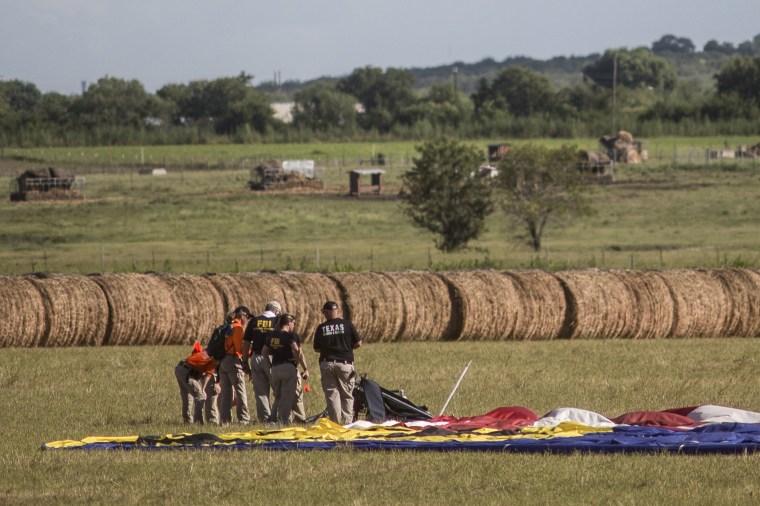 Bartch, who worked as a ground crew member for Nichols, also said that he was a stickler for safety.
"We're not just talking about Skip, we're talking about 15 other people," she said of the accident, crying as she spoke.
"If there was any measure of anything, any visibility issues, any cloud cover, any precipitation, he would not have gone up. He wouldn't have."
The two balloon ride companies that Nichols ran, Heart of Texas and a company in Missouri, were the subject of 10 complaints with the Better Business Bureau, but most were related to refunds over canceled rides.
In some rebuttals to the complaints, the company said cancellations were due to unsafe weather conditions.
"Safety is always our top priority, and will never be compromised," the company wrote in one response.
Nichols' Missouri company was the subject of a 2012 civil suit that alleged he operated a balloon in a "negligent and careless manner," causing a 2009 crash. The suit — which claimed he did not take a test flight of the balloon after an annual certification and failed to monitor the fuel level during the flight — was settled in 2013.
The National Transportation Safety Board has said that the balloon in this weekend's tragedy likely hit power lines before it plunged to the ground in Lockhart, Texas, eight miles into its flight.
It was cloudy at the time of takeoff but it's not clear if weather played a role.
Heart of Texas has suspended operations. In a statement posted to its Facebook page over the weekend, the company said "no information has been shared with us by the investigating authorities.'
"There are simply no words to express our profound sadness at this event that has taken away so many of our loved ones." the statement said.