The heart of Texas was a soggy mess Tuesday as the midsection of the country braced for another round of heavy rain and potential tornadoes after a deadly string of storms.
Some three to five inches of rain was expected to drench Texas from Waco south to San Antonio as a storm system crawls slowly eastward, according to The Weather Channel.
And this fresh deluge comes a day after torrential rains washed out bridges, toppled trees and swamped houses across the Lone Star State.
The Brazos River, which meanders through the heart of Texas, could crest at 53.5 feet by midday Tuesday in Fort Bend County, southwest of Houston — three feet above the previous record and topping a 1994 flood that caused extensive damage, the National Weather Service warned.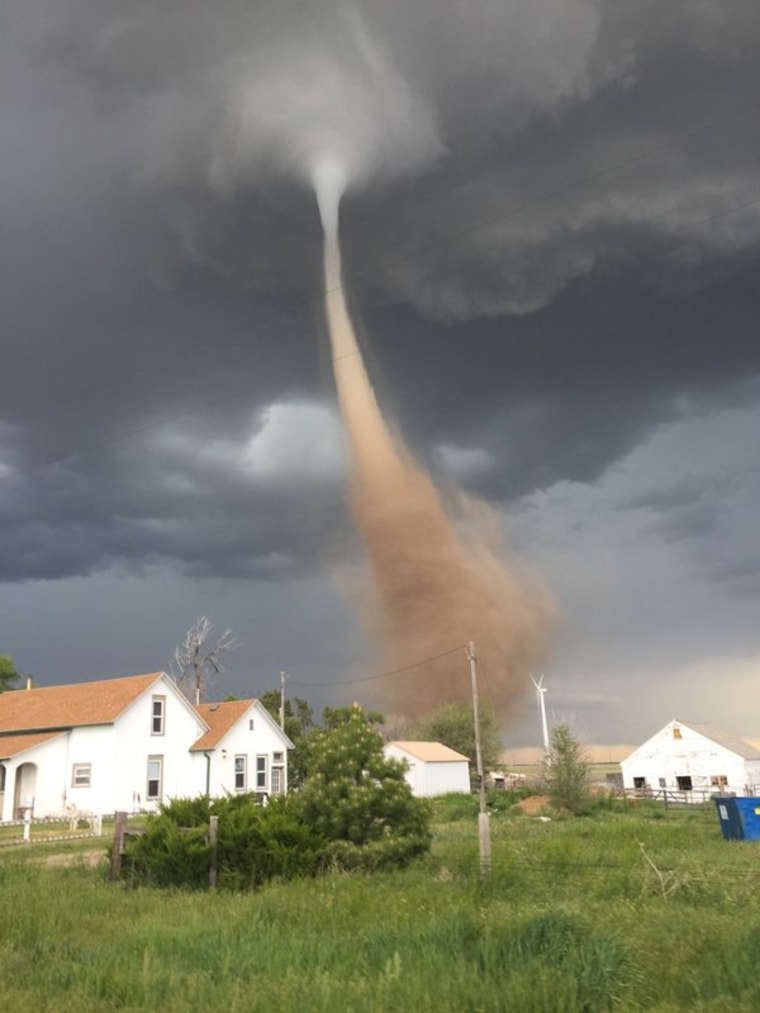 Texas is not the only state facing more stormy weather.
High winds and hail were likely across the Upper Mississippi River Valley down into parts of Missouri while up to three inches of rain could fall in parts of Oklahoma, west Texas and New Mexico, Weather Channel forecasters said.
"We've had a persistent upper level trough over the western U.S. and Texas has been really under the influence of that low pressure," said Weather Channel lead meteorologist Roy Lucksinger. "There has just been a great deal of tropical moisture across a lot of the Plains, and Texas in particular."
And that means more rain.
"The southern Plains and Texas are going to remain under the risk of more heavy rain right on through the balance of the week," Lucksinger said.
Related: Live from a Tornado: How Storm-Chasing Tech Has Evolved
The severe weather has claimed at least nine victims in Texas since Friday — the latest fatality was discovered on Monday night in Austin.
The severe weather has claimed at least nine victims in Texas since Friday. The latest, a 10-year-old boy who had fallen into the swollen Brazos River in Parker County, was discovered Tuesday after a four-day search.
The boy's body was found in Granbury, about 20 miles from where he fell into the river while fishing with friends Saturday, Parker County Battalion Chief Donald Schauer said. The boy's family asked that his name not be released.
Texas has already had a wet and stormy spring. As of early Monday, San Angelo has set a new record for the wettest March-May with 14.62 inches and Abilene has experienced their second wettest March-May on record with 16.80 inches.
Monday's bad weather watch stretched from southwest Texas to North Dakota. Video from Peetz, Colorado and nearby Sidney, Nebraska, showed massive funnel clouds churning across a dirt road and fields. No injuries were reported, but a barn in Colorado was destroyed, and a home had its door blown off, the Logan County Sheriff's Office said.
Meanwhile, golf-ball-sized hail was reported in Pennington County, South Dakota, according to The Weather Channel's chief meteorologist, Greg Forbes. Smaller hail was seen in Nebraska, Minnesota and Iowa.