A new Texas law allowing people to carry guns on state college campuses is already putting a big chill on fiery academic debate.
The law does not go into effect until Aug. 1, but professors at the University of Houston have started preparing guidelines for dealing with gun-toting students that include warning faculty to steer clear of "sensitive topics" and dropping hot button issues from their curricula, according to a UH Faculty Senate.
The proposed guidelines also advise faculty to not "'go there' if you sense anger" and "limit student access off hours."
"Only meet 'that student' in controlled circumstances," the guidelines state.
"It's not official policy," Faculty Senate President Jonathan Snow told NBC News on Wednesday. "The faculty is waking up now and saying, 'Oh my. Come August I will be teaching classes with students who could be carrying guns."
UH is expected to release it's own "draft policy" on guns in classrooms next week, a university spokeswoman said.
"The University of Houston takes issues surrounding campus safety and guns on campus very seriously and will strive to create policies that comply with the new Campus Carry law, protect the rights of citizens, and address the safety and security of the entire campus," a UH statement reads.
The Texas campus carry law signed by Republican Gov. Greg Abbott allows licensed gun owners 21 and older to carry their weapons on university grounds if they're fully concealed. It was bitterly opposed by most academics across the state and sparked student protests.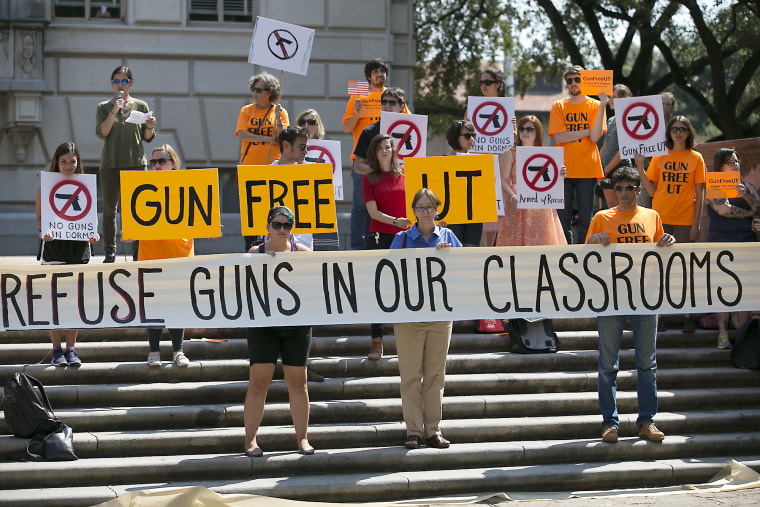 "Weapons designed to end human life have no place in the academic life of the University, except when carried by duly authorized law officers," the UH faculty senate wrote in a resolution last year. "The diverse campus communities and free academic discourse are especially threatened by the presence of deadly weapons in teaching, research and living spaces."
Under the law, private universities can opt out and well-known schools like Rice and Baylor have done just that. But not the state schools.
Last week, the president of the University of Texas' main campus in Austin announced they will abide by the law and allow handguns in classrooms even though he opposes the idea.
"Let me say that I do not believe handguns belong in a university setting, in a campus environment dedicated to education and research, but nevertheless as president of a public university, I am responsible for implementing" the new law, Gregory Fenves said.
Texas only the eighth state to allow licensed citizens to carry concealed weapons on state college campuses, according to the National Conference of State Legislatures. The others are Colorado, Idaho, Kansas, Mississippi, Oregon, Utah and Wisconsin.