When more than 1,000 masked parishioners attended six reopening services at St. Anthony of Padua Catholic Church in the Houston area last weekend, they arrived with tickets reserved in advance, lining up outside with their confirmation codes ready about half an hour before each Mass. For the services held Saturday and Sunday, parishioners were seated one by one, according to social distancing guidelines, with every other pew blocked off.
For those who showed up without a reservation, there was a standby line, just like at an airport.
That's likely what parishioners can expect this weekend, too, as Texas continues to allow churches to reopen at 25 percent capacity with certain social distancing restrictions.
"We told our parishioners, 'We want you for the time to treat this like boarding and deboarding an airplane,'" said Stephen Lenahan, director of development and communications at the church.
With churches allowed to partially reopen in Texas as of May 1, the coronavirus pandemic has meant a new reality for many. Some houses of worship chose to open right away under Texas' plan, but others decided to wait and continue to provide services online in the interest of safety.
Governors in a number of states have included houses of worship in their reopening plans. Although, according to Pew Research Center, as of the end of April, only 10 states had outright banned in-person services altogether.
Church leaders at St. Anthony of Padua, for instance, are now looking to the airline industry for safety practices.
The church even created an instructional video for attendees, "just like an airline would," Lenahan said. "We sent that out to our parishioners, and it was really helpful for them to understand how it was going to work."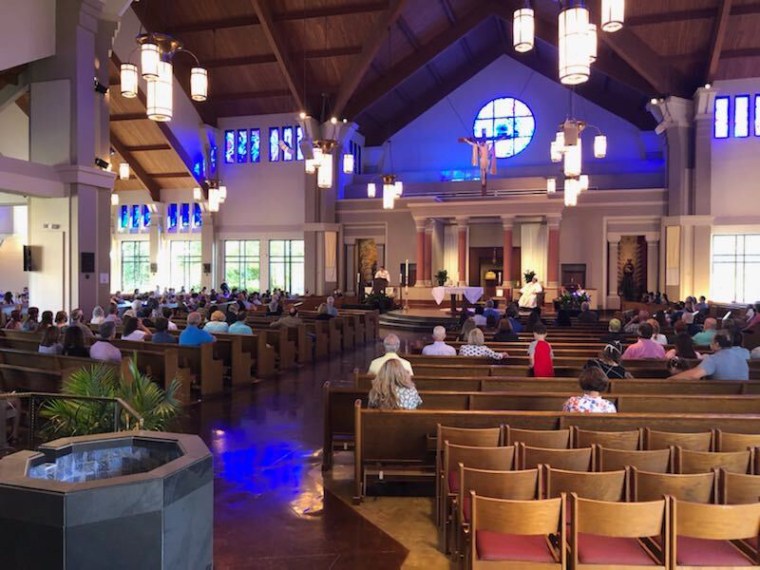 Other Texas church leaders described feeling hope again even as the partial reopenings dramatically transformed what in-person services look like for worshippers.
At St. Anthony of Padua, Lenahan said the "biggest challenge was figuring out, if we're going to reopen, how do we disinfect our church in between each Mass?" The church worked with a local company that has government-approved cleaning supplies to disinfect all pews between every service.
He said parishioners also had to adjust to changing ingrained church rituals, such as not shaking hands during exchanging the sign of peace and communion being placed in hands instead of mouths.
Still, parishioners were excited and emotional at being able to come back to worship after weeks of having to close down the church to in-person Mass, Lenahan said.
"There were a lot of tears shed," he added. "You're talking a lot of people, especially for Catholics, that have never missed a weekend of Mass."
Lenahan said the church is made up of more than 7,500 families, and, on a busy weekend, between 9,000 and 10,000 people would attend the six weekend services. Such a large parish meant varying comfort levels and "different beliefs on where this is all at" in regard to the coronavirus and reopening, he said.
Parishioners have been told to wear masks to services for now, and those who do not want to comply have been told to continue watching the Mass livestreams for the time being, he said.
"You're trying to make everyone feel safe and comfortable and that's almost impossible," he said.
St. Anthony of Padua is part of the Archdiocese of Galveston-Houston, which announced late last month it was giving its parishes the right to decide to resume in-person Mass in phases under the state's guidelines.
At St. Martha Catholic Church in Porter, the Rev. T.J. Dolce said reopening last weekend was "like a family reunion."
"I was feeling a lot of pain for my people that have wanted to come to Mass," he said.
Being able to open their doors, he said, made parishioners "feel like there's hope again."
"People get so emotional when you give them communion for the first time in seven weeks," he said.
Dolce said the church was following all of the state's and archdiocese's guidelines, enacted social distancing and sanitizing measures and took out all of its hymnals and put its lyrics on a screen to avoid spreading the coronavirus.
The church would usually get between 1,200 and 1,400 people at its two busiest Sunday services before the pandemic, he said. This past Sunday, 200 and 230 people came to the services.
Dolce said they also streamed their services on their plaza, and he hoped more people would continue to come. If they hit their 25 percent capacity, they would encourage people to remain outside and watch the stream.
"We'll tell people, 'Bring your lawn chair. Bring your umbrella. We've got it on TV out in the plaza. We'll bring you communion,'" he said.
Meanwhile, Second Baptist Church, a megachurch with tens of thousands of members, announced on its website it would be reopening each of its six Texas locations on May 9 and 10.
The church declined to comment on its reopening and directed toward its website. H. Edwin Young, the senior pastor, told members in a message there, "I want to reassure you that we are taking every recommended precaution and following every guideline to ensure an environment in which you are comfortable."
"From masks to hand sanitizer to social distancing, we are implementing best practices on every campus!" he wrote.
"If you or someone you love is in a high-risk category, I encourage you to stay home and continue to worship online with us," Young wrote.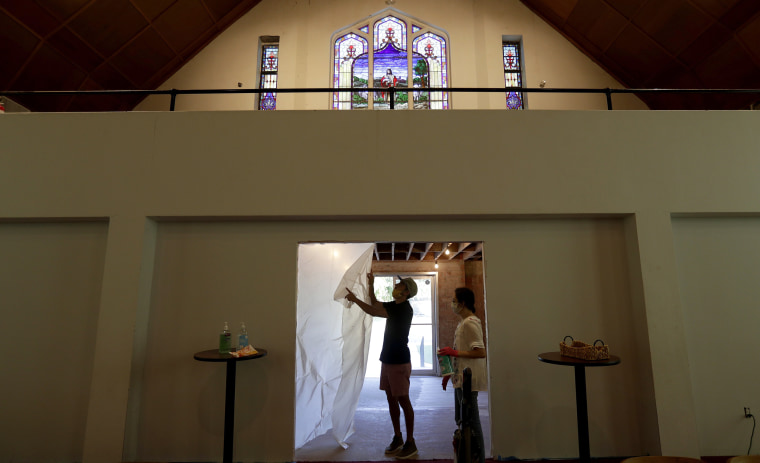 The church shared on its website its reopening guidelines, which included social distancing of at least 6 feet in seating and common areas, touchless thermometers for all staff and attendees prior to entry, no hand-to-hand passing of items between attendees, masks and sanitizing of surfaces.
But not every congregation has felt comfortable reopening its doors in-person just yet.
At the St. Luke United Methodist Church in Austin, Pastor Bonnie How said her congregation highly encouraged her to continue her online services over fears of the pandemic.
Prior to the outbreak, How said her church offered a 9:15 a.m. service to about 20 to 25 members, who were mostly college students, and another at 11 a.m. where about 50 to 55 people attended.
Download the NBC News app for full coverage of the coronavirus outbreak
How said she worked with a college student to post prerecorded services on YouTube and Facebook and host a fellowship hour on the video platform Zoom that members could join after.
"I said to everybody who was gathered on that Zoom call, 'What would it take for you to be comfortable coming to worship in person?'" she said. "And the majority of them laughed and said, 'A vaccine.'"
How said she acknowledged the social context of her church — which is in an urban setting with congregants who are members of vulnerable populations — and how that contrasts with churches in counties that may not have any confirmed cases.
"My context is very different, and it's a not a one-size-fits-all," she said.
How said the sentiment her congregation expressed was, "We would feel terrible if any one of us got sick and there's no reason to. We are gathering together even though we're doing it online."
"It's more of a safety issue," she said.