HUNTSVILLE, Texas — A Texas man put to death Wednesday for a killing 15 years ago became the state's first prisoner executed in 2016.
Richard Masterson, 43, was pronounced dead at 6:53 p.m., 25 minutes after the lethal injection began.
"I'm all right with this," he said. "Sometimes you have to live and die by the choices you make. I made mine and I'm paying for it."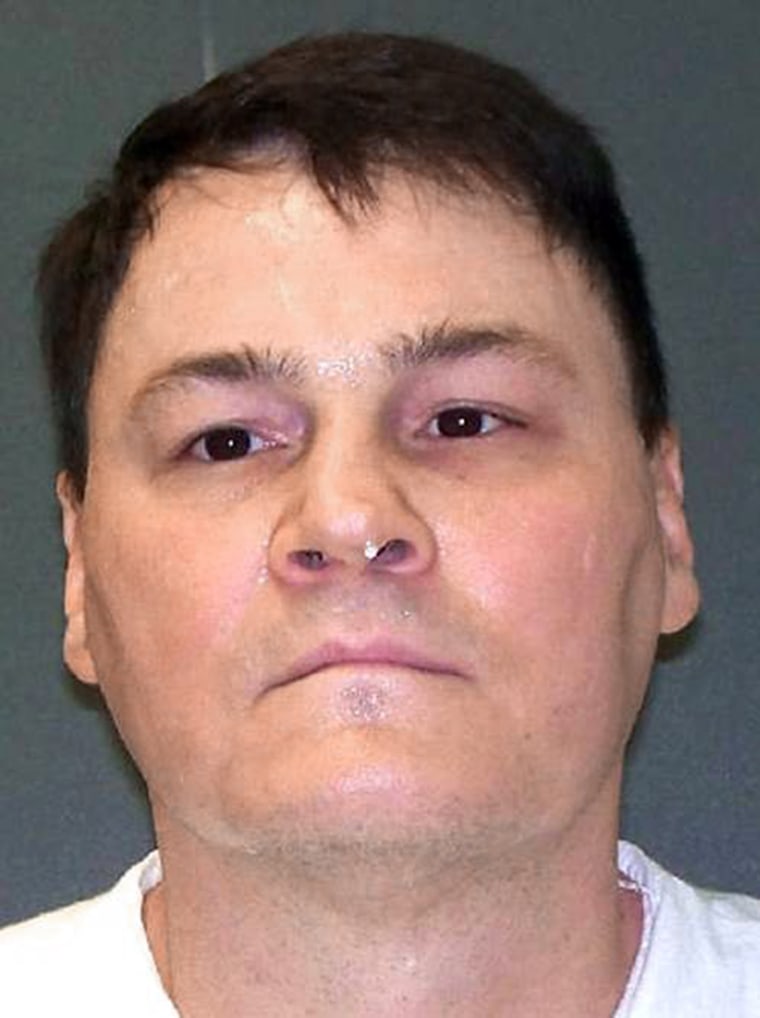 He said he was being sent "to a better place."
He mouthed a kiss to relatives and friends who were watching the execution through a window and told them he loved them. As the pentobarbital took effect, he began snoring. After about a dozen snores, he stopped moving.
Masterson had claimed the January 2001 strangulation of Darin Shane Honeycutt was accidental and had several appeals before the courts, including four with the U.S. Supreme Court. His last-day efforts to stop his execution were rejected.
Texas is the nation's busiest death penalty state, having carried out 13 lethal injections in 2015, which accounted for nearly half of the 28 executions nationwide.
Masterson had testified at his trial that the death of the 35-year-old Honeycutt in Houston happened accidentally during a chokehold that was part of a sex act. The two had met at a bar and then went to Honeycutt's apartment.
Honeycutt was an entertainer who performed dressed as a woman. Honeycutt's stage name was Brandi Houston.
No family members or friends of Honeycutt witnessed Masterson being executed.
Court records showed Masterson confessed to police, told others about the killing and acknowledged Honeycutt was slain on purpose in a letter to the Texas attorney general in 2012.
"I meant to kill him," Masterson wrote to then-Attorney General Greg Abbott, who is now the state's governor. "It was no accident."
Evidence showed Masterson stole Honeycutt's car, dumped it in Georgia, and was arrested at a Florida mobile home park more than a week later with another stolen car. That car belonged to a Tampa, Florida, man who testified he was robbed by Masterson but survived a similar sex episode where he was choked.
Masterson's attorneys argued Honeycutt's death was accidental or the result of a heart attack, that a Harris County medical examiner whose credentials have been questioned was wrong to tell jurors it was a strangulation, that Masterson's earlier lawyers were deficient and that his prolonged drug use and then withdrawal while in jail contributed to his "suicide by confession" when he spoke to police and in the letter to Abbott.
Lawyers also contended trial jurors were given an incomplete instruction before their deliberations and that the Texas Court of Criminal Appeals denied Masterson his rights to due process and access to the courts by refusing their challenge to a new state law that keeps secret the identity of the provider of pentobarbital that Texas prison officials use for lethal injections.
State lawyers argued that Masterson's attorneys offered no scientific evidence about Honeycutt's death that hadn't been previously raised and rejected, including by jurors at Masterson's 2002 trial. Federal courts had no jurisdiction in the execution drug secrecy because it was a state matter, they contended.
Masterson had a long drug history and criminal record beginning at age 15. Court documents showed he ignored advice from lawyers at his trial for the killing and insisted on telling jurors he met Honeycutt at a bar and they went to Honeycutt's Houston apartment where Masterson said the chokehold was part of an autoerotic sex act.
Honeycutt's body was found Jan. 27, 2001, after friends became worried when he failed to show up for work.
Masterson also told jurors he was a future danger — an element they had to agree with in order to decide a death sentence was appropriate.
Masterson's case recently drew the attention of Pope Francis, who has reinforced the Catholic Church's opposition to capital punishment.
At least eight other Texas death row inmates have executions scheduled for the coming months, including one set for next week.