The house was at the mercy of the Blanco River — ripped off the ground whole during a flash flood and bobbing downstream. Inside were nine people, including Laura McComb. She was on the phone with her sister.
"We are in a house that is now floating down the river," she said. "Call mom and dad. I love you. And pray."
It was the middle of Memorial Day weekend. Two families — six adults and three children — were vacationing together in the A-frame house in the little town of Wimberley, in the Texas Hill Country between Austin and San Antonio.
When the flood struck, late Saturday night and early Sunday morning, the Blanco River rose 28 feet in an hour and a half. It crested at more than 40 feet. The house, built on stilts, broke off and was swept away.
Jonathan McComb, Laura's husband, survived and was found miles from where the home stood. He suffered a collapsed lung, a broken sternum and broken ribs, said his father, Joe McComb.
The eight other people inside were among 11 people listed by authorities as missing in Hays County.
Jonathan and Laura McComb were staying there with their two children, Andrew, 6, and Leighton, 4. They were with Ralph and Sue Carey; their daughter, Michelle Charba; her husband, Randy; and their 6-year-old son, Will.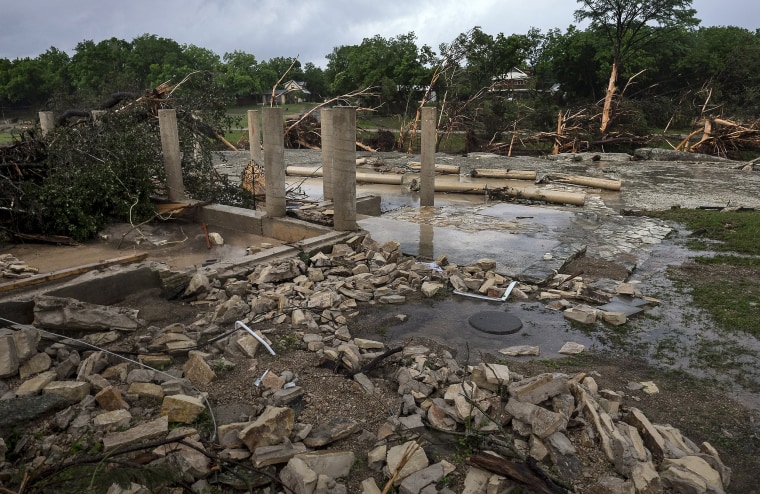 Joe McComb, relating a story told to him by his son, told NBC News on Monday that the house struck a bridge and smashed apart, sending the nine people in different directions.
"He said there were several times where he was under water and he didn't think he was going to come up," Joe McComb said.
Jonathan McComb could be released from the hospital as early as Tuesday, according to a message posted to Facebook by his church:
Laura McComb's sister, Julie Shields, told NBC affiliate KXAN that the phone call ended when Laura thought she saw a light from a helicopter that had come to rescue them.
"And I just expected to go to the Wimberley High School the next day and find her," Shields said. "And then when she wasn't there, I knew something was very, very wrong."
Shields described her sister as "a wonderful wife and mother." Shields told NBC News she texted Laura McComb at around 9:30 p.m. that night as they worked out details for a family outing planned for the end of June.
Laura McComb texted that she was going to bed, and called back at around 1 a.m. with a disturbing message: The water of the Blanco River was rising fast. Laura McComb told Shields to call 911, Shields said.
Then Laura McComb called back, and said in a remarkably calm voice that the house was floating away, Shields said.
"She has a very strong faith in God, and the strength in her voice as she said it — is something I can't stop thinking about," Shields said.
Carissa Smith told posted by The Austin American-Statesman newspaper that Ralph Carey and his wife have lived in the house 30 years.
Smith said that her husband went to check on the Careys. He found the house gone and Carey's Suburban smashed against a tree, the motor still running.
"And so my husband contacted 911 and started to search, but they're nowhere to be found," she said.
During the flood, she said, neighbors were yelling at everyone to get out, and Carey went back inside the house. "So we think that they got in there and just decided to go up to the second floor and just wait it out," she said.
Neighbor Dan Pollard, who lives about 100 yards away from the Carey home, said the popping and cracking noises as the house apparently broke free "sounded like fireworks." The river that night was the highest he has ever seen.
Pollard said Ralph Carey was a retired dentist from Corpus Christi. "It's unimaginable. We cannot believe that they're not here anymore," he said.
Shields said 6-year-old Andrew loves going fishing and playing baseball with his dad. Andrew's sister, 4-year-old Leighton, looks up to her older brother, she said. "She adored him," Shields said.
Joe McComb told NBC News that he was holding out hope for his family. The family dog, Maggie, was found safe. Shields said that Jonathan McComb did all he could before the cabin broke apart and separated the people inside.
"The blessing in all of his is that she is with her children and is with her babies," she said. "And she will be with her babies always."
The Associated Press contributed to this report.