Rescue crews have already pulled more than 100 people from rushing floodwaters in Texas, some of them swept downstream more than 10 miles, Lt. Gov. Dan Patrick said Thursday. But rivers are still rising, and more rain is on the way.
In Wharton, an hour outside Houston, hundreds of people were being asked to leave their homes Thursday because of danger posed by the swollen Colorado River. Outside Dallas, hundreds more were encouraged to leave as the Brazos River rose.
In closer Houston suburbs, the San Jacinto River is expected to wash into streets later this week. It was at 53 feet Thursday, 4 feet above flood stage.
The grim search for victims of the historic flooding will continue until everybody is accounted for, Perkins said during a visit to hard-hit Wimberley, where seven members of two families were washed away inside a vacation cabin along the Blanco River.
At least two other people are known to be missing in the flooding, which has killed 23 people since last weekend in Texas and Oklahoma.
"When you consider this wall of water that was coming — the speed it was coming, late at night, after dark, [with] people who don't live here permanently and not aware of the danger they were in — it's absolutely amazing that there was not more loss of life," Patrick said.
Patrick credited police and rescue agencies with reacting quickly to evacuate river campgrounds that were starting to fill up with vacationers for the summer tourist season when the storms began.
"Had those camps not been evacuated, we could have had a hundred more swept away," Patrick said. "They obviously moved very quickly with limited manpower and saved a lot of lives."
Related: Child's Body Found in Aftermath of Texas Flooding
Patrick promised that search and rescue operations would go on as long as it took to find everyone, which could many days or even weeks.
The rushing waters swept people many miles away — one dead body was found at least 30 miles downstream, he said, and a person who survived was found 12 miles downstream.
And huge debris and heavy brush are making it hard for crews to know where to look, Patrick said.
"It's heartbreaking," he said.
Sarah Perez of Hays County posted dramatic video of Blanco River floodwaters rushing through her home and submerging the entire first floor. She and her family had to flee to the second floor, where rescuers found them late Wednesday.
President Barack Obama offered thoughts and prayers to families in Texas and said the federal and state governments were working well together on disaster relief.
"They appear to have the assets they need at this stage," he said. "There's going to be a lot of rebuilding, and we as a nation are going to have to help, the same way we do any time that folks are affected by these natural disasters."
People were still cleaning up Thursday in Wimberley, where the Blanco left a landscape of tree limbs and shattered houses.
"I wake up in the morning sometimes and I'm thinking, no, this was all just a dream," Chuck Criswell told NBC News.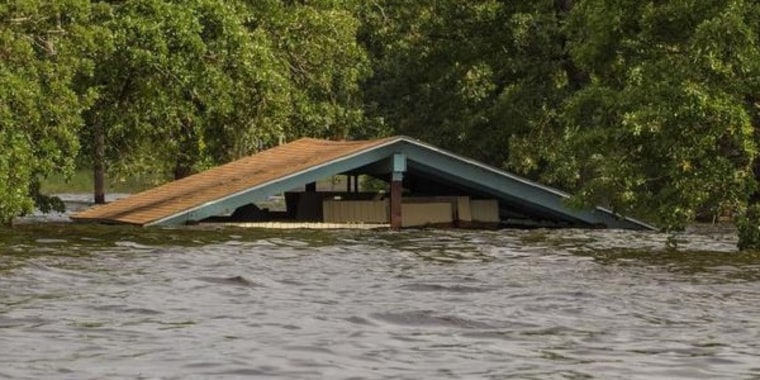 During the worst of the flood, on Saturday night and Sunday morning, "I shined my light out there and it looked like the water was going 500 miles an hour," he said. "The debris just flying by."
On Thursday, an estimated 14 million people in Nebraska, Kansas, Oklahoma and Texas were at risk of more severe weather, and flood watches were posted again for Texas and Oklahoma. A line of thunderstorms rumbled through Oklahoma City on Thursday morning.
A powerful tornado touched down Wednesday afternoon in the town of Canadian, in the Texas Panhandle, injuring three people, authorities said. One of them, a man who was impaled through the abdomen, remained in serious condition at University Medical Center in Lubbock, the hospital said Thursday.