Texas Gov. Greg Abbott signed a law on Sunday that bans so-called sanctuary cities and threatens non-compliant law enforcement officers with fines, jail time and removal from office.
"Citizens expect law enforcement officers to enforce the law," Abbott said in a statement posted on Facebook Live. "Citizen deserve law breakers to face legal consequences."
Related: Conservative Cities See 'Sanctuary City' Term as Scarlet Letter
The law, which takes effect Sept. 1, compels officers to cooperate with Immigration and Customs Enforcement agents and requires sheriffs to honor agency detainers, or requests to hold someone to determine whether deportation proceedings should begin.
The law is the first to be signed during the administration of President Donald Trump, who in a Jan. 25 executive order threatened to withhold funding from cities, towns and counties that don't comply with the agency's requests.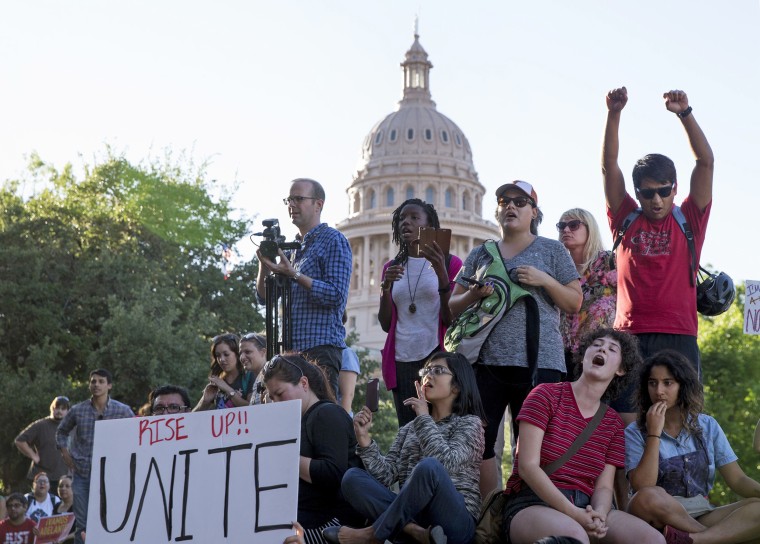 Police chiefs have criticized the order, saying officers depend on the cooperation of immigrants — legal and otherwise — to solve crime, while the American Civil Liberties Union has pointed to the Department of Homeland Security's conclusion that federal judges have "increasingly" agreed that detainers violate the constitution.
Related: Texas Lawmaker on a Hunger Strike to Protest Anti-Sanctuary City Bill
In his statement, Abbott recalled the killing of Kate Steinle, saying there are "deadly consequences" to not enforcing the law, and he called out Travis County Sheriff Sally Hernandez, who has said she would comply with ICE requests only for serious violent crimes.
"Elected officials and law enforcement agencies, they don't get to pick and choose which laws they will obey," Abbott said.
Related: Seattle Files Lawsuit Over 'Sanctuary Cities' Funding Threat
Abbott also assured viewers that the measure's key provisions had already been tested and approved by the U.S. Supreme Court.
In a statement Sunday, Terri Burke, executive director of the ACLU of Texas, said the organization planned to challenge the law "in the courts, at the ballot box and in the streets if we have to."
"This is an assault on humanity," Burke said. "It will not stand."