Texas Gov. Rick Perry, a potential Republican candidate for president in 2016, was indicted Friday in an investigation into an effort to force a local official out of office. A grand jury in Austin handed up the indictment in a long-running investigation of Perry's threat to veto state funding to the Travis County Public Integrity Unit unless District Attorney Rosemary Lehmberg resigned.
The threat came after Lehmberg pleaded guilty to drunken driving and served a 45-day sentence last year, NBC station KXAN of Austin reported. Perry called on her to step down, but she refused; Perry then vetoed the funding. The grand jury issued indictments (PDF) Friday on charges of abuse of official capacity and coercion of public servant, both of them felonies.
Attorneys for Perry vowed to "aggressively defend" the governor. David Botsford, an attorney whom Perry had hired to represent him in the investigation, said he was "outraged and appalled" by the indictment.
"The facts of this case conclude that the governor's veto was lawful, appropriate and well within the authority of the office of the governor," Botsford said in a statement. "Today's action, which violates the separation of powers outlined in the Texas Constitution, is nothing more than an effort to weaken the constitutional authority granted to the office of Texas governor, and sets a dangerous precedent, by allowing a grand jury to punish the exercise of a lawful and constitutional authority afforded to the Texas governor."
In an on-camera interview in May, Perry told NBC News that he didn't regret vetoing the funds, saying neither he nor anyone else in his office committed a crime.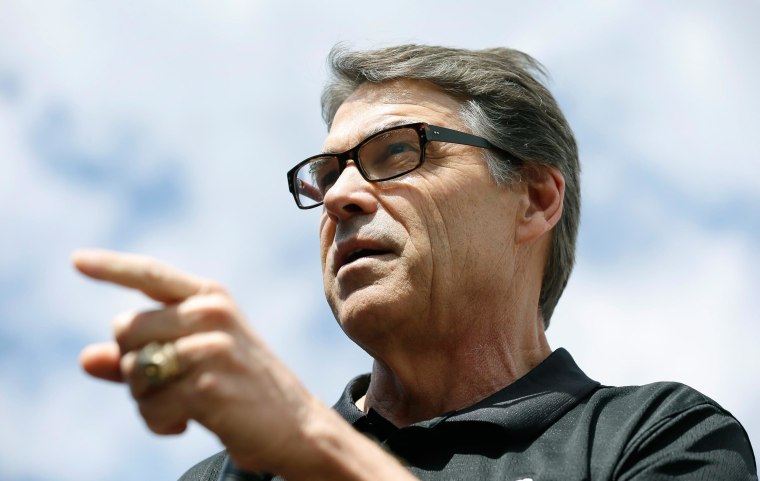 IN-DEPTH
SOCIAL