A judge on Thursday gave a hospital permission to take an 11-month-old girl off life support against her family's wishes in a closely watched case that has drawn in the state's attorney general and Texas Right to Life.
The family of the girl, Tinslee Lewis, plans to appeal the ruling, which Tinslee's mother, Trinity Lewis, said had left her "heartbroken."
"The judge basically said Tinslee's life is NOT worth living. I feel frustrated because anyone in that courtroom would want more time just like I do if Tinslee were their baby," Lewis said in a statement released by Texas Right to Life, a nonprofit anti-abortion advocacy group, which represents the family.
"I hope that we can keep fighting through an appeal to protect Tinslee. She deserves the right to live," her mother said.
Texas Right to Life slammed the ruling by a judge in the state's 48th judicial district as having sentenced "an innocent 11-month-old" to death.
Cook Children's Medical Center in Fort Worth, where Tinslee is on life support, said in a statement that the decision allows it "to make the most compassionate and medically appropriate decisions for Tinslee as she struggles in pain to survive each day."
"Our medical judgment is that Tinslee should be allowed to pass naturally and peacefully rather than artificially kept alive by painful treatments," the statement said. "Even with the most extraordinary measures the medical team is taking, Tinslee continues to suffer."
Tinslee was born prematurely in February with a rare heart defect. She hasn't left the hospital since she was born.
Tinslee went into respiratory arrest in July, and since then she has been on a machine that replaces the functions of her heart and her lungs, in addition to being on a ventilator. Doctors say that they believe she is in pain and that she "requires significant sedation," the hospital said in a statement last month.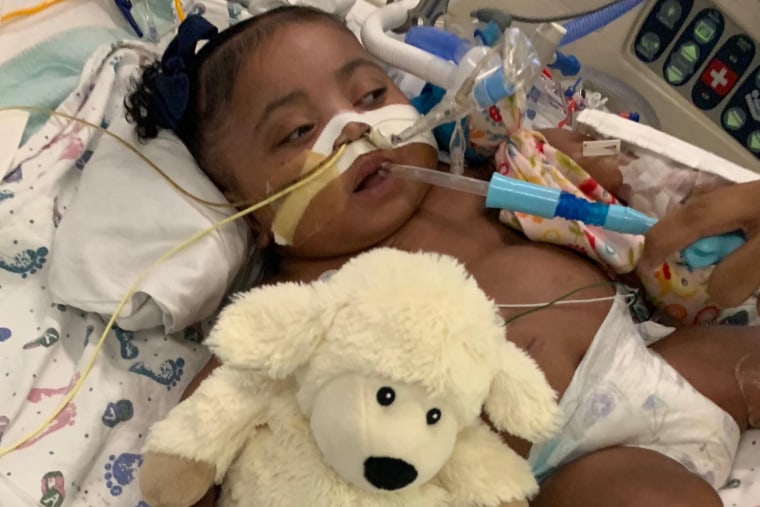 Under Texas law, a hospital's doctors, with the approval of the facility's ethics committee, can end a patient's lifesaving treatments over the objections of the patient or the family member responsible for making decisions on the patient's behalf. The family must be given at least 10 days to find another hospital before care is suspended, according to The Texas Tribune.
A district judge in November ordered the hospital to continue treatment until at least Dec. 10. The order was later extended.
Texas Right to Life said in its statement that it "is disappointed that the ruling not only disregarded the Constitution, but also sentenced an innocent 11-month-old baby to death like a criminal."
"The 10-Day Rule has robbed countless patients of their Right to Life and right to due process," it said.
Trinity Lewis said last month that she believes her daughter deserves a better chance to survive.
"This isn't Tinslee's first rodeo. She's made it this far. I know she's going to continue to fight for her life," Lewis said.
Gov. Greg Abbott and state Attorney General Ken Paxton, both of whom are Republicans, side with the family.
"The case of Tinslee Lewis is complex and heartbreaking, and the state will continue to support Ms. Lewis's exhaustion of all legal options to ensure that Tinslee is given every chance at life," they said in a statement Thursday.
"The Attorney General's office will be supporting an appeal of this case to the Second Court of Appeals. The State of Texas is fully prepared to continue its support of Ms. Lewis in the Supreme Court if necessary," the statement said.
Download the NBC News app for breaking news
Cook Children's Medical Center said it reached out to more than 20 specialized homes and hospitals, none of which would accept Tinslee as a patient.
At a hearing in December, Dr. Jay Duncan, one of Tinslee's physicians, said that she had undergone at least a half-dozen operations and that her doctors had run out of options.
He also said she is in pain.
"Changing a diaper causes pain. Suctioning her breathing tube causes pain. Being on the ventilator causes pain," Duncan said, according to NBC Dallas-Fort Worth.
Duncan said there had been "many, many" conversations with Tinslee's family. "We care a lot about Tinslee," he said. "We care a lot about her family."
Cook Children's echoed that view in a statement last month, saying: "Our doctors and nurses have done everything humanely possible to save Tinslee's life. Currently, any care we provide, including feeding, bathing and providing treatments and medication, can cause her little body to experience a medical crisis, which causes even more intervention and pain for her."
The hospital said Thursday that it will continue to provide care for the next seven days.
"We also recognize the family may appeal this decision," Cook Children's said. "As they do, we will provide Tinslee the same level of intensive care as we have for her entire life. The decision to end life sustaining care will be decided upon by Tinslee's care team in close communication with the family, and in accordance with Texas law."