An armed masked robber who stormed a Texas taqueria demanding money was stopped by a patron who brandished his own gun, fatally shot the suspect, and handed the cash back to shaken diners, police said.
A Texas grand jury will consider the case, officials said Monday.
The shooting happened around 11:30 p.m. Thursday when a man in a mask with what appeared to be a pistol was holding up customers, Houston police said.
A 46-year-old patron pulled out a gun and shot the alleged robber multiple times, witnesses reported to investigators, according to police.
Houston police Lt. R. Willkens has said that the alleged robber had what is believed to have been a "plastic gun," NBC affiliate KPRC of Houston has reported.
The patron, who was questioned by detectives Monday, was not identified because he has not been arrested or charged, the city of Houston said in a statement Monday. The Harris County District Attorney will refer the case to a grand jury, it said.
The man who was fatally shot was identified as Eric Eugene Washington, 30.
Officers were called to the restaurant for a shooting and found the robbery suspect, wearing all black clothing, a black ski mask and gloves, "shot multiple times inside the business," police have said in a news release.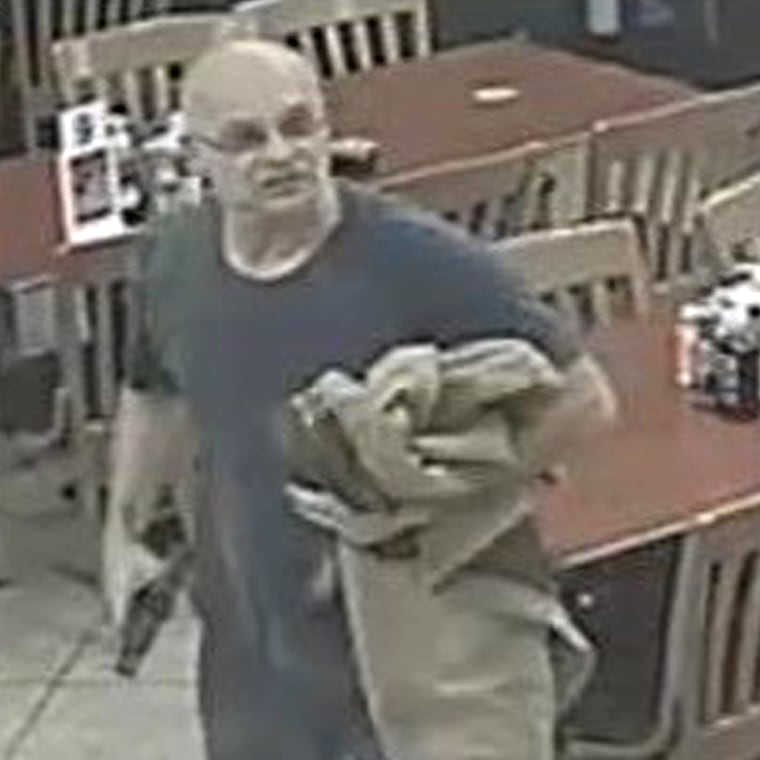 He was pronounced deceased by paramedics. Witnesses told officers that the suspect had barged into the restaurant and pointed a pistol at diners demanding their money, police said.
As he was collecting the money, one of the patrons, described as a white or Hispanic male, "produced a gun of his own and shot the suspect multiple times," police said.
The patron then collected the stolen money from the suspect, and returned it to the other diners, police said. He and other diners then fled the scene.
Police earlier released surveillance photos of the patron and his truck and said they wanted to talk to him.
An attorney representing the diner who shot the suspect contacted Houston police to set up a time for him to come in and talk to investigators, NBC affiliate KPRC of Houston reported Sunday, citing police.
Investigators want to speak with anyone who was at the restaurant at the time of the shooting, police said Monday.