CLEVELAND, Texas — The rural community where a man allegedly used an AR-15 rifle and killed five of his neighbors last week before he vanished and set off a large-scale manhunt is plagued by routine gunfire, residents say.
Residents say that gunfire is so common that many don't bother to call law enforcement when they hear shots and that when they do, oftentimes, San Jacinto County sheriff's deputies never show up.
Walter Drive, the orange-dirt road riddled with potholes and protected by fenced yards with no trespassing and pro-gun signs, is where officials say Francisco Oropesa, 38, killed his neighbors Friday night after one asked him to stop firing rounds in his yard.
He was captured around 7 p.m. Tuesday without incident in Cut and Shoot, Texas, the Montgomery County Sheriff's Office said.
"There are so many gunshots — every day and into the night," said Dale Tiller, 43, who estimated he has called the sheriff's office about neighborhood gunfire 20 times.
More on the deadly Texas neighborhood shooting
He said the shots come from small-caliber handguns to high-caliber rifles.
"Everybody back here owns guns. I'm not surprised it happened in this neighborhood," he said Tuesday.
Tiller said that if deputies show up, they're often quick to leave and don't do basic police work like checking identification cards. They don't confiscate weapons, he said.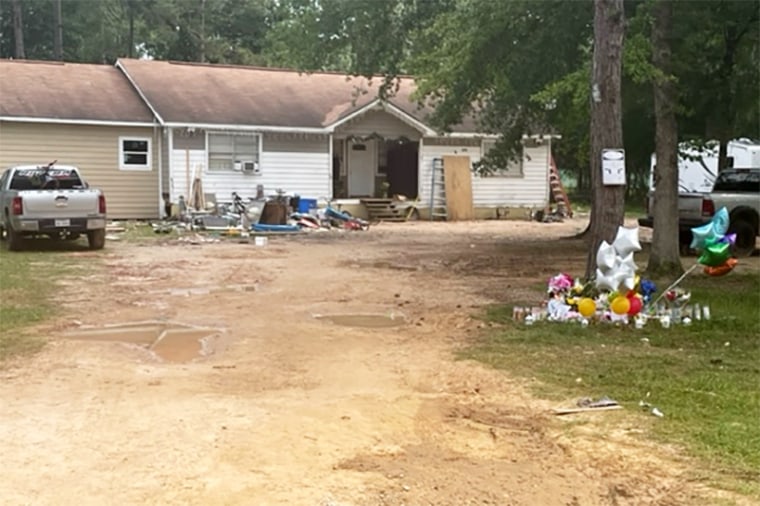 The neighborhood, about 45 miles north of Houston, is nestled in a forest.
San Jacinto County is one of dozens of vast, rural Texas counties where authorities say there are not enough law enforcement officers to respond to and investigate crimes. The problem has been exacerbated by officers and deputies resigning for other better-funded agencies, and by difficulties finding new recruits, officials say.
The problem has gotten so bad that lawmakers are working on a bill that would send millions of dollars to rural sheriff's offices to hire more people and increase salaries.
The bill, if passed, would make San Jacinto County Sheriff's Office eligible for a $350,000 grant. That's about enough to hire three new deputies, state Sen. Drew Springer, a sponsor of the legislation, said.
With more deputies, San Jacinto County personnel would be able to cut response times and take more time investigating calls for service, including scenarios like what residents said happened in the neighborhood where Friday's massacre took place, Springer said. Neighbors have said they have complained about others, including Oropesa, who is an undocumented immigrant, shooting guns.
"I just wish this bill had passed two years ago and they'd have those resources in San Jacinto County," Springer said.
Veronica Pineda said Saturday she heard the shooting Friday night but didn't think much of it.
"A lot of people are shooting. I never call the cops for anything," she said. Pineda said that when deputies come to the neighborhood, they're quick to leave.
"They just pass around and say, 'Don't shoot in the air; shoot in the ground.'"
Other neighbors said gunshots are more frequent during parties and holidays and are usually preceded by loud music.
Tiller said he believes gunshots are fueled by alcohol and drug use.
San Jacinto County Sheriff Greg Capers could not be reached for comment Tuesday about allegations raised by neighbors. No one else with the sheriff's office could be reached.
San Jacinto County District Attorney Todd Dillon said Tuesday that deputies don't have the authority to search a house or seize a gun based on a noise complaint. Depending on what a deputy was told by dispatch and how much the deputy wants to investigate, the deputy could build a case for a crime that does allow the seizure of property. One could be "deadly conduct," but that requires someone shooting at someone or a building, he said.
Oropesa's neighbor Wilson Garcia, whose son and wife were killed Friday, said that it took deputies at least 20 minutes to arrive and that authorities were called five times.
It wasn't clear whether all the 911 calls came before, during or after the shooting.
Those killed were identified as Sonia Argentina Guzman, 25; Diana Velazquez Alvarado, 21; Julisa Molina Rivera, 31; Jose Jonathan Casarez, 18; and Daniel Enrique Laso, 9.
Dillon has said the neighborhood where the shooting occurred, in the southern tip of the county, makes it hard for law enforcement to reach. More than half of the county is Sam Houston National Forest, with few roads that cut through. In ideal conditions, with no traffic, it would take no less than 45 minutes to reach the scene from the county's northern boundary, Dillon said.
No one could be reached at Oropesa's gated home Tuesday for comment. Chickens, dogs and at least one horse roamed the property.
Directly next door, where the Honduran family was killed, balloons, flowers, stuffed animals and notes adorned a tree. Above the memorial, a sign with an image of two guns read, "If You Are Found Here Tonight You Will Be Found Here Tomorrow."
A neighbor, who asked to be identified only as Vanessa, 27, said she heard the gunfire Friday night but initially shrugged it off.
"It was normal for us to hear gunshots, just because every weekend, Friday, Saturday, Sunday, every day of the week, we do hear gunshots," she said. "I actually don't bring my kids out here all that often, because we don't know if they're shooting up or down."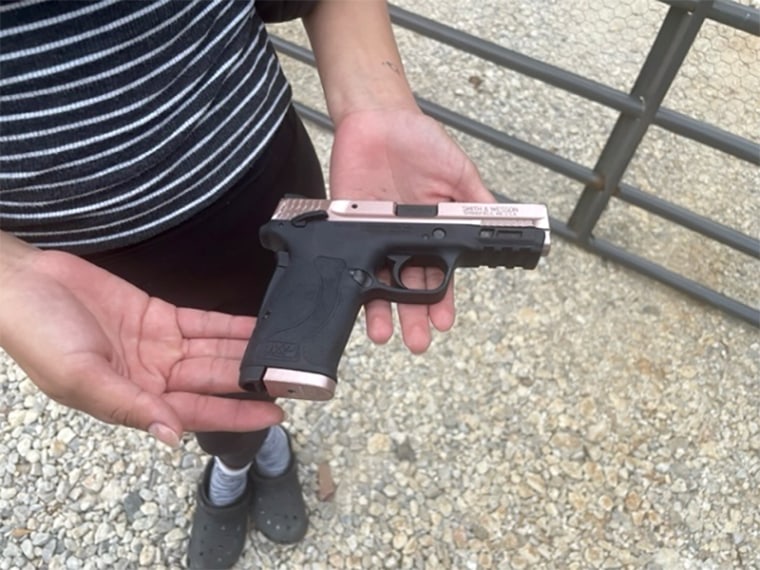 The neighbor said she bought a gun the morning after the shooting to protect her family.
Oropesa, who neighbors said worked as a landscaper, seemed to have a calm demeanor, Tiller said.
Last year, Oropesa's wife filed a protective order against him alleging he beat her, a local prosecutor said Tuesday.
The only other item in Oropesa's criminal or civil record in Texas is from 2009, when he was arrested for driving while intoxicated in Montgomery County and sentenced in 2012 to 30 days in jail.
Oropesa, a Mexican national, has been deported four times, according to U.S. Immigration and Customs Enforcement. He was removed from the U.S. twice in 2009 and once in 2012 and 2016, ICE said.
Friday's actions were unfathomable, Tiller said.
"He's a coward," he said. "He shot at people who didn't have a gun. The majority of people here would shoot back."