A Texas couple who left their wedding reception in a helicopter Saturday were killed when the aircraft crashed, according to authorities.
Will Byler and Bailee Ackerman Byler were killed hours after their wedding when the helicopter they left the reception in crashed near Uvalde, Texas. Their deaths were first announced by The Houstonian, the independent student newspaper of Sam Houston State University, where the newlyweds were both seniors.
"It is with deepest sadness that we announce the tragic passing of two Bearkats: Will Byler (Agriculture Engineering senior) & Bailee Ackerman Byler (Ag Comm senior) in a helicopter accident departing their wedding. We ask that you keep the families in your thoughts and prayers," said a tweet from the school paper.
"These two individuals made a huge impact, and will always be remembers by their kind hearts and uplifting spirits," said a statement from Sam Houston State University's student body president, David Eller. "Will and Bailee spent their last moments on Earth surrounded by family and friends in what can easily be said as the best moments of their life."
The National Transportation Safety Board and the Federal Aviation Administration are investigating the crash. Neither has identified the victims, but NBC affiliate KPRC has identified the helicopter pilot as Gerald Douglas Lawrence, 76, of Houston.
Craig Hatch, an air safety investigator with NTSB, described the pilot as "very experienced" at a press conference Monday. Authorities are still working to recover the helicopter because of its precarious position on the side of a hill but Hatch estimated the couple was in the air for only 5 to 10 minutes before the crash.
Authorities first received notice of the crash Saturday night but was unable to find the site in the dark. First responders waited for daylight and used ATVs guided by helicopters to find the crash site, according to Rachel Kellner, a Texas Game Warden stationed in Uvalde County.
"We definitely saw a helicopter in a terrible state," Kellner, said at the press conference Monday. "It was in debris all along the side of the mountain."
Three people were aboard the helicopter, said FAA spokeswoman Lynn Lunsford, and no one survived. The Bell 206B helicopter was registered to W.T. Byler Co. Inc., according to FAA records. The aircraft was manufactured in 2005 and its current certification was issued in 2012 and due to expire in 2021.
Lawrence's daughter, Devon de Samaniego, told KPRC her father had been a helicopter pilot for nearly 50 years, the last 16 of which were under the employment of W.T. Byler Co. She said her father, who flew helicopters as an Army captain in Vietnam and the Gulf War, was "vigilant" about keeping his physicals and certifications updated.
"My father was the epitome of a professional when it comes to being a helicopter pilot," de Samaniego said.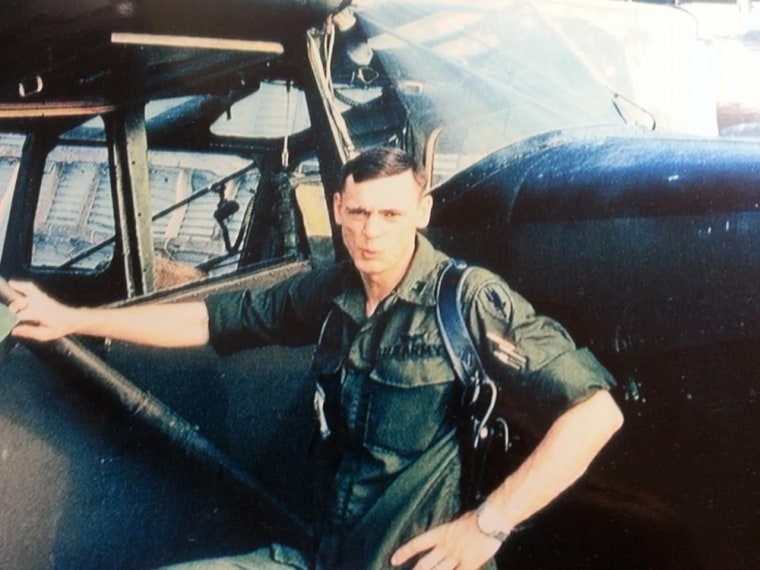 Lawrence was close to the Byler family and had been personally asked to fly the newlyweds off to their honeymoon, according to his daughter. De Samaniego described her father as a caring person who had the utmost loyalty to the Byler family.
"They asked him if he would do the honor of escorting the bride and groom to their honeymoon destination and it was his pure honor to be able to be in that moment with that family and share that experience," de Samaniego said.
The Uvalde County Sheriff's Office said a call about a possible downed aircraft came in around midnight. The Federal Aviation Administration said the helicopter went down about 15 miles northwest of Uvalde, about 100 miles west of San Antonio.
The couple were married on the sprawling Byler family ranch in Uvalde.
Their wedding website, housed on the Knot, early Monday showed details about where guests could stay and the couple's registries. Later, all that remained on the site was a picture of the couple, their names and the date and place of the wedding.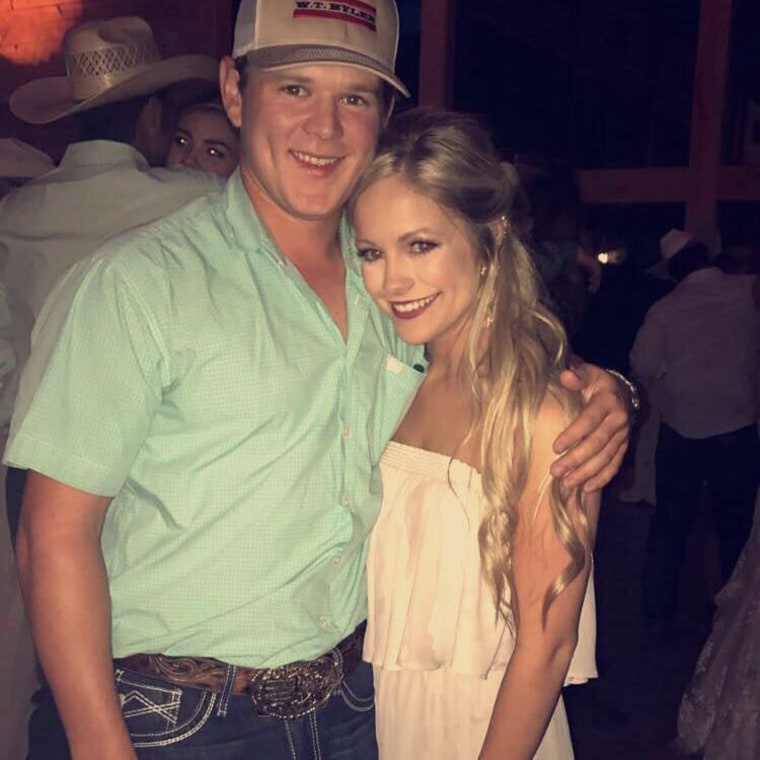 A statement from the Knot on the page read, "Our deepest sympathies and thoughts are with this family at their great loss. We know both families appreciate all your love, support and kindness during this time.
Condolences amassed instead of congratulations on gleeful photos and videos of the ceremony and reception posted on social media.
"I'm so sad to even be captioning these pictures with this, but you know I just have to share with everyone how beautiful you looked on your wedding day like I normally would have," Bailee's maid of honor posted on Instagram accompanying a picture of her and the bride in their getting-ready robes and then dressed for the wedding. "We always said we'd find the men to sweep us off our feet one day and boy am I so happy you get to be with him in the best forever you could imagine."
Another guest posted photos of the bride, in a mermaid gown and floor-sweeping veil, leaving her ceremony beaming, dancing with her bridesmaids and kissing her new groom on the dance floor.
"Last night was magical in every way. Absolutely perfect. Bailee & Will — I hope I find a love as true & wonderful as yours," the friend wrote. "I have peace in the fact that you left this earth so full of happiness and love."
Ackerman announced the engagement on Facebook on Dec. 29, 2017, with a photo of the pair beaming, and Ackerman holding up her left hand to show off her ring. "I am in awe of you, Will Byler, and I hope that everyone gets to experience a love like the one we have. Today is the beginning of forever TOGETHER!," said her post.
In a photo she posted about a week later, the two appear to be in a helicopter, with Ackerman flashing her engagement ring again.