AUSTIN, Texas — Another explosion was reported in Austin Tuesday evening, but police said it was "not a bomb, rather an incendiary device," and is not believed to be related to a spate of package bombings in that city that have killed two people this month.
The Austin Fire Department said on Twitter shortly after 7 p.m. local time (8 p.m. ET) that it was on the scene at a "reported package explosion," and emergency management officials said a man in his 30s was taken to a hospital with injuries that are not believed to be life-threatening.
Austin police later said on Twitter that the "items inside package was not a bomb, rather an incendiary device," and that "at this time, we have no reason to believe this incident is related to previous package bombs."
The box that was dropped off at a Goodwill and given to an employee to dispose of "had 2 small devices that were artillery simulators that looks like some type of military ordnance or some type of memento. The employee handled one of those devices at which time it initiated," Austin police assistant chief Ely Reyes told reporters.
"After our investigation on scene, we did determine that this was not an explosive device. This incident is not related to any of the other incidents that we've had here in Austin," he said.
Austin is on edge after a series of package bombs or other bombs detonated in that city since March 2, the most recent of which occurred on Sunday, when two people were injured by a device believed to have used a tripwire.
The new explosion occurred hours after one package exploded and another containing an explosive device was intercepted by law enforcement at FedEx facilities near that city and near San Antonio, authorities said.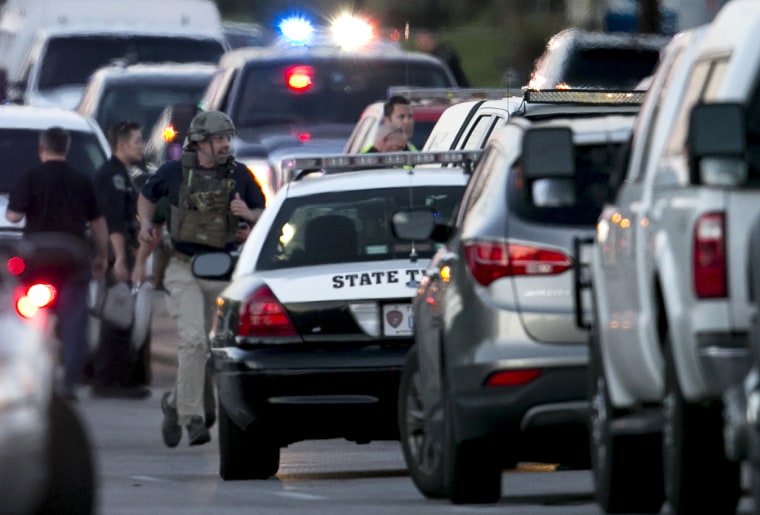 Gerald Davis, president of Goodwill Central Texas, said Tuesday night's explosion occurred at a Goodwill center. An employee was looking through a bag of donations when he noticed a flash, and suffered minor injuries to his hand, Davis said.
A bystander near Tuesday night's incident told reporters that he was headed home with his 3-year-old son and wife in their car and "it made our windows shake."
"I'm shaken up about all this because we've been seeing this on the news and it's bouncing around where it happens," he said.
Earlier Tuesday evening, law enforcement officials linked the explosion of a package at a FedEx distribution center near San Antonio to four previous blasts in Austin this month.
Police, the FBI and the federal Bureau of Alcohol, Tobacco, Firearms and Explosives confirmed that the explosion in the sorting area of a facility in Schertz is connected to the Austin package explosions from March 2 to Sunday, police said on Twitter.
Four bombs have killed two people and injured others in Austin since March 2, with the most recent on Sunday believed to have been triggered by a tripwire that injured two people, authorities have said. In most of those bombings, packages left on doorsteps or in front yards exploded, officials said.
The explosion at the FedEx facility occurred around 12:25 a.m. local time (1:25 a.m. ET), officials said. One person, an employee, was treated at the scene and released, the ATF said.
"We continue to ask the public to be vigilant," the ATF said in a statement. "Do not approach or interact with a suspicious person or object. We ask that you contact law enforcement and not attempt to intervene on your own."
Hundreds of federal agents are looking through new surveillance video from a FedEx facility in Sunset Valley, an Austin suburb, where someone dropped off two packages, a source briefed on the investigation told NBC News.
One of the packages made it to Schertz, where it exploded before it was to be sorted and returned to Austin, while the other arrived at a FedEx facility near the Austin airport, according to the source. The second package "contained an explosive device," the ATF said, but did not detonate. There were no injuries.
Both packages are believed to have contained nails, the source said. They were both thought to be bound for Austin.
FedEx confirmed in a statement Tuesday afternoon that "the individual responsible also shipped a second package," but did not provide additional details. It added that the second package had been "secured and turned over to law enforcement."
Schertz is 50 miles from Austin, where the most recent blast injured two men on Sunday night.
No one was hurt at the Schertz FedEx facility, although one employee standing near the explosion was treated after complaining of ringing in her ears, Schertz Police Chief Michael Hansen said.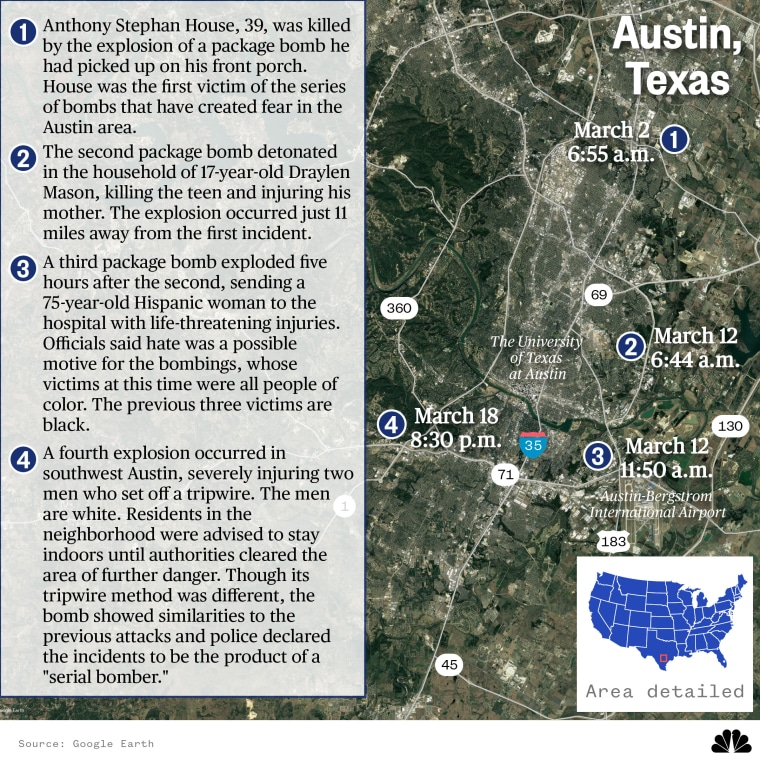 The package "had been traveling along the automated conveyer when it had exploded," Hansen said during a news conference. "We were very fortunate that there were no injuries."
Authorities are using a "working theory" that the package that exploded in the Schertz FedEx distribution facility was bound for Austin, Austin Police Chief Brian Manley told members of the Austin City Council during a work session Tuesday morning.
"We've now seen that evolution to different types of devices and with what just occurred in Schertz, Texas, we've now brought in the new element that that device was actually going through one of the carrier services instead of being hand-delivered as was the case in the first three, as we believe that to be," Manley said.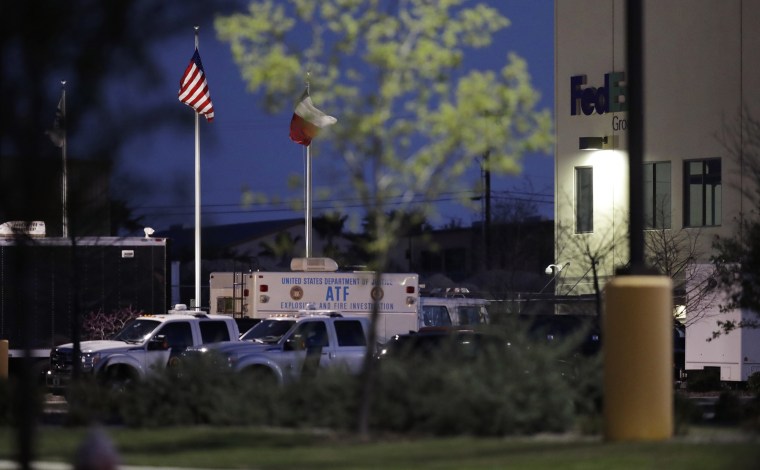 Authorities weren't able to comment on whether there was a return address listed on either package.
Residents in Austin have been on edge for weeks.
The FBI has sent its top cellphone tower experts to Austin in the hopes that they can develop a suspect in the serial bombing spree.
Multiple senior federal law enforcement officials told NBC News that cellular analysis survey teams are on the ground in Austin hoping to triangulate and pick out patterns as to which cellphones were active in the areas around the bombing sites in Austin.
The teams analyze which cellphone users were on which segments of a cellphone tower and when. The FBI can then use software to determine if that cellphone was in use at another time on another tower. This type of "pattern solving" technology can help narrow down the possible cellphone users who were active around the blast sites at specific times.
Authorities have said a "serial bomber" is at large and warned that the explosive devices appear to be getting more sophisticated.
The Sunday evening blast in Austin injured two men who apparently set off a tripwire in the southwest of the city; the injuries were not life-threatening.
One victim, Will Grote, had what looked like nails embedded in his legs, his grandfather, Will Grote Sr., told NBC News on Monday.
Unlike the explosive on Sunday, which had been left next to a fence, the others were placed outside homes.
"With this tripwire, this changes things," Christopher Combs, special agent in charge of the FBI's San Antonio division, said at a news conference on Monday, referring to the previous day's explosion. "It's more sophisticated, it's not targeted to individuals. ... A child could be walking down a sidewalk and hit something."
The FBI has sent 350 special agents to Austin as well as extra bomb squads.
Manley reminded the community to "pay close attention to any suspicious device, whether it be a package, a bag, a backpack or anything that looks out of place" and to call 911 instead of approaching such items.
Gabe Gutierrez reported from Austin, and Elizabeth Chuck and Tom Winter from New York.