Texas dropped Planned Parenthood clinics from the state's Medicaid program on Monday, Governor Greg Abbott announced Monday.
The move follows national uproar and controversy surrounding an undercover video in which the sale of fetal tissue is discussed,
Gov. Abbott unfurled his latest effort as part of his administration's LIFE initiative, in which the 'F' basically stands for deFunding Planned Parenthood.
"Texas has stepped forward and shown its unyielding commitment to both protecting life and providing women's health services," Abbott said. "The gruesome harvesting of baby body parts by Planned Parenthood will not be allowed in Texas and the barbaric practice must be brought to an end. As such, ending the Medicaid participation of Planned Parenthood affiliates in the State of Texas is another step in providing greater access to safe healthcare for women while protecting our most vulnerable — the unborn."
A similar funding battle is also shaping up in Louisiana, where Gov. Bobby Jindal reacted to the videos by not allowing state money to fund the embattled healthcare provider.
Planned Parenthood filed a lawsuit to fight Jindal's order and a judge ordered that the healthcare provider's funding be reinstated for 14 days, just hours before the defunding announcement was made in Texas.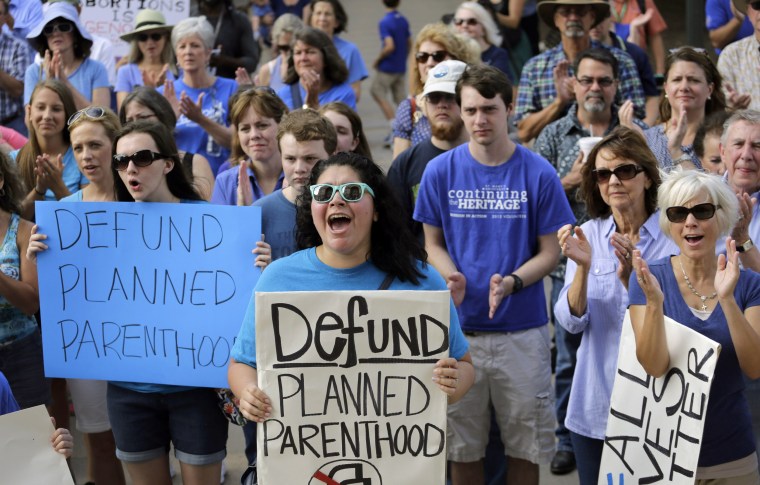 Planned Parenthood, known for providing life-saving reproductive and maternity healthcare, is not taking the attacks lying down and vowed to fight the new moves.
"It is completely outrageous that Texas officials are using these thoroughly discredited, fraudulent videos to cut women off from preventive health care, including cancer screenings, HIV testing, and birth control," Dawn Laguens, executive vice president of Planned Parenthood Federation of America, said in a statement to the Associated Press.
"We will fight back against this outrageous, malicious, political attack in Texas with everything we've got, and we will protect women's access to the health care they need and deserve."
The undercover videos in question were produced by anti-abortion activists who posed as potential buyers of fetal organs. Planned Parenthood has denied any wrongdoing and has said the videos were subject to biased editing.