The execution of a Texas man known as the "Tourniquet Killer" was called off Wednesday so prosecutors could investigate whether he conspired with a fellow death-row inmate to falsely claim responsibility for another murder.
Authorities said that in July, they found a folder with items related to the 1998 murder of Melissa Trotter in the cell of Anthony Allen Shore. His attorney said some of the items were given to him by Larry Swearingen, who is scheduled to be executed for Trotter's death in November.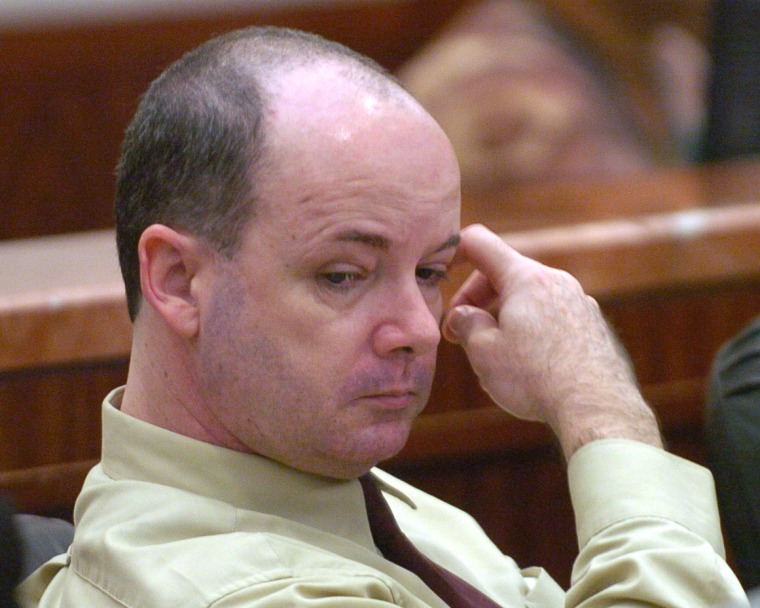 One of Shore's visitors told an investigator that he claimed he had killed Trotter and "would not let Swearingen be executed" for the crime, according to a letter from the Montgomery County district attorney.
Prosecutors suspect Shore, who was supposed to be executed Wednesday evening, planned to leave behind a statement claiming credit for Trotter's death, thus throwing Swearingen's guilt into doubt.
"We remain absolutely certain of Swearingen's guilt of Melissa Trotter's murder, but permitting Shore to claim responsibility for that crime after his execution would leave a cloud over the judicial proceedings in Swearingen's case," the DA wrote.
As the hour of Shore's execution approached, a Texas judge issued a stay of execution. Prosecutors asked that the date be reset for Jan. 18, giving them time to complete the investigation "and prevent these inmates from perpetrating a fraud."
Shore's attorneys did not immediately respond to a request for comment.
Shore, 55, was arrested in 2003 for raping and strangling Maria del Carmen Estrada, 21, in 1992 after detectives cracked the cold case through DNA analysis. Police said he also confessed to killing three other women from 1986 to 1995.
After he was convicted in 2004 of murdering Estrada, Shore's attorney told jurors that he wanted to go to the execution chamber.
"Anthony still believes ... it is time for him to sacrifice his life for what he has done," the lawyer told the panel.
In recent appeals, his current attorneys contended that Shore did not get a vigorous defense and argued that he was ineligible for the death penalty because of brain damage and mental illness.
The courts disagreed. In January, one panel of judges noted Shore's long history of violent behavior.
"Shore's sister testified that he stabbed a kitten to death when he was 4 or 5, that he pushed a screwdriver through his sister's head when they were children, and that he used his sister to get girls in the neighborhood to come out of their houses so he could grope and try to kiss them," they wrote.
"Shore's daughters testified about being abused, drugged, and molested by Shore. His wife and former girlfriends testified that he drugged and raped them, choked them while having sex, used drugs, and kept pornography of young girls."
They said the clinical director of a sex offender program "testified that he had superior intellectual and abstract reasoning abilities; was grandiose, opportunistic, manipulative, and narcissistic; understood what was socially acceptable but had sexual deviations and would break a law if he thought he could get away with it; and scored high on a measure of psychopathy."