A new line of storms was barreling through Texas on Sunday as officials worked to assess damage from a series of tornadoes and severe weather that killed at least 11 people overnight.
Authorities said the full extent of the damage from Saturday's spate of storms wasn't yet known — but they warned that the region should get ready for another hit as forecasters warned of more "severe" weather and heavy rain.
The same storm system that spawned the deadly twisters in the Dallas area was expected to leave as much as 2 feet of snow in west and north Texas, according to the National Weather Service.
Related: Texas Reeling as 'Crippling' Blizzard to Follow Deadly Tornadoes
The National Weather Service also said there was a "severe threat" in place for the Dallas-Fort Worth area into Sunday morning, adding that more heavy rain would be behind the threat.
With those warnings in place, the areas hardest-hit overnight were waking up to assess the damage. The storms leveled homes and downed power lines. Heavy rainfall also triggered flash flooding across much of Dallas County, according to The Weather Channel.
Officials in Collin County confirmed three deaths from the storms — including two at a Copeville gas station that was destroyed in the storms, according to NBC Dallas-Fort Worth. Copeville is northeast of Garland.
Police said eight people were killed in Garland, which was hit by what Sarsalari called "a violent tornado with a long path." Only one had been identified Sunday, Petra Ruiz, 27.
The police department said early Sunday that 15 people had been taken to hospitals with non-life-threatening injuries and that about 600 structures had been damaged in the city, about 20 miles northeast of Dallas, across an approximately 2-square-mile area.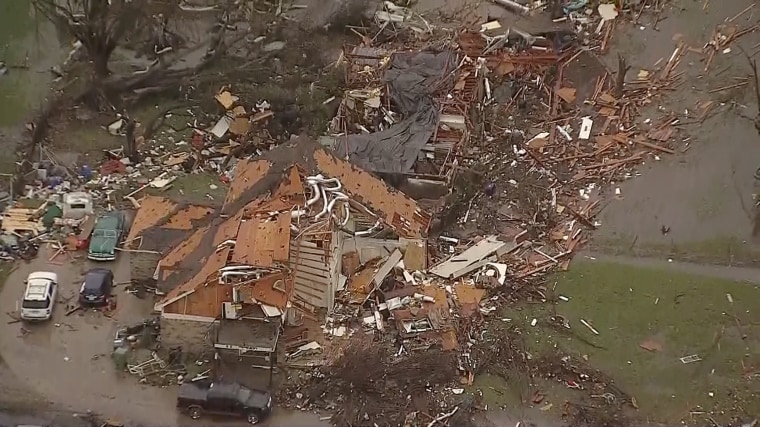 Five of Garland's deaths occurred at an intersection in the city, and Randy Gore drove up to the scene shortly after the tornado hit.
"It was terrifying," Gore told NBC Dallas-Fort Worth. "It was heartbreaking, especially being the day after Christmas."
Lamont Shrimp told the station he stopped to help peopled pinned and trapped in damaged vehicles.
"That was our main focus, helping getting them out," Shrimp said. "Getting IVs in them, just keeping them warm, talking to them, making sure there's some support."
Not far from Garland, in Rowlett, officials there said the city had sustained a "direct hit" and implemented a curfew for the affected area.
"Damage is widespread," City Manager Brian Funderburk said at an early Sunday news conference. He said 23 injuries were reported, but didn't have further information.
"There's some areas where it's not even safe for homeowners to get into," Police Chief Mike Brodnax added.
Rowlett Fire Chief Neil Howard said search teams were fanned out to help with damage assessment, adding that the city was still counting how many homes had been hit.
"We're still waiting for daylight so we can really see what happened," he said.
Dallas police said they were assisting with patrols in Rowlett to ward against looting.
South of Dallas, officials in Ellis County said about 40 homes were partly or completely destroyed by a twister that hit about 6:01 p.m. (7:01 p.m. ET).
"We have destroyed and damaged homes, please do not get out on the roads if you do not have to," Emergency Management Coordinator Stephanie Parker said on Twitter.
Video emerged of what appeared to be a tornado near the Dallas suburb of DeSoto, and there were reports of debris falling from the sky, the National Weather Service said.
The city of DeSoto said in a statement that several homes and other structures were damaged by the "tornadic activity."
Meanwhile, weather sirens sounded and flooding was reported in Dallas itself.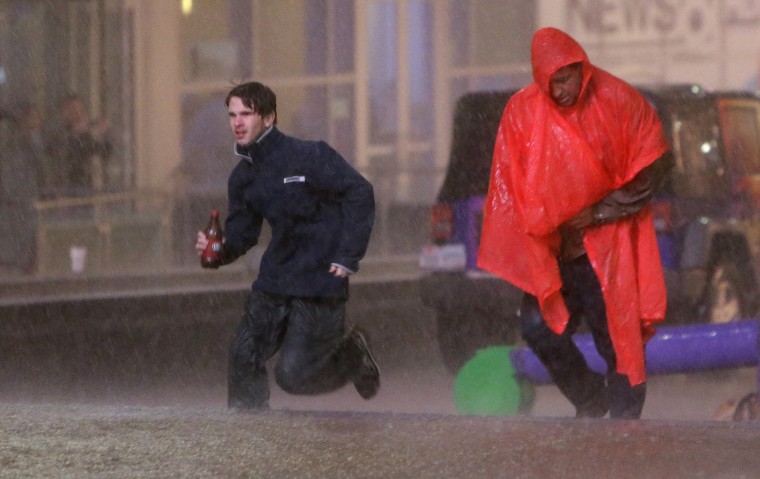 The twisters — accompanied by torrential rain, wind and some hail — were part of a weather system that could produce major flooding from north Texas through eastern Oklahoma, eastern Kansas, western Arkansas and parts of Missouri, according to The Associated Press.
Recent severe weather in the southeast killed at least 18 people.