A little over a month ago, Ahmed Mohamed was arrested as a suspected bomb builder. On Monday night, the Texas teenager was a White House guest, mingling with astronauts, scientists and elected officials.
The out-of-this-world gathering happened during "Astronomy Night," an event designed to "inspire more young people to ask about the stars," as President Barack Obama described it during comments at the beginning of the event.
"We have to watch for and cultivate and encourage those glimmers of curiosity," Obama said, adding that they shouldn't "suppress them."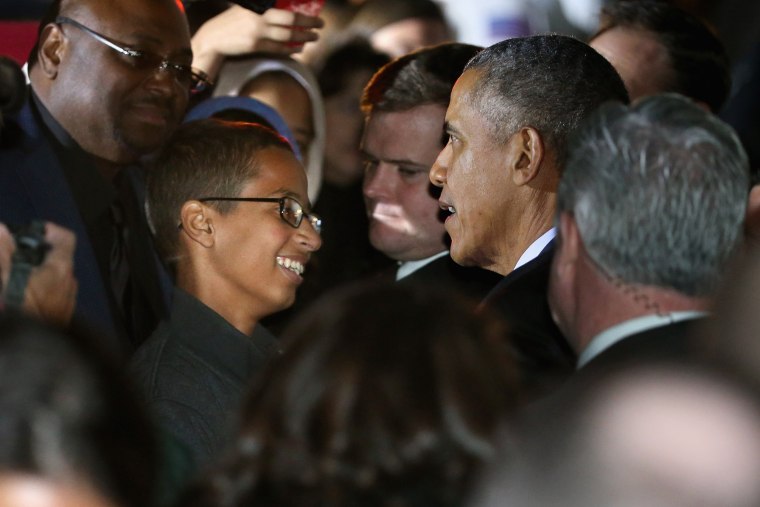 Obama didn't mention Mohamed by name, and White House spokesman Josh Earnest said earlier Monday that he didn't "believe the president will have an opportunity to meet one-on-one" with the teen — but the two were captured in a photograph together meeting among the crowd.
But the invitation came after 14-year-old Mohamed's arrest last month, when authorities in a Dallas suburb mistook the teen's homemade clock for a possible bomb.
The arrest quickly triggered a Twitter hashtag — #IStandWithAhmed — as well as charges of Islamophobia and support from business leaders and the president, who posted on Twitter: "Cool clock, Ahmed. Want to bring it to the White House? We should inspire more kids like you to like science. It's what makes America great."
The invitation has drawn some criticism, too: On Sunday, Republican presidential hopeful Ted Cruz said that Obama was using Mohamed as a tool to "divide" the country and that he was offering the teen more respect than police officers, the Dallas Morning News reported.
For Mohamed, the White House visit was just the latest in a schedule that's been jammed with events since his arrest. On Sept. 21, he visited California for a science and technology competition hosted by Google, where he met the company's co-founder, Sergey Brinn, and — with a wide smile across his face — tweeted a photo of them together.
Later in the month, Mohamed was in New York

I'm%20thrilled%20to%20welcome%20@ItsAhmedMohamed

%20&%20his%20love%20of%20#science%20to%20NYC.%20I'll%20buy%20one%20of%20his%20clocks!%20#IStandWithAhmed.%20pic.twitter.com/RvBSOgTeVK
—%20Eric%20Adams%20(@BPEricAdams)%20September%2028,%202015%20