In a worldly test of on-the-fly smarts, the Scripps National Spelling Bee crowned this year's champ, 14-year-old Karthik Nemmani from McKinney, Texas, who sealed the deal Thursday night by correctly spelling koinonia — "the Christian fellowship or body of believers," according to contest sponsor Merriam-Webster.
The knowledge on display at Gaylord National Resort & Convention Center in National Harbor, Maryland, was too much for most adults. Even some computer spellcheckers couldn't keep up with the words.
"These kids would beat the pants off most adults," said linguist Grant Barrett, co-host of nationally syndicated public radio show "A Way With Words."
Nemmani outlasted 12-year-old Naysa Modi, a seventh-grader from Frisco, Texas who tripped over the word bewusstseinslage — "a state of consciousness or a feeling devoid of sensory components."
She typed it out on an imaginary keyboard, spoke the letters and closed her eyes, but she misfired.
The elder competitor was a cool customer who was there thanks to an "RSVBee" invitation. He nailed word after impossible word, including ankyloglossia — "limited normal movement of the tongue chiefly due to an abnormally shortened frenulum."
This year's expanded contest saw its largest number of finalists, 16, culled from three days of competition that drew a record 515 hopefuls for three days of spelling battle.
"They were so good they weren't missing," says contest spokeswoman Valerie Miller, "It took us more rounds."
For the first time Scripps invited 238 qualified spellers through its "RSVBee" program to join those who had topped their regional contests.
The invitees had to be former national finalists and also had to have won their school contests. The age limit is 15.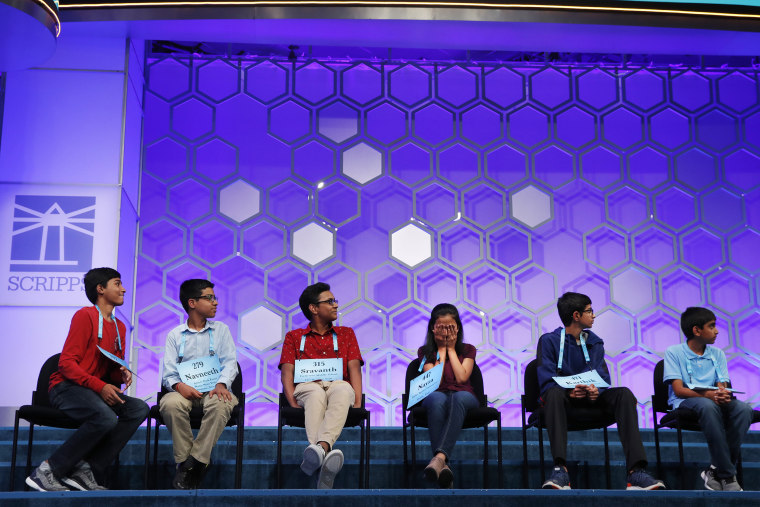 There was a moment of levity when the word pseudepigrapha (a writing or statement of dubious authenticity) came to Abhijay Kodali, an 11-year-old fifth grader who made the final three.
Pronouncer Jacques Bailly referenced Taylor Swift lyrics to use it in a sentence, ending his example with the deadpan words, "I'm just going to shake shake shake shake shake, shake it off."
Kodali was ultimately felled by the Hawaiian word, aalii (a hopbush), missing one "a." One of the color commentators during the ESPN broadcast of the contest Thursday said that in Hawaiian the word would have come with an extra syllable to emphasize that extra vowel.
"I'm always astonished by how they manage to find words I've never even seen before and can't even begin to guess how to spell," Martha Barnette, co-host of "A Way With Words," said in an interview Thursday.
Media company E.W. Scripps has run the show since 1941.