A North Carolina man faces false imprisonment charges after he kidnapped his girlfriend, who was rescued thanks to text messages she sent to 911 from the trunk of the man's car, according to authorities and court records.
Nicholas Allen Mattevi, 32, of Fayetteville, faces a March 9 hearing in Cumberland County District Court. He was free on $10,000 bond. No attorney of record is listed in court records.
The 29-year-old woman, who isn't identified in public court records, called 911 from the trunk of the car about 4 a.m. Jan. 14. She was connected to the emergency dispatch office in Johnston County, outside Raleigh, 911 supervisor Tim Medlin told NBC station WRAL this week.
"I'm inside a car trunk," the woman said, but the line soon disconnected, Medlin said.
So Medlin, using an old flip phone the EMS office keeps to interact with people by text, messaged the incoming number, he said.
"Texting — it was the only way I knew we would probably not get her in trouble," Medlin told the station. "When I sent a simple text, 'Can you text?' she responded, 'Yes.'"
According to a transcript of the exchange, the woman typed that she was in a red Mustang and that she and her boyfriend lived in Fayetteville. Then she wrote: "He's stopping. I have to go."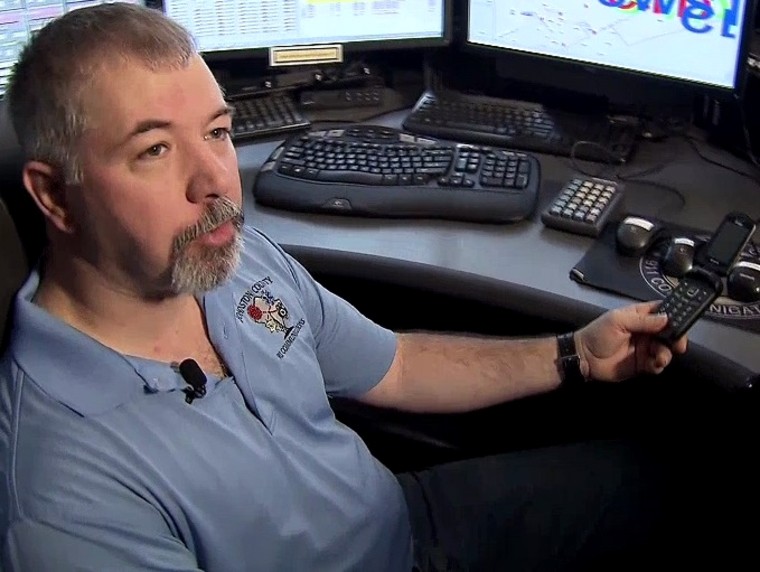 Medlin said he called the sheriff's office in Cumberland County, where Fayetteville is located. Cumberland deputies, working with the woman's cellphone carrier, were able to locate the phone, and Fayetteville police soon spotted the car, he said.
Only about 11 percent of 911 dispatch centers in the United States can accept text messages — Johnston County's being one of the few, according to the Federal Communications Commission, which first proposed universal "text-to-911" capability in 2012.
Advocacy groups for the disabled have spearheaded the text-911 campaign, but Jason Barbour, Johnston County's 911 director, said the North Carolina case demonstrates that it has wider use.
"This is a prime example of technology being used to the fullest at someone's greatest time of need," Barbour told WRAL.
Related: Dispatch Centers Slow to Adopt Lifesaving Text-to-911 Technology
But the woman could have been rescued even more quickly if the technology were better, he said.
"We can only receive texts and then text back another," he said, calling on all 911 centers to update their technology so they can initiate texts from their systems.
"We can't start the conversation" without a number to respond to, he said. "So that was the problem."