It's time to give thanks — for hats, heavy coats and central heating.
Millions of Americans in the Northeast and Middle Atlantic states will wake up to the coldest Thanksgiving in more than a century, with high winds even threatening the iconic Macy's Thanksgiving Day Parade, meteorologists said Wednesday.
The mercury in Philadelphia is expected to dip to a bone-chilling 29-degree high on Thursday, with similar shivering temperatures set for New York and Boston at 26 and 21 degrees, respectively, according to NBC meteorologist Kathryn Prociv.
The lowest high temperature for a Thanksgiving in New York City came on Nov. 30, 1871, when the mercury fell to 22 degrees, according to the National Weather Service. The coldest Turkey Day in Boston was 19 degrees, in 1873. Philadelphia's coldest Thanksgiving was 28 degrees, in 1901.
New York City is also bracing for winds of 15 mph to 25 mph on Thursday, which had Macy's parade organizers on high alert Wednesday. The parade will go on, but whether the 16 giant balloons will fly is another question.
Any sustained winds of 23 mph or gusts of 34 mph would ground the massive inflatable stars, organizers said. They'll decide Thursday morning whether the balloons will be in action.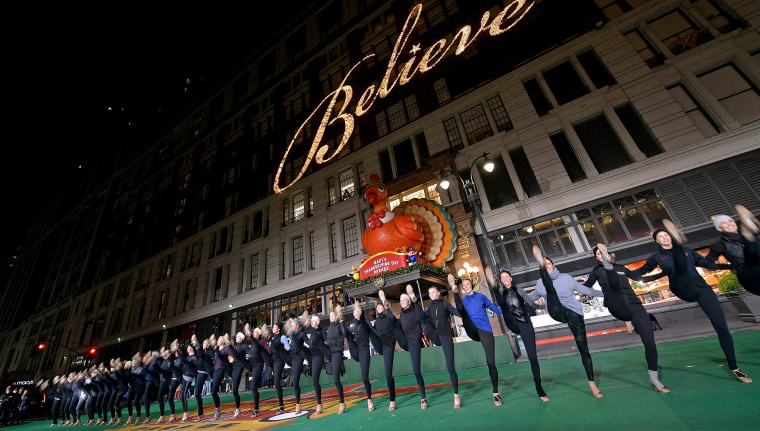 "We saw it was going to be very cold and went and got long johns and everything before we came," Sarah Polson, who's visiting from South Carolina with her family for the parade, told NBC New York. "I hope we're ready."
Polson's husband, Jonathan, referring to their infant son, added: "And we're hoping for his sake that Spider-Man can fly, because that's his favorite balloon."
There are real safety issues. In 1997, 43-mph winds blew a 6-foot-tall Cat in the Hat balloon straight into a lamppost, severing a metal arm that struck two people in the head — one of whom was left in a coma for 23 days.
The last time high winds grounded the balloons was in 1971. The parade, which is televised by NBC, starts at 9 a.m. ET.
Boston Mayor Marty Walsh said he's worried that his residents will look at the calendar and not understand just how cold it'll be on Thursday.
"I'm a little concerned about it, because I don't think people realize. ... It's Thanksgiving, so everyone knows it's going to be cold, but no one realizes it's going to be that cold," Walsh told reporters on Wednesday.
"We kind of think of the weather we're getting tomorrow more [is] like January weather than November weather."
Walsh was particularly worried about people going to high school football games — a Thanksgiving tradition throughout much of New England — without being properly dressed.
"So we're asking people if you go to a football game, dress appropriately. Layer," Walsh said. "Make sure you cover your face. Make sure you cover your hands. Just be careful when you're out there."