Repair crews made progress restoring power to more than 344,000 left in the dark on Thanksgiving across the Northeast, but many remained without electricity Thursday night after a nor'easter dumped snow across the region. A major power company in Maine called in help from Canada, and workers in Massachusetts were working throughout the night.
More than 157,000 homes and businesses remained without power in New Hampshire, which at one point had more than 200,000 customers without power in the aftermath of the storm that snarled travel plans and forced some to cook Thanksgiving meals on the grill. Central Maine Power said it had reduced the outage to less than 50,000, and in Massachusetts, National Grid said it had restored power to most of its customers and had around 6,600 without power by 10 p.m. ET. NBC New York reported that 19,000 homes and businesses along the Hudson River Valley remained without power late Thursday, as well as nearly 7,3550 in northwestern New Jersey.
More than 50 vehicles were involved in a chain-reaction crash on icy Interstate 90 near Niagara Falls, New York. Several people were taken to hospital but none of the injuries were believed to be life-threatening, police said.
The nor'easter dumped up to 20 inches of snow and slush from West Virginia to Maine on Wednesday and early Thursday, causing some cooks to improvise.
New Hampshire was slammed with some of the highest snow totals — as much as 18.4 inches in Madison, just west of the Maine border. In Manchester, Christina Keane used some ingenuity after her power went out for the second time after 9 a.m. She whipped up some pancake batter and used her home's outdoor grill to cook breakfast.
"The grill is pretty much our stove right now," she told NBC News. Her 6-year-old daughter was playing in the snow while she heated the home with the fireplace.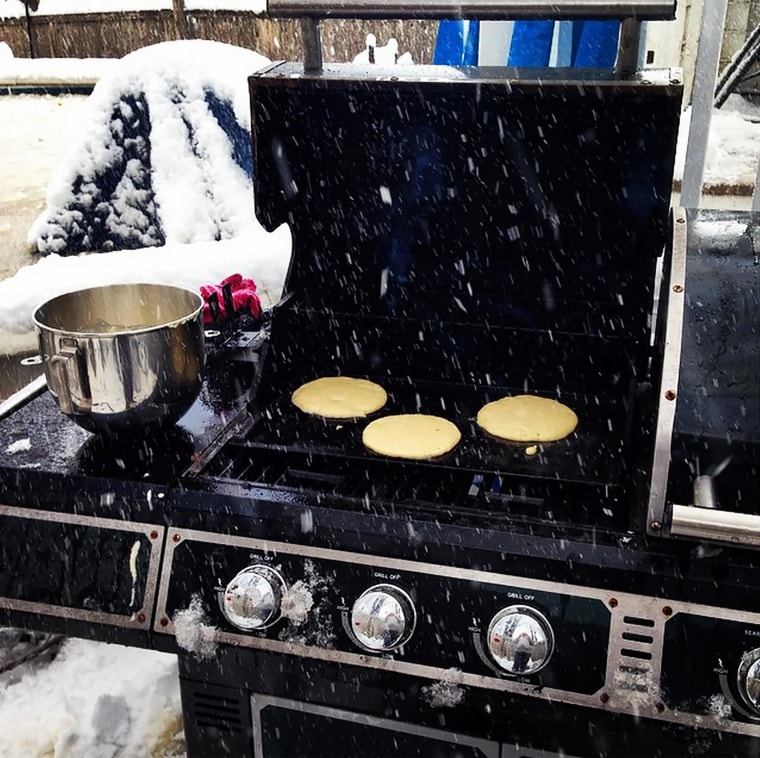 In neighboring Hooksett, Deb Piotrowski, her husband and their two children, ages 10 and 11, left their darkened home to spend the holiday at her parents' home, which has a generator. They cooked their turkey in an outdoor deep fryer using a propane tank.
The weight of the snow caused trees and branches to drag down power lines along the stretch of road where Piotrowski lives to her parents' home. Being without lights is nothing new. "We're used to this, but having it (happen) on Thanksgiving stinks," she said.
Alex King, a college student originally from Seattle, said his family was using a gas grill to cook the Thanksgiving turkey after 6 inches of "picturesque" snow knocked out electricity at their house in South Bristol, Maine.
"We do have a generator that powers about half of the plugs in the house, so we have basic electricity and Internet," he said. "The grill method will apparently take about the same amount of cooking time, three to four hours for our size of turkey. However, we are now relying on a wood stove for heat."
But these New Englanders aren't griping about spending the holiday as if they were Pilgrim settlers. "We weren't supposed to go anywhere far today anyway," Keane added.
Travelers hopping on flights in and out of the Northeast and Midwest were faced with continued cancellations on Thursday. More than 490 flights were canceled and more than 800 delayed across the country at 2:30 p.m. ET, following an avalanche of cancellations Wednesday, according to FlightAware.com. The most heavily impacted airports have been Newark Liberty International in New Jersey, Chicago's O'Hare International and Philadelphia International.
Meanwhile, a separate storm threatened to drench the West Coast. Up to four inches of rain was expected in the Pacific Northwest and as far down as central California through the end of the weekend, forecasters said.
"This is going to affect everywhere from Seattle down to San Francisco," said Weather Channel meteorologist Kevin Roth, adding that cold air from Canada means some of the rain could turn into snow in parts of Washington and northern Oregon beginning Friday night.
NBC News' Alexander Smith contributed to this report.