The Democratic primary for Dallas district attorney, targeted in a growing national campaign to elect progressive prosecutors, ended in an apparent loss Tuesday for the candidate many reform advocates saw as their best bet to curb mass incarceration.
But the crusaders aren't giving up easy.
As a recount unfolded Wednesday to determine who would move on to the general election, reformers said Dallas remains crucial to their goal of reshaping America's criminal justice system from the bottom up.
Also on the list of possible targets this year are Baltimore; Charlotte, North Carolina; Los Angeles; Oakland, California; San Diego and St. Louis.
Related: Criminal justice reformers aim big by targeting local DA races
The reformers said their efforts hinged less on electing particular people and more on pushing candidates to adopt policies that would be fairer to poor people and minorities and send fewer people to jail.
That includes reducing reliance on cash bail, expanding jail-diversion programs, building conviction-integrity units and seeking fewer death penalty cases.
"Our work doesn't stop. That's an emphatic point," said Brianna Brown, deputy director of the Texas Organizing Project, one of several local, state and national groups that pressed Dallas candidates to adopt reform-minded agendas and urged voters to consider those commitments.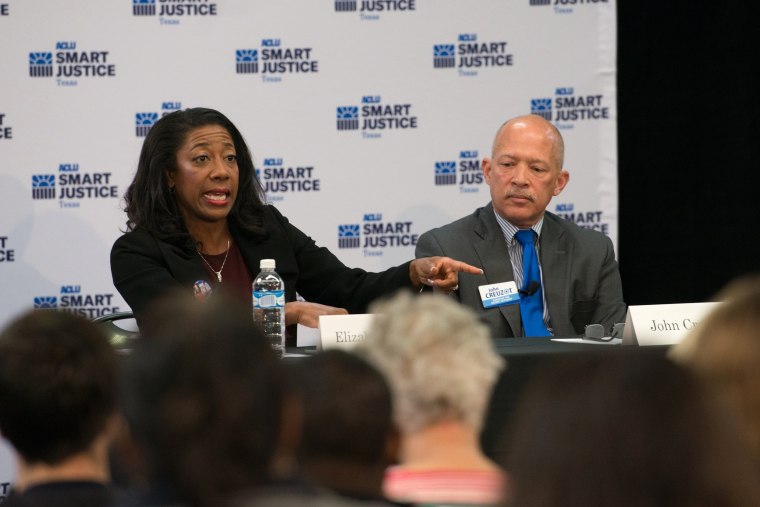 Her organization endorsed Elizabeth Frizell, a former judge who pledged to end the use of cash bail and arrests for low-level marijuana possession in Dallas. Frizell lost by a few hundred votes to John Creuzot, also a former judge and who also embraced much of the reformers' agenda. Unless the recount turns the results around, Creuzot will face Republican Faith Johnson, who was appointed by Gov. Greg Abbott after her predecessor resigned.
Reformers' involvement in the race pushed both candidates to embrace a more progressive policy agenda that put Dallas at the top of a national conversation about criminal justice reform — efforts that will continue in the general election, Brown said.
"The fight for criminal justice reform doesn't end with one election," Brown said. "The stakes are too high."
Reformers also claimed victory in the Democratic district attorney primary in Bexar County, which includes San Antonio, where incumbent Nico LaHood reportedly lost to defense lawyer Joe Gonzales.
Dallas drew national attention because Texas held the earliest 2018 primaries, giving reformers a chance to reassert themselves as a force in this year's election season.
Related: Democrats hope biggest Texas midterm primary turnout in 15 years starts national wave
Last year, a coalition of national and local groups helped engineer civil rights lawyer Larry Krasner's upset victory in Philadelphia's district attorney race.
In that election, the reformers, led by the American Civil Liberties Union, targeted pivotal voter blocs with digital advertising, public forums and formerly incarcerated men and women who canvassed neighborhoods, asking voters to support candidates who agreed to reduce mass incarceration. Liberal billionaire George Soros ­— who has helped fund the ACLU's efforts and has been donating to progressive district attorney candidates around the country — also gave money to Krasner.
Krasner's win followed victories in prior years by progressive candidates in New York; Chicago; Denver; Houston; Orlando, Florida; and smaller jurisdictions in Louisiana, Mississippi, New Mexico and Texas.
The movement has been driven by a growing acknowledgment of the power held by local prosecutors, and their role in a three-decade rise in prison populations that peaked in 2009, long after crime began to decline. Despite their influence over who gets prosecuted and what sentences they receive, few prosecutors face serious campaign challenges, researchers say.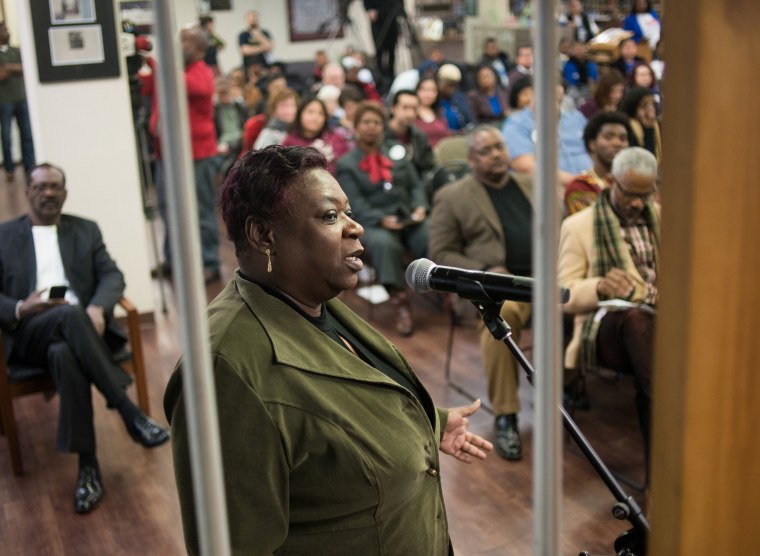 In January, the reformers took their Philadelphia playbook to Dallas, a Democrat-majority city with a history of racial segregation, racially disparate marijuana arrests, high rates of death penalty cases and allegations of running a cash bail system that discriminates against the poor.
While Soros does not appear to have donated money to any of the Dallas candidates, other similar-minded groups did. The newly formed Real Justice PAC and the Texas Organizing Project both contributed several thousand dollars to Frizell.
And the ACLU's national and Texas offices invested heavily in the Dallas primary, although they did not endorse a candidate. They focused instead on pressing the candidates to take positions on a number of policies important to reformers.
Color of Change PAC, whose political action committee endorsed Frizell, and Real Justice PAC, another national organization, also made a big push online and on the campaign trail. The Texas Organizing Project conducted its own canvassing effort.
"In order to make a real dent in mass incarceration, we have to have better decision makers and better leaders in big jurisdictions, not just because district attorneys have power over a large number of people's lives, but also so they can set a standard for what should be done and what's possible," Color of Change PAC spokesman Rashad Robinson said.
Sharon Watkins Jones, director of political strategies for the ACLU of Texas, said she noticed candidates changing their stump speeches to include pledges to reduce mass incarceration.
"We'd like to think that's result of us asking those types of questions," she said Wednesday.
CORRECTION (March 8, 2018, 10:17 a.m. ET): A previous version of this article misstated the name of a political action committee. It is the Color of Change PAC, not the Color of Justice PAC.