Evelyn Piazza told a roomful of fraternity members to close their eyes and imagine the hospital room where she said goodbye to her son. Tim Piazza, 19, was unconscious with a fractured skull, after an alcohol-fueled fraternity hazing ritual at Penn State University in February 2017.
"A nurse pulls your mom forward and tells her to kiss her baby goodbye," Evelyn Piazza said, her voice breaking as she described her son's last moments to 500 undergraduate fraternity members from across the country in the dimly lit ballroom at the Sheraton Grand in Phoenix.
"Even though he's unconscious, you tell him to hang in there, that you're proud of him, and that you love him," Piazza continued. "A tear rolls down his cheek and you think he heard you and then they take him away."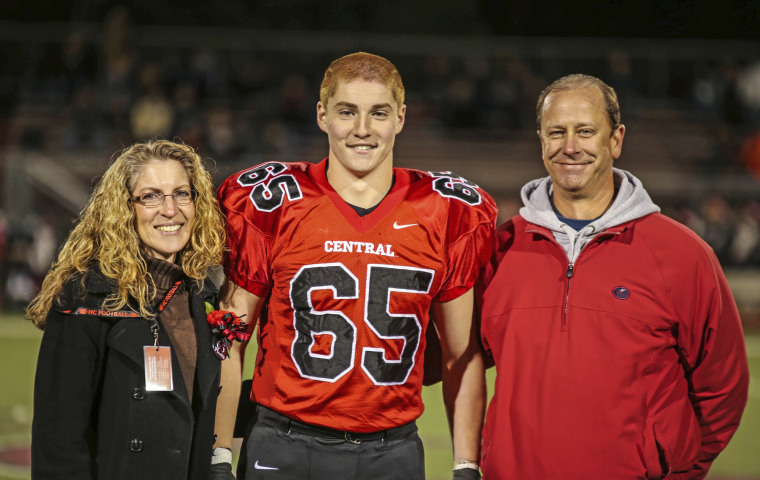 Piazza was speaking at Sigma Alpha Epsilon's annual leadership conference, alongside her husband, Jim Piazza, and two other couples whose sons died after fraternity hazing incidents. (Sigma Alpha Epsilon was not involved in those incidents.) It was the first time the parents had spoken together in an effort to stop the fraternity rituals that they say led to their sons' deaths. They called their talk, "Love, Mom and Dad."
Sitting in the audience, Spencer Bradbury, 20, president of Sigma Alpha Epsilon at the University of Colorado at Colorado Springs, began to cry.
"I'm a big momma's boy, and hearing moms talk about their sons being hazed to death broke my heart," Bradbury said weeks after the Aug. 5 event. "I could never leave my family. So immediately I'm breaking down into tears."
Bradbury wasn't alone. In a video of the talk shared by Sigma Alpha Epsilon, dozens of young men in the audience appeared to wipe away tears. Some hung their heads.
That is the sobering effect Piazza and the other couples — Stephen and Rae Ann Gruver, who lost their son, Max, and Rich and Maille Braham, who lost their son, Marquise — hope to have on fraternity members as they share their story.
Earlier this year, they formed the Anti-Hazing Coalition, and they have already begun fighting to strengthen hazing laws and policies at the federal and state level, as well as at individual schools. But they also plan to appeal directly to the emotions of fraternity members, in an effort to persuade them to stop the hazing.
"I don't see us going away any time soon," Jim Piazza said.
THE COALITION'S PLANS
The Anti-Hazing Coalition grew out of retreat in South Carolina in February, where more than a dozen families who had been affected by hazing met to discuss how to prevent future deaths.
At the state level, their first goal is to pass legislation in Pennsylvania named for Tim Piazza, which would make hazing a felony punishable by up to seven years in prison. As of this spring, 26 former Beta Theta Pi brothers had been charged in Piazza's death, mostly for conspiracy to commit hazing. Two have pleaded guilty to hazing and other charges.
The parents have already made an impact in Louisiana. Max Gruver, 18, died last year after a hazing ritual involving forced drinking at the Phi Delta Theta house at Louisiana State University. Four fraternity members were charged in his death, and Gov. John Bel Edwards later signed the Max Gruver Act, making some cases of hazing a felony and strengthening penalties for those charged with misdemeanor hazing.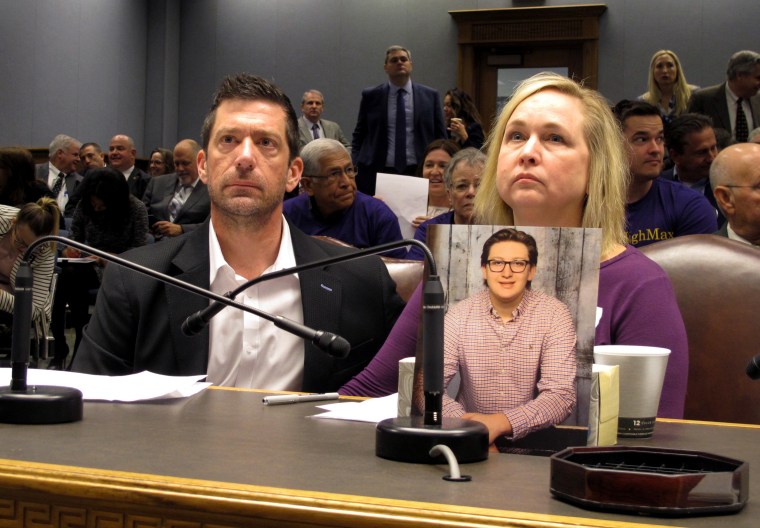 The next state the parents plan to take on is Georgia, where the Gruvers live and where the coalition also hopes to make hazing a felony.
"We need politicians to get on board," Jim Piazza said. "Good anti-hazing legislation doesn't hurt anybody."
Marquise Braham's death in March 2014 was different from Max Gruver's and Tim Piazza's in that it was a suicide, but Braham's parents believe it was just as much a result of hazing, including sleep deprivation and alcohol binging, that he experienced and witnessed at Penn State's Phi Sigma Kappa fraternity. A 2016 grand jury report found there was not enough evidence to bring charges.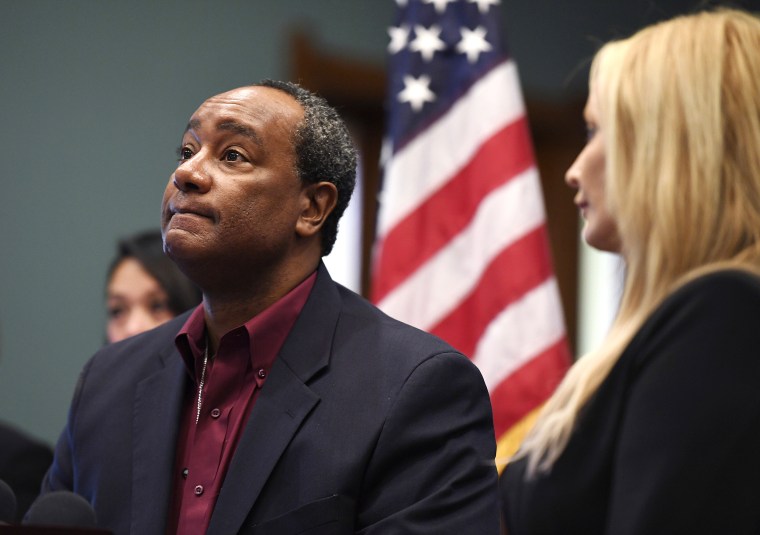 The Piazzas' next event is at Penn State on Wednesday, where they will speak about Tim and urge fraternity members to call 911 if they're worried about a brother.
"While it's difficult for us to go back there," Piazza said, "we do what we have to do."
'TAKING IT HOME'
Sigma Alpha Epsilon was once notorious for hazing. From 2005 to 2013, at least 10 people died in incidents related to the fraternity, some involving hazing, according to John Hechinger, a senior editor at Bloomberg News and the author of "True Gentlemen: The Broken Pledge of America's Fraternities," a book about fraternity culture that focuses on Sigma Alpha Epsilon.
The fraternity has recently taken steps to combat hazing, including eliminating pledging, which helped reduce the fraternity's insurance costs by 90 percent. But Michael Sophir, the fraternity's CEO, recognized that ending pledging would not necessarily get rid of hazing.
"We will always have to educate young men … about what is hazing, why we don't do it, and why it has no place in our organization," he said. "If we stop educating, things creep in."
That's why Sophir and Judson A. Horras, president of the North-American Interfraternity Conference, an association of fraternities, reached out to Jim Piazza this year and asked him to speak to fraternity members during the leadership seminar. The parents and fraternity leaders worked together to develop the talk, which focuses on the parents' loss and how it affected their families.
Sophir said everyone in the room was shaken by what the parents said.
"I was crying. There were alumni crying. I had staff crying," Sophir said. "And young men, strangers to one another, hugging one another, talking to one another. Creating accountability. Taking it home."
After the parents spoke, the fraternity members broke into groups to talk about how they could fight hazing on their campuses. Bradbury, who said he's never experienced or witnessed hazing, said his group discussed how they recruit brothers. "Are we bringing in the party house craziness or men … who want to lead?" he said.
WILL IT WORK?
As to whether these types of events will put a dent in hazing, which still occurs despite campus bans and the threat of criminal charges, Hechinger, the author, said it's a good start.
"Parents and families who have lost children have a moral authority," he said, adding "they can't be dismissed as anti-fraternity."
After the event, Bradbury struck up a conversation with Rich Braham and invited him and his wife to speak to his classmates in Colorado this fall.
"I want to help people in fraternities realize they need to make a change," Bradbury said, "or get the hell out."
CORRECTION (Aug. 29, 2018 5:36 p.m. ET): An earlier version of this article misstated data on deaths linked to Sigma Alpha Epsilon. At least 10 people died in incidents related to the fraternity from 2005 to 2013, not 2005 to 2017. Also, not all of those who died were members of the fraternity and not all the incidents involved hazing. (NBC erred in reporting the data from John Hechinger, a senior editor at Bloomberg News and the author of "True Gentlemen: The Broken Pledge of America's Fraternities," a book about fraternity culture. )