A typical wildfire season in California might begin in mid-summer and run through early autumn.
Not this year. Maybe not anymore.
The state was already besieged by two major wildfires in the first week of July, and is currently grappling with three intense infernos: the Camp Fire, north of Sacramento, and the Woolsey and Hill fires, west of Los Angeles.
With so much at stake — people's lives, tens of thousands of homes and entire communities — experts are taking note of this new pattern that is emerging when it comes to wildfires in the state.
And it's poised to worsen under a changing climate.
"It's not so much things are worse because it has warmed a couple degrees because of climate change," said Daniel Swain, a climate scientist at UCLA and the National Center for Atmospheric Research. "It's really a cumulative effect in that it's changing the landscape. You're getting longer periods of the year when you get these fires. We're literally burning the candle at both ends."
Swain said California's fire season doesn't peak during the summer, as one might assume, but rather in September and early October, which follow the dry season and come before the rainier one — a product of its Mediterranean climate.
In more recent years, the drought that plagued large swaths of California essentially turned the state into a tinder box. Although a state of emergency was largely lifted for the drought in April 2017, rainfall remained well below average last winter and again this autumn, Swain said.
Combine that with how California in July saw its hottest month ever recorded with a string of record-breaking heat waves, Swain said vegetation in the state has been left "tinder, tinder dry."
"Climate change is affecting how dry the vegetation is," he added, "and that affects how fast the fire spreads."
Adding fuel to the fire are the Santa Ana winds, which bring hot, extremely dry air from inland down into the coastal regions. The winds can wreak havoc in the fall.
On Friday, they were forecast to gust up to 50 miles per hour in the valley and coastal areas of Southern California, where the Woolsey Fire forced large areas of the city of Malibu to evacuate in the morning and led the Hill Fire to consume more than 10,000 acres and close a section of the 101 Freeway.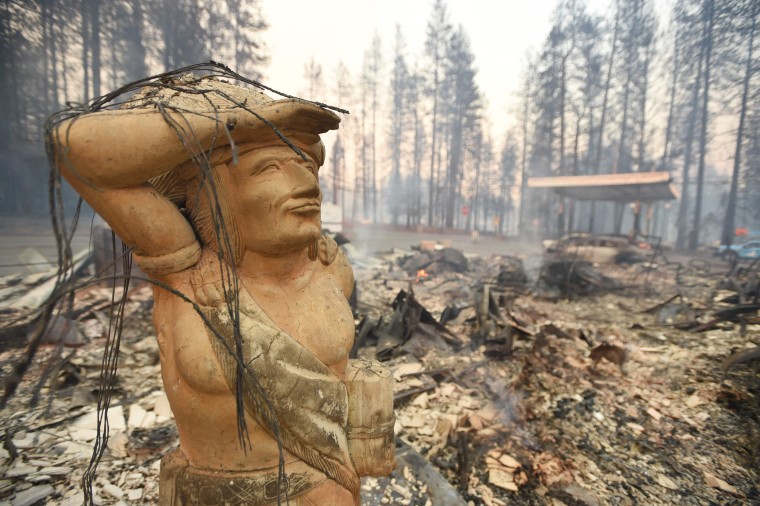 But most shocking, Swain said, has been the fury of the fast-moving Camp Fire in Butte County, which quadrupled in size by Friday morning as it scorched at least 8,000 acres. Officials said the town of Paradise, with a population of almost 27,000, appeared to be all but destroyed, with cars and homes left smoldering in an apocalyptic landscape.
"I'm not sure I've heard of something like that happening before," Swain said.
Five people were found dead in their vehicles in Paradise, officials said Friday. Due to the severity of the burns, identifications were not immediately made.
NBC News meteorologist Kathryn Prociv said it's unusual for such a wildfire to persist in Northern California at a time of year when storms off the Pacific Ocean usually temper those conditions.
But all bets are off after the lines have blurred for just how long the fire season lasts.
"Is this the new normal? It very well could be with the confluence of drier conditions and warmer conditions," Prociv said.
October has also been the deadliest month for wildfires in the state, according to the California Department of Forestry and Fire Protection, known as Cal Fire. Last year, the Tubbs Fire turned homes in the heart of Northern California's bucolic wine country into ash-covered shells and killed more than 20 people.
Prociv said wildfires that hit during the summer typically affect forest areas with sparser populations. But these fires in later autumn, driven by the Santa Ana winds, pop up closer to larger population centers — and put more people in harm's way.
In turn, that makes them financially costlier as well. Property damage claims from the deadly wildfires in October 2017 exceeded $3.3 billion, state officials said.
Swain said officials need to start reexamining how and where homes are built in areas susceptible to wildfires.
"Many times these homes are in desirable places because you're surrounded by pretty views," Swain said. "But they're also high-risk areas, so these are decisions that we have to make — whether it's wildfires or floods or storm surges — do we keep rebuilding in these same places?"