Jenna King was desperate. Her toddler, Archer, was suffering from violent involuntary muscle jerks last year. Even in his sleep, the little boy had episodes, sometimes waking up with a bloody nose from slamming into his mattress.
Doctors were at a loss for how to help him. The 2-year-old has a rare genetic mutation believed to affect only about 20 people in the world, so there is little information on the symptoms, treatments or prognosis of his condition — which, in addition to causing movement problems and seizures, affects every aspect of his development.
In a long-shot hope of finding answers, King, a Navy veteran and former law enforcement officer who is now a full-time mom in Victorville, California, opened Facebook and typed in Archer's mutated gene: RHOBTB2. A small, private Facebook group popped up. King joined and discovered about a dozen other parents of children with the mutation sharing advice from as far away as Europe and Australia.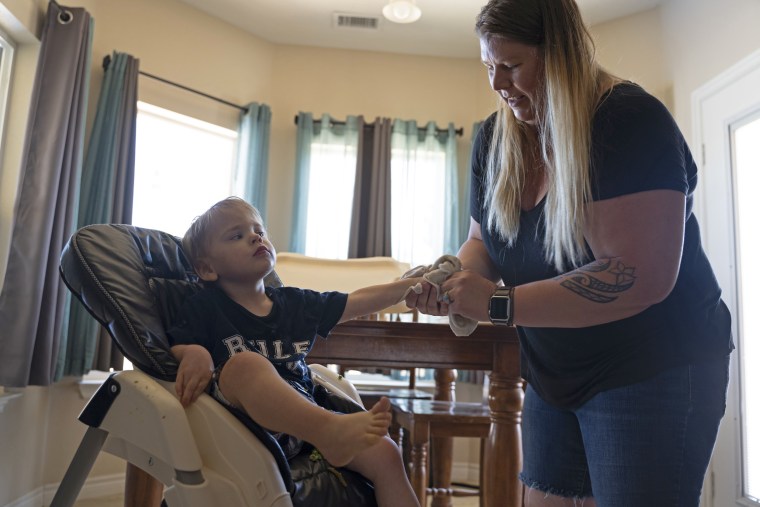 She introduced herself to the group and searched through the posts seeking an answer to her question: Had anyone figured out how to stop their children's muscles from going haywire?
One medication that had worked for another child seemed promising. It led King to ask Archer's neurologist about a similar drug, which hadn't previously been on the doctor's radar, and they decided to try it. It was a success: It cut the frequency of Archer's muscle episodes in half.
"It's been a huge breakthrough for us," said King, 41, who has stayed in regular communication with the other parents on Facebook. "Having this group, it really is such a strange and wonderful family that we've built."
Historically, for those with the rarest of diseases, getting a diagnosis — if a doctor could give them one at all — meant receiving little more than a mystifying label. Patients frequently felt alone in their symptoms, and doctors were often stumped on how to treat them.
But in the past decade, thanks to medical advances that make it easier to pinpoint uncommon conditions, plus a rise in online communities springing up around them, those who are told that they are one-of-a-kind are finding others like them.
"It is light years away from what it was," said Sharon Terry, the mother of two children who were diagnosed with the rare disease pseudoxanthoma elasticum (PXE) in 1994. Terry is the president and CEO of Genetic Alliance, a nonprofit advocacy network of about 1,200 disease organizations that promote research and patient support.
"When a new mom comes to me today and says, 'Oh my God, my kid was just diagnosed and we don't know anyone with this disease,' it's so much easier to tell them, 'Here's the places you can post, here's the things you can do with the click of a button with Facebook, with Twitter, with Instagram,'" she said.
In recent conversations with NBC News, nearly a dozen parents of children with very rare diseases described turning to such groups for everything from stopping seizures to soothing nonverbal children. They recounted "game-changing" moments when fellow parents shared names of life-saving medications, suggested weighted blankets to help children sleep and recommended water therapy to develop muscles in children who cannot walk. In many cases, the parents said that doctors — who generally discourage people from relying on medical advice from the internet — welcomed the recommendations as clues in developing a treatment plan.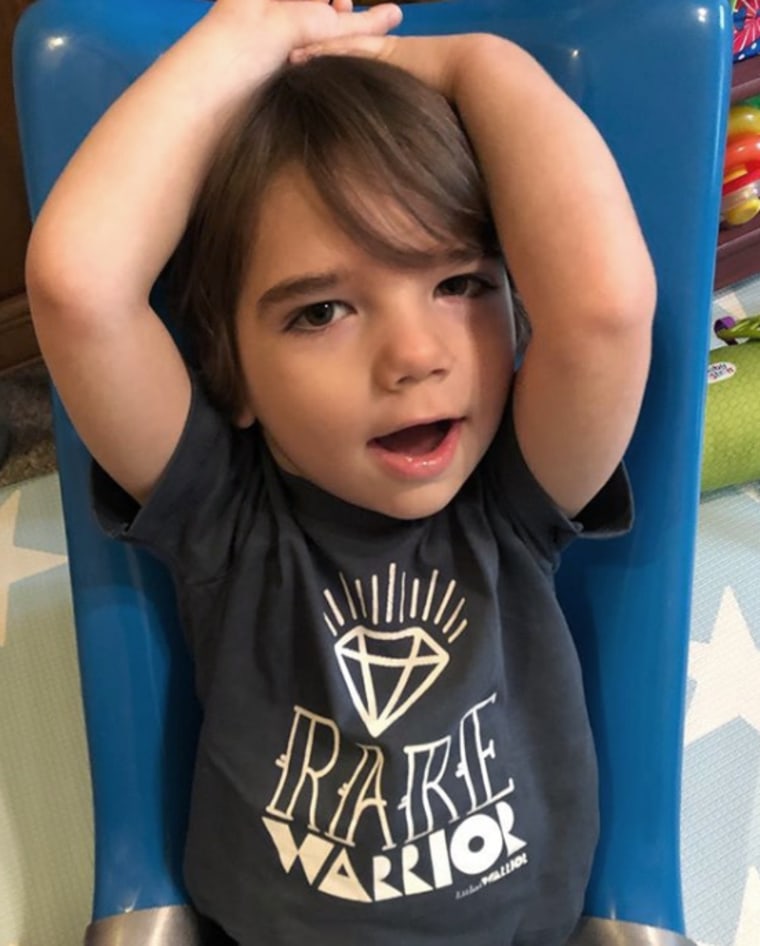 And then there's the most pressing question some parents seek to answer in these groups: how long their child might live.
Kelsey Easler's son Liam, 3, has the same rare genetic mutation as Archer King. For Easler, of Mariposa, California, joining the RHOBTB2 Facebook group and seeing other parents post pictures of children well into their teens gave her hope.
"Up until then, I had no idea what his life expectancy could be," Easler said of her son, whose future has been a question mark since he was diagnosed. "It's just not something you want to talk about, and that just gave me that little bit of relief."
More easily diagnosed than ever
The Centers for Disease Control and Prevention defines a rare disease as one that affects fewer than 200,000 people living in the United States. As a whole, rare diseases affect many more: about 25 million people in the U.S. and 400 million worldwide, the CDC says. It is not known how many of those affect just a handful of people, like Archer and Liam's genetic mutation.
Experts say rare diseases are being diagnosed more easily than ever thanks to medical technologies like exome sequencing, which analyzes the protein-coding genes where many genetic disorders are found, and whole genome sequencing, which scans a person's entire DNA to identify genetic variations. The tests, once prohibitively expensive, now cost as little as $250 for exome sequencing and $1,500 for genome sequencing.
The largest effort to identify previously unknown conditions is led by the Undiagnosed Diseases Network, a national consortium of clinical and research experts that was created in 2014. To crack medical mysteries, the network connects patients with top specialists around the country, examines their DNA and consults with research groups about their symptoms. Because the work is backed by the National Institutes of Health, tests and evaluations are generally done at no cost to the patient.
Arriving at a diagnosis can take months or years. So far, the network has reached a diagnosis for just under a third of the more than 1,100 cases it has evaluated — and even then, there is often little guidance for patients on treatment options. The Undiagnosed Diseases Network does not help treat patients once they are diagnosed, but it does connect them to researchers or physicians who have studied their condition, if any exist. And genetic counselors encourage patients to look for others with their disease online.
"For these rare conditions, it may be one of the only next clear steps that exist," said Kim LeBlanc, a genetic counselor and associate director of research operations for the Undiagnosed Diseases Network Coordinating Center. "It's great for patients and families to be able to find other people who have similar symptoms, and have the same condition, and learn how people have lived with the condition."
Racing against time to find cutting-edge treatments
Matt Might's son, Bertrand, 11, was diagnosed with a progressive genetic metabolic disorder, called NGLY1, seven years ago. At the time, the Mights were told Bertrand was the first patient ever diagnosed: "I think every parent wants to believe that their child is unique, but that was way more unique than I ever anticipated," Might said.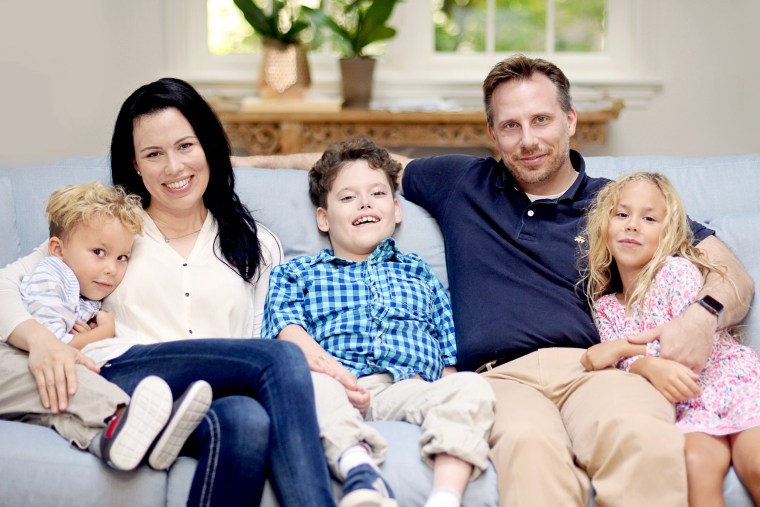 Specialists told the Mights that there were likely a few hundred people around the world who had the same disease but who had not been diagnosed. Eager to gather as much information as possible for his son — who cannot walk or talk and has vision problems — Might, a computer scientist by training who is now director of the Precision Medicine Institute at the University of Alabama at Birmingham, wrote a 2012 blog post loaded with keywords that he thought would attract others Googling symptoms that were associated with the disease: seizures, movement problems, developmental delays — and a lack of tears, one of its most unique symptoms.
"I started writing this code so if someone was on a diagnostic odyssey, it would lead them to the post," Might said. "I wanted it to go viral."
It did. Within the first year, Might found eight other patients. He has now connected with nearly 70 worldwide.
Might has learned a lot from others in the group. Bertrand had trouble eating and drinking, but his parents initially resisted giving him a gastrostomy tube, a way to deliver nutrition through a tube connected to his stomach, because it required surgery. However, they realized it was the right decision after speaking to other parents and learning that NGLY1 patients have a high probability of aspirating, or getting food or liquids into their lungs, leading to pneumonia.
Bertrand uses a wheelchair and an eye-gaze communicator, a look-to-speak system that enables him to stare at pictures on a tablet computer to construct sentences. His parents just got him a huge fish tank for his room — something he had requested with the tool.
"The doctors can't [give us a prognosis] because they've never really studied it that well, but we can, because we've met other families and we know what the progression of this disease is. We know that Bertrand could live into his 20s or maybe 30s," Might said. "We know it's going to progress, but we do have the ability to keep him happy."
When there is no online community to turn to
Sometimes, rare diseases are so rare that there is no Facebook group to join.
Mitchell Herndon, 19, of Affton, Missouri, has a neurological disease that over the last seven years has gradually affected his spinal cord, hearing and ability to move his arms and legs. Doctors say the condition, a mutation of the ACOX1 gene, has only been diagnosed in one other person: a teenage girl in South Korea who is unable to communicate.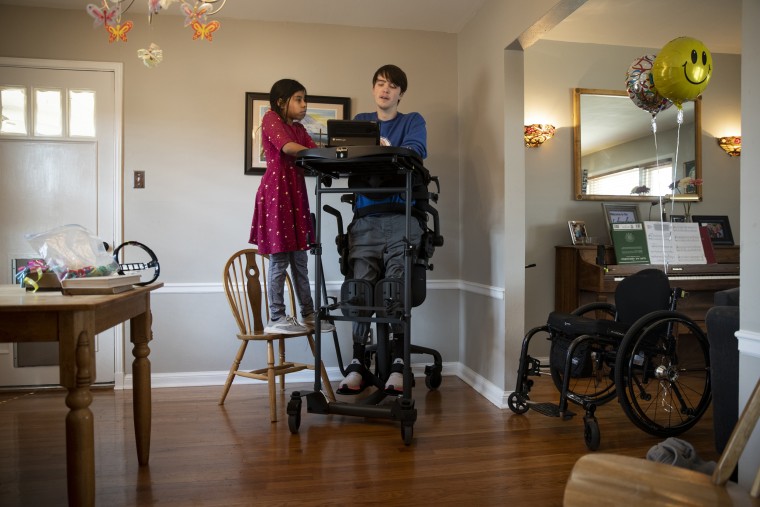 Over the years, Herndon has been in and out of the hospital with what he and his family refer to as "relapses." He has lost the ability to walk multiple times, and up until his most recent relapse last fall, gained it back to some degree thanks to physical therapy and medications. Now he uses a wheelchair and wears cochlear implants to help with his hearing loss.
Herndon has found some companionship in the deaf community and among others who have muscular disorders. But he has yet to find anyone who can relate to the ups and downs of his particular disease.
"At the end of the day, I don't really belong anywhere in particular," he said.
That has been challenging for Herndon, especially given that doctors cannot tell him what his future will look like.
"If I knew someone who was 50 years old and had the same thing, if they were doing amazing, that would clear up a lot of anxiety," Herndon said. "If we found out this is progressive, that would suck, but at least I would know what to expect."
The gift of setting dreams again
A look into the future is one of the biggest gifts that King, Archer's mother, has received from her online group. Archer turns 3 on Monday and recently gained the ability to pull himself up to stand. He can babble. But his doctors can't say whether he will ever walk or talk.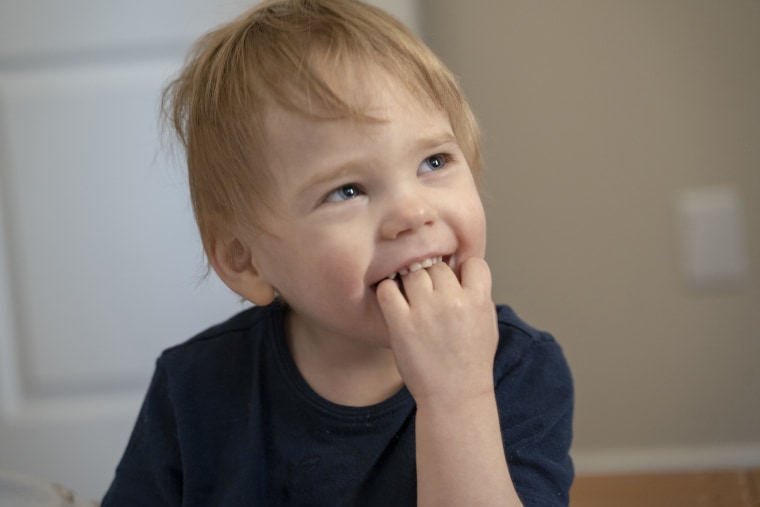 King loves seeing the other members of the RHOBTB2 group post smiling photos of their children, splashing in the pool during water therapy and hitting milestones as they grow up. All of the children have profound disabilities, but some, who are older than Archer, can take a few steps or say a couple of words.
"When you first have a kid, you look forward to all their firsts," King said. Archer's, though, have come later or not at all. He did not sit unassisted until he was one and a half — a year later than many babies. "It kind of strips you of all your dreams, and you have to grieve for all those dreams you had for him."
"But having this glimpse that he can achieve good things and he can be happy," she said, "it's kind of given us some of those hopes back."