Matè Muhammad said he knew something big was rising: As protests unfurled across the country following George Floyd's murder last May, hundreds of people were also flooding the streets of Des Moines, Iowa, his hometown.
From Chicago, where he lived at the time, Muhammad watched livefeeds of protesters in Des Moines squaring off against police in riot gear. Some smashed windows and threw water bottles. Crowds ran from tear gas and pepper spray. This was an unimaginable sight for Iowa's capital, which did not have a Black Lives Matter chapter, let alone massive street protests for racial justice.
It was like a train was moving, he said, and he didn't just want to get on — he wanted to drive it.
He connected with friends and helped plan a march in Des Moines on June 3, then came home to be part of it. Since then, he has become a leader in a burgeoning Des Moines protest movement. He organized marches, moved into a house with other activists and, inspired by earlier revolutionaries like Malcolm X, changed his name from Matthew Bruce in December.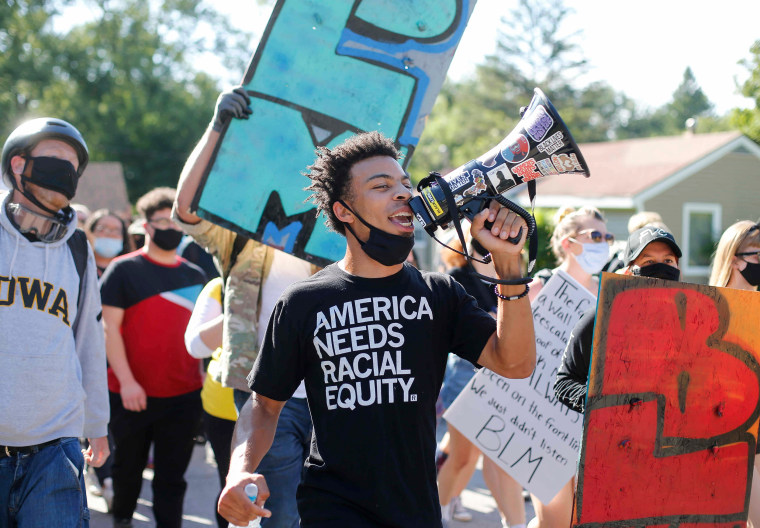 Muhammad was also arrested four times in the first four months of demonstrations over allegations that he interfered with law enforcement, vandalized a police vehicle and shined a laser beam at officers during protests, charges he's still fighting in court. In emails obtained by NBC News through open records requests, law enforcement leaders labeled him an "agitator" and "the ringleader" of violence and disruption. But he hasn't backed down.
"This is what I came home to do — there was no stopping me," Muhammad, 25, said. "I was probably the worst one for police to target because I was the last person that was going to quit."
Des Moines, a city of 215,000 where 11 percent of residents are Black, hadn't seen protests like those of the past year since the riots over policing of Black neighborhoods in the 1960s. Inequity persisted — Iowa has one of the highest disparity rates nationally of Black people arrested for marijuana possession — but spontaneous mass demonstrations were so rare that the Des Moines Police Department had no formal crowd control policy a year ago.
During interviews over the past four months, 15 Iowa residents who joined the protests described unexpectedly finding a calling, transforming from restaurant managers and landscapers to the leaders of thousand-person marches. People who had never attended a Des Moines City Council meeting are now running for a seat.
Both experienced organizers like Muhammad and those who attended their first protests last spring say they set out to change the system — but found that the fight changed them.
While the protesters had some early victories — including a ban on racial profiling in Des Moines, and restoration of felons' voting rights in Iowa — they've also faced consequences. Dozens were arrested, and several are still awaiting trial, some on felony charges that could result in yearslong prison sentences. Some said they were denied housing and jobs when employers and landlords found out about their arrests, while others have been under house arrest for months waiting for trial.
"It always has been a struggle and it's going to continue to be a struggle," said Jaylen Cavil, 24, a Black organizer whom police accused of creating a "grave danger" to the public by leading marches in the street. "As we gain more power, we're going to see more pushback."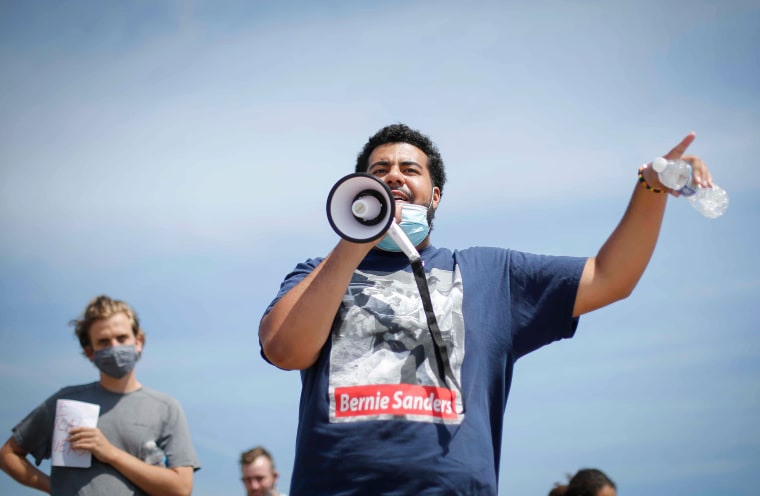 Many activists also described traumatic encounters with police at the protests, which left them struggling with anxiety months later. At least nine people have sued the city alleging that they were assaulted by police during and after the demonstrations.
The city's police department declined interview requests. In a statement, the department said it had plenty of experience accommodating protests, but "Riots, on the other hand, are extremely unusual." In internal city emails included among nearly 2,000 pages of documents that NBC News obtained, police leaders argued to elected officials that they were in a "no win situation," fending off assaults by demonstrators who wanted to create chaos and see them out of a job.
After a quieter winter, protesters returned to the streets of Des Moines this spring to combat a push by Republican state lawmakers to increase penalties for protest-related crimes and ban teaching in schools that the country is fundamentally racist or sexist. Meanwhile, the City Council is preparing to resume in-person meetings in June for the first time since the protests began, setting the stage for a confrontation between local leaders and activists.
"We're at a crossroads," said Justyn Lewis, a Black activist who started the nonprofit Des Moines' Selma to provide implicit bias training, and is running for City Council.
"And good Lord," he added, "I feel like the temperature is getting hotter."
'It really woke me up'
Denver Foote still has flashbacks to the night she said police assaulted her.
Beyond volunteering for Vermont Sen. Bernie Sanders' 2020 presidential campaign, Foote had never been an activist, nor paid much attention to the Black Lives Matter movement before last year. But she felt compelled to be in the streets after Floyd's murder.
Foote, 24, who is of Mexican and Asian American descent, grew up in a small town in northern Iowa. At her first restaurant job, she said, some white patrons refused to let her serve them or touch their money. In a state where only 2 percent of residents are of mixed race, this reaction was so common, she said, she felt desensitized to it. It wasn't until she moved to Des Moines, a more diverse city where she now works as a hairstylist, that she said she started to learn her experience was not isolated.
Then Floyd was killed, and it felt like a dam broke inside her.
"It was a grief I never felt before," she said. "It really woke me up. The protests started happening and I had to be there."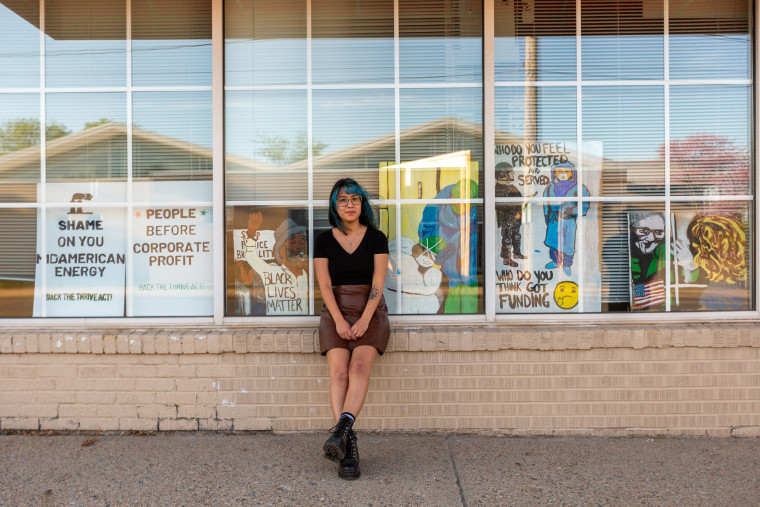 On May 30, the second night of protests in Des Moines, Foote marched with a large crowd to the Capitol building.
During those early protests, people gathered based on word of mouth, usually spread through social media. They chanted "I can't breathe," held signs reading "Prosecute Killer Cops" and told stories of racial harassment they'd experienced while marching to government buildings. Some protesters vandalized businesses downtown and at a mall on the north side, damaged police vehicles and threw rocks; police said in court filings that some officers were bruised, cut and required stitches.
Des Moines police had been working with an FBI task force, officers later said in court, searching for members of antifa "who we were told were in town coordinating events." Police flew drones over the marches and embedded undercover officers to keep watch, court records show.
After police fired tear gas at protesters on that second night of demonstrations, Foote retreated to another neighborhood downtown. Just after 2:30 a.m., police received a report that people had broken into a grocery store. Ten minutes later and two blocks away, as Foote walked alone to her car, she said, a group of officers cornered her. Without warning, they pepper-sprayed her and hit her with batons, she said, before arresting her on charges of participation in a riot, unlawful assembly and failure to disperse. Photos taken by her partner after she was released from custody show grapefruit-size bruises on her arms and legs.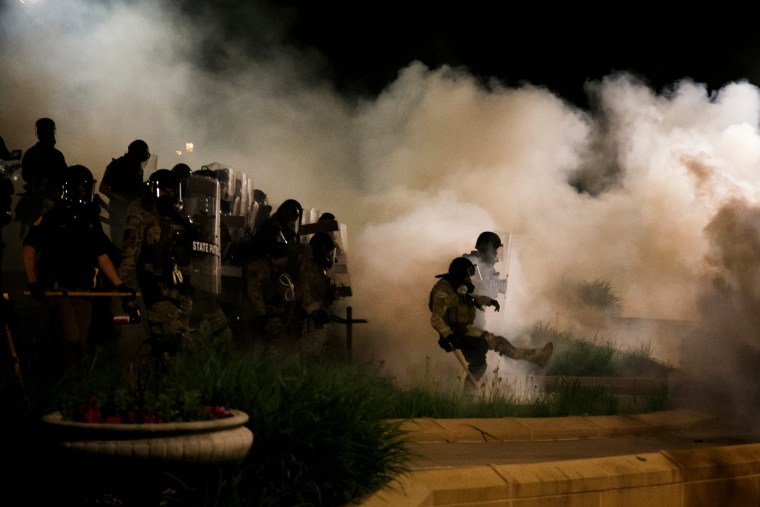 When Foote was released to await trial, the court placed her on an 8 p.m. curfew. She had trouble leaving her apartment for weeks anyway, she said, because of trauma from that night — she once had a panic attack at a grocery store after seeing an officer sitting in his vehicle outside. But she also felt more committed to the cause. She raised money for a bail fund to support other protesters and became a regular at City Council meetings.
"It's made me want to fight harder," she said. "We have our local police department getting away with doing these things."
After prosecutors dismissed her charges citing insufficient evidence, Foote sued the city and police department in December alleging malicious prosecution, assault and battery, and false imprisonment, seeking damages. The city filed a response in February denying her account and the suit is pending in federal court. The police department said it could not comment on pending litigation.
"Our response to violence directed at our officers, and the unlawful destruction of property, was based on our training and experience," Sgt. Paul Parizek, a police department spokesman, said in an email. "As we've moved forward since those days, just like other law enforcement organizations across the nation, we've improved policy and practice based on the best practices available now, and lessons learned then."
For more of NBC News' in-depth reporting, download the NBC News app
Last year, the police department promised a "comprehensive review" of its use of force during the summer's demonstrations. Police briefed the City Council on the findings, but Parizek said he couldn't release information because of pending court cases.
"This level of protest and activism really is something our community hasn't seen, and that includes our law enforcement," said Josh Mandelbaum, a Des Moines City Council member who is white. "I don't think they were prepared for sustained protests like this."
'This is what I should be doing'
After a few days of protests, more than a dozen Black teens and 20-somethings who'd connected through the events began to organize as the Des Moines Black Liberation Movement. They included Yena Ana Balekyani, who had previously started a nonprofit to support Congolese youth in the state, and Linda Brown, who worked with a local artist collective that mentors public school students. Jaylen Cavil had just finished working on a Democratic Senate campaign when he got involved.
The organizers put a spotlight on systemic problems: Black residents of Iowa are 11 times more likely to be imprisoned than white residents and 7.3 times more likely to be arrested for marijauna possession — double the national disparity. While there hasn't been a high-profile police killing of a Black person in recent years locally, there have been several cases in which the city paid settlements to Black residents who alleged officers used excessive force and racially profiled them.
"It doesn't have to be police killing you with a bullet — there are other ways the system kills you," said Balekyani, 26, who grew up in Des Moines.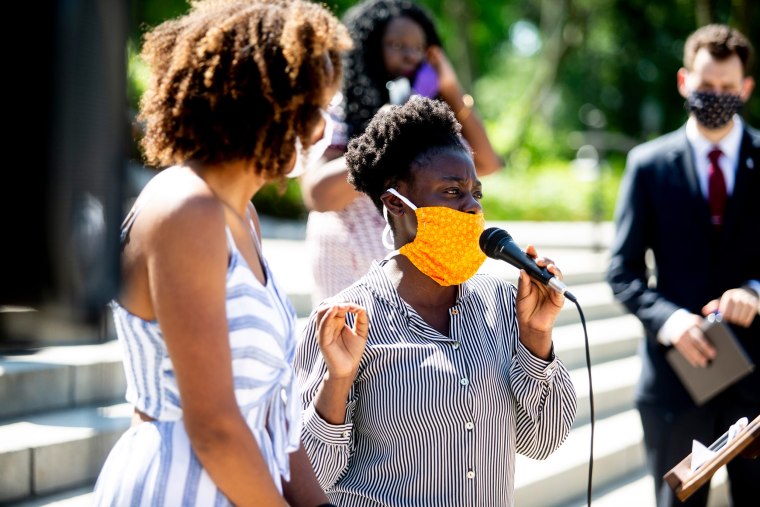 Sgt. Theodore Stroope, president of the Des Moines Police Gold Braid Organization, a union, said the fact that Des Moines had not seen mass protests against police in recent years was evidence law enforcement had a solid relationship with the community. The department started a community policing program in the 1960s, banned chokeholds in the 1990s and had already implemented most of the #8CantWait policies pushed by some reformers, he said. According to the department, officers use force in about 1 out of every 592 calls for service.
"The police keep getting blamed for the problems that they have zero control over," Stroope said. "The police never redlined anybody, the police never denied anybody a job, the police never denied anybody a bank loan."
But to the organizers, who favor abolishing the police department, there was still plenty that needed to change. They wrote out a list of demands for city and state leaders — ban racial profiling by police, decriminalize cannabis, create a civilian oversight board for the police — and on June 3, they marched to Mayor Frank Cownie's house with more than 1,000 people to present it.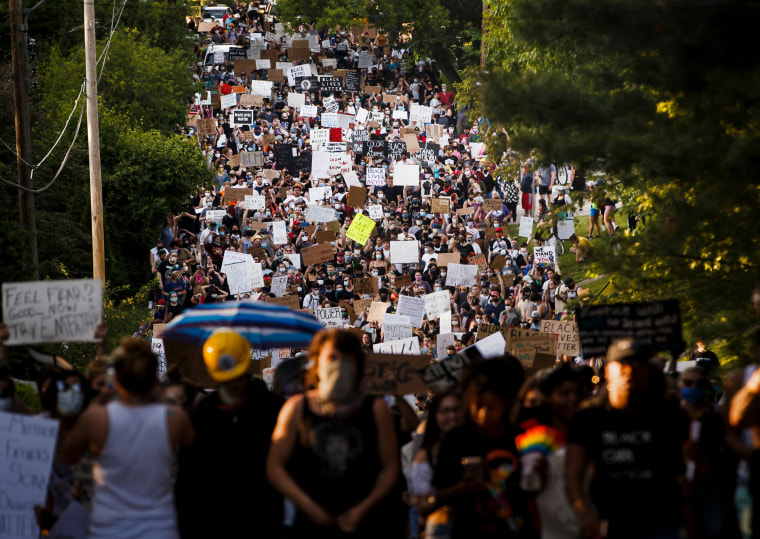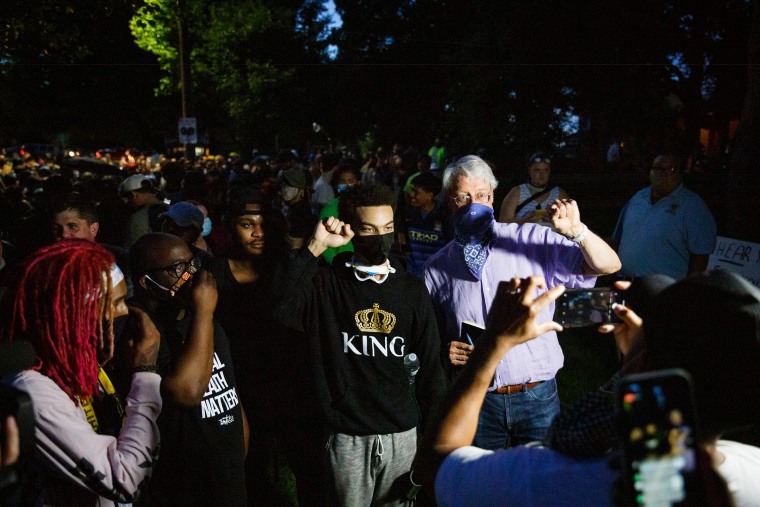 When the protesters arrived, Cownie, who is white and has been mayor since 2004, spoke to them through a bullhorn on his lawn, pledging to support some of their demands and promising to put a racial profiling ban to a City Council vote that month.
"You had a huge group of people unified and getting traction, getting covered in the news, the mayor having to respond to every single demand, because he's forced to when we're at his house," said Cavil, who was in the crowd that night. "That's power."
Cownie declined multiple interview requests.
Progressive activists and local chapters of the NAACP had pushed for the racial profiling ban for two years, but faced resistance in the all-white City Council. Days after the march on the mayor's house, one of the police unions, the Des Moines Police Bargaining Unit Association, complained in an email to City Council member Joe Gatto that the proposed ordinance was "meant to 'appease' a riotous mob and protestors," and would "tie the hands of law enforcement." (The union did not respond to a request for comment.)
"It doesn't have to be police killing you with a bullet — there are other ways the system kills you."
Yena Ana Balekyani
The racial profiling ordinance was on the agenda at the next council meeting, on June 8, and more than 1,300 people tuned in on Zoom. Among them was Indira Sheumaker, 26, a Black Liberation Movement organizer who'd never been to a meeting before. She tore into the council when it was her turn to speak.
"It is ridiculous that it took hundreds of people coming to Mayor Cownie's house, coming to his front yard, for you guys to move on this at all," she said during the public comment portion. "It is 2020, and we don't have a ban on racial profiling in Des Moines, Iowa, a place we pretend is so liberal and so accepting? It is not."
The council unanimously passed a ban June 22 but did not include a civilian oversight board, one of activists' chief goals. The ordinance outlaws racial bias in government and law enforcement actions, requires police to undergo annual de-escalation and implicit bias training, and gives people a route to complain to the city about alleged violations.
Sheumaker credits her younger sister, Paden, with encouraging her to take the microphone at rallies and City Council meetings. It wasn't that Sheumaker had been afraid of public speaking — she took part in plays in high school and college — but she said she'd grown up assuming that she shouldn't challenge authority.
In June, she started to speak to crowds about problems with policing, bail and her own experiences with racism. She urged people to step out of their comfort zone, "because we're all uncomfortable right now," as she put it in one speech last summer, standing on top of a white SUV.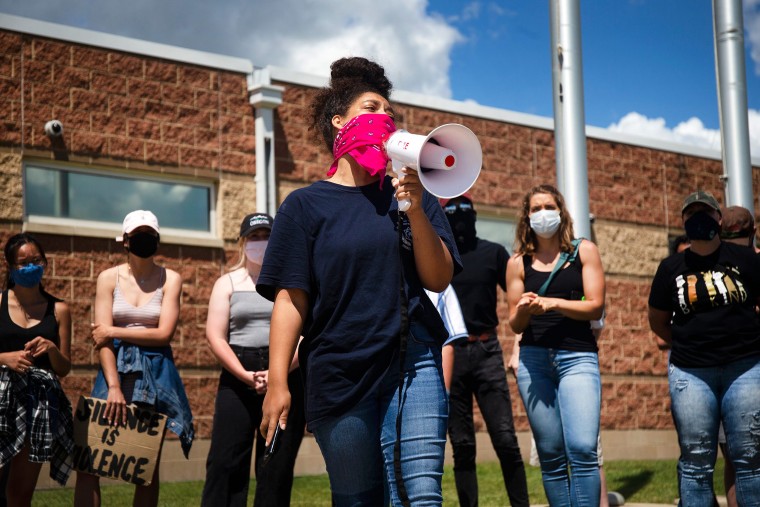 "Everything I thought people expected of me suddenly changed," she said in an interview. "It was like, 'Oh, this is what I should be doing.' I need to be saying these things because these are important and they need to be said."
Sheumaker, who was furloughed from work at a community center, also began looking at city budgets. In August, she called attention to city plans to approve police purchasing $99,000 in ammunition. So many people joined the next virtual City Council meeting to object that it lasted 11 hours.
The City Council was unaccustomed to so much attention by activists who didn't follow procedural rules and voiced complaints every chance they got, disrupting discussions of other topics, such as stormwater management or approving a new car wash. Multiple activists used profanity and called council members racist.
"Everything I thought people expected of me suddenly changed."
Indira Sheumaker
"It's been pretty rough language — I would call it a lot of 'soap words,' as my mom used to say," Carl Voss, a City Council member, said in an interview. "Which is completely uncalled for, I believe. These are supposed to be our meetings, not their meetings."
The council now caps public comment to 30 minutes total, no matter how many people sign up to speak, meaning people have been given as little as 24 seconds at recent meetings.
Sheumaker concluded the council needed new blood — specifically, someone like her. She announced her campaign in February, seeking a seat in this fall's election representing the northwest corner of the city, where she was raised. Her campaign motto echoes the revolutionary group Black Panthers' battle cry from a half century ago: "All power to the people."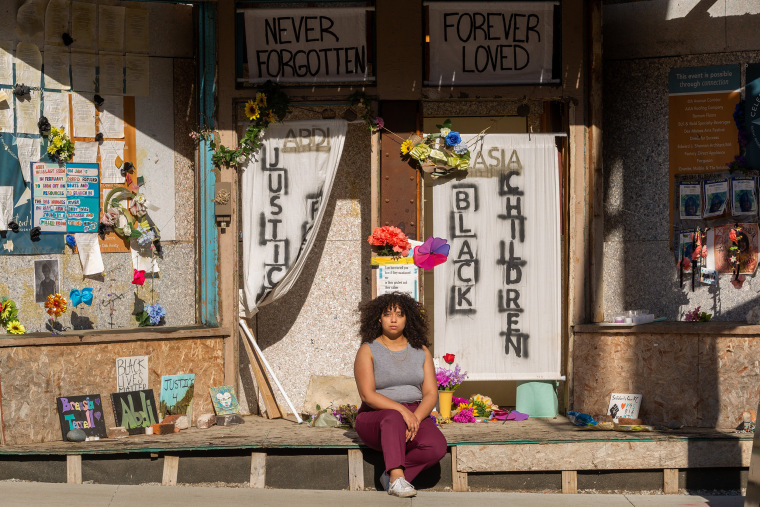 "We see the brutality of the world we're living in," she said. "We find it unacceptable. For me, with the society we live in, it's either I fight for it to change, or I won't survive it. This has become something I would give up everything else to fight for."
Her opponent, incumbent Bill Gray, has not commented on the protesters' agenda. He declined an interview request.
'The ringleader'
The march on the mayor's house in June made some city officials uneasy. Council members worried the activists would march to their houses, too, which they did.
"Mayor's earlier display of talking on his lawn now puts other public officials at risk," City Manager Scott Sanders wrote in an email to Police Chief Dana Wingert on June 14. "You and I should recommend alternatives that don't involve disrupting neighborhoods at best and mayhem at worst." Sanders and Wingert, both white, declined interview requests.
For months, Black Liberation Movement protests occurred weekly, sometimes daily. The protesters marched in the street, and never sought a permit. In an email to an activist in August, Sanders wrote that the disruptiveness of the protests detracted from the activists' message, and he supported the arrests of the organizers. "Our community expects that laws will be enforced," he wrote.
Muhammad, who led many of the marches during the summer, said they were the direct result of the city and state government's inaction on issues of racial equity.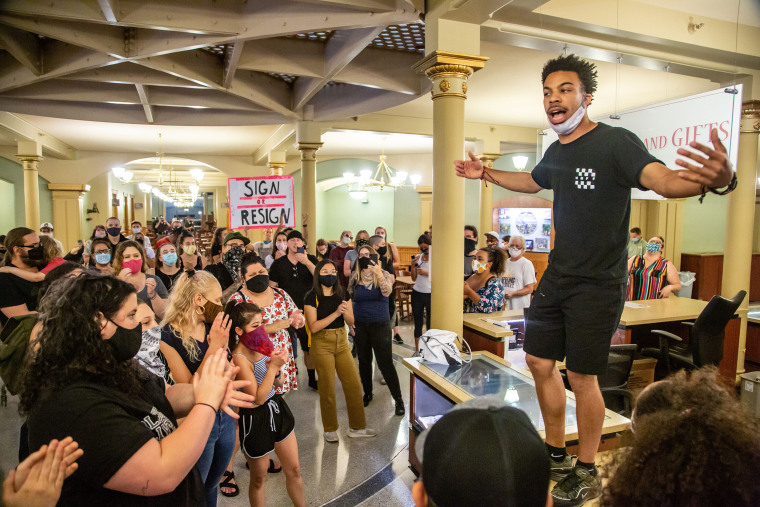 "It was only a matter of time until people were ready for this fight," he said.
Muhammad had long been tapped into the activist world. Growing up in southeastern Des Moines, he studied civil rights activists in his free time. In high school, he changed his Facebook picture to a photo of Trayvon Martin after the Black teen was killed in Florida; he called it his first direct action. In 2015, as Black college students nationwide protested racism on their campuses, he did too, demanding the University of Iowa do more to support Black and Latino students after white nationalist propaganda was left on campus.
Shortly after he began organizing last June, Des Moines police identified Muhammad as a leader of the group.
In internal emails obtained by NBC News, Des Moines officers from the intelligence unit shared links to his social media. Undercover officers kept tabs on him as he spoke through a bullhorn at protests, according to one search warrant. Ahead of a July 31 City Council meeting where Muhammad signed up to speak, Wingert sent an email noting the department had "confirmed information" that Muhammad "is the ringleader as it pertains to the violence, disruption and vandalism," and taught people how to "fight with law enforcement."
From June through September, Muhammad was arrested three times in Des Moines on charges of spray-painting a police vehicle, interfering with arrests and directing activists to block detectives from following demonstrations. He was also arrested once in Iowa City, where police alleged they saw him shine a laser beam in the eyes of at least seven officers. Police in Iowa City did not recover a laser pointer, but said in court filings the officers' corneas were damaged and they suffered lingering eye pain and headaches.
Muhammad pleaded not guilty to the charges. He said he couldn't discuss them because he's fighting them in court, with trials scheduled this summer. But he said if the intent of the arrests was to slow the activists' momentum, they instead created a rallying point.
"They end up finding out I'm not the god of Black liberation," he said. "I'm literally one organizer. The reason they can't stop me is I didn't bail myself out four times; mutual aid did. I didn't organize all those 'welcome home' parties; my homies did."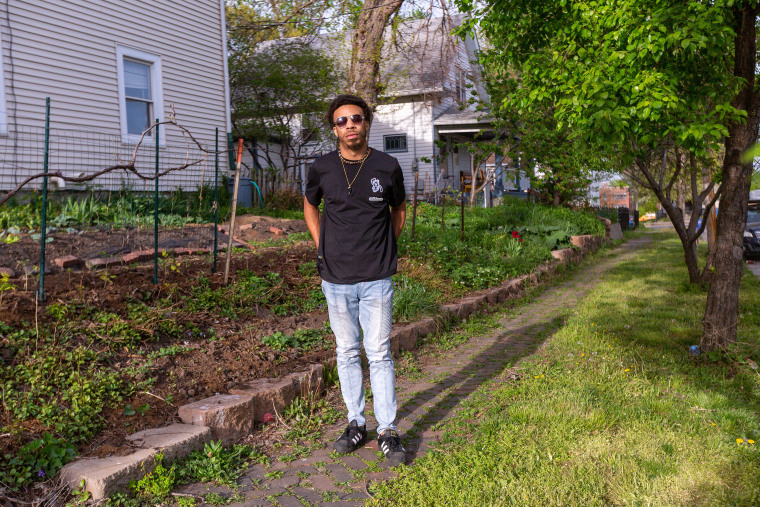 After one of Muhammad's arrests last August, Mandelbaum, the City Council member, questioned in a tweet whether police were targeting him in retaliation for his organizing work. The Gold Braid Organization sent a letter to Mandelbaum denying the claim and accusing him of siding with "folks responsible for the chaos and destruction of our community."
Stroope, the union's president, said he had family members who participated in protests. The idea that the police were retaliating against activists "was just nuts to us."
Mandelbaum said he understood their frustration but felt like the department leadership was missing the point. "When you're on the line and you're listening to people chant, 'All cops are bastards,' that's going to have an impact, I get that piece," he said in an interview. However, he added, "I think there are some folks who use the fact that there was that violence and that property damage in a couple early protests to either caricature folks engaging in protests or to justify actions that happen later."
The marches died down in the winter, due to a spike in Covid-19 cases and frigid temperatures. The Black Liberation Movement organizers spent more time helping with mutual aid and advocating for the homeless. Muhammad said it was an isolating period, as the activists waited until it was safe to come together again. Since moving back to Des Moines, Muhammad, who considers himself an anti-capitalist, hasn't worked a traditional day job so he could focus on activism.
On his 25th birthday, in December, he changed his name to Matè Farrakhan Muhammad, a reference to the 25th chapter of the Quran. He'd been studying Black Islamic expressions of spirituality, and "looking deeper into who I was, rather than the name I had been assigned," he said. "It's a spiritual way to grow because a lot of my ancestors took new names when they decided to fight for freedom," he added, referring to past civil rights activists.
The organizers also spent the colder months dealing with some of the fallout from the summer.
Cavil, like Muhammad, was arrested in September and charged with disorderly conduct for leading a demonstration in the street without a permit. He said that a property manager denied his application for an apartment in December after discovering that he'd been arrested at the protests, accusing him of being "one of those people out there spitting in cops' faces." He said he found this reaction off base, but that it still weighed on him.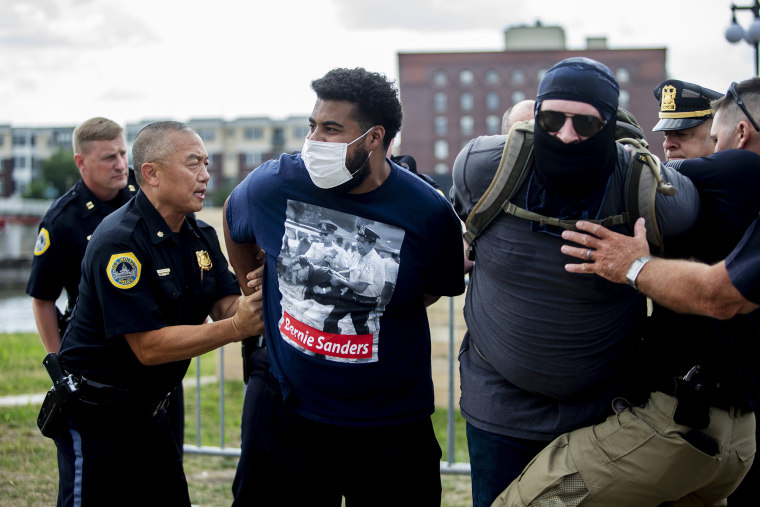 "I was starting to get worried, 'Am I going to find an apartment? Are they going to keep calling me a criminal?'" he said. "You Google my name, one of the first things that comes up is my arrest. Scroll down a bit and there's my mugshot." Referring to the charges, he added, "All of them are bogus, all of them need to be dropped, but yeah, they're stressful for people."
The Legislature strikes back
At the beginning of 2021, GOP lawmakers in Iowa introduced legislation that would make rioting a felony instead of a misdemeanor, and expand the definition of disorderly conduct to include vandalizing any publicly owned property. Drivers would also be immune from liability if they hit a protester, unless they were driving recklessly. A nonpartisan analysis of the bill concluded it would have a disproportionate impact on Black Iowans, since they face these charges at a higher rate than white residents.
Republican lawmakers argued the legislation, which is similar to bills advanced in other GOP strongholds nationwide, was needed to "ensure that law and order is maintained." But Democrats, including state Rep. Ras Smith, called it "a direct response to the progress that's been made."
"There's a false narrative that Des Moines was going to burn down — it wasn't," said Smith, who is Black and wrote last year's bill to ban police chokeholds, which was signed into law.
The activists mobilized to fight the new legislation. On April 8, a group of young demonstrators from around the state protested the bill in the state Capitol building, the first Black Lives Matter protest there in weeks.
Josie Mulvihill, 18, a Black high school senior in the Des Moines area, had only been inside for 20 minutes when she was forced to the ground by an Iowa State Patrol officer and handcuffed. Her arrest set off a commotion, with protesters swarming to defend Mulvihill and state troopers shoving them back, video shows. Mulvihill was charged with assaulting an officer — the same charge for which lawmakers want to increase penalties — though she said she only tapped a trooper's arm to ask him for his name and badge number. She plans to fight the charge at a preliminary hearing this month.
Since attending protests last summer, Mulvihill has led student walkouts and interrupted school board meetings to demand action on racism in her district. By the time state troopers arrested her at the Statehouse, she said, she had already accepted that getting involved carried risk.
"I wasn't there to have a good time," she said. "I knew what I was getting into and if this is what it is, I'm just ready for it. I'm ready to make change."
The marches continued to ramp up as the weather warmed. Hundreds rallied against police violence downtown April 17. A week later, high school students walked out of class and led about 200 people to the state Capitol to protest legislation proposed by Republicans that limits how diversity training can be taught in schools, including barring teachers and administrators from asserting that Iowa or the United States is fundamentally racist or sexist. The bill cleared the Legislature last week.
Cavil has started helping Sheumaker canvas for the City Council elections, focusing on voters in neglected neighborhoods who had tuned out from local politics. It's similar to the work he did before joining the Black Liberation Movement, but now he's volunteering to elect a friend he organized with for the past year.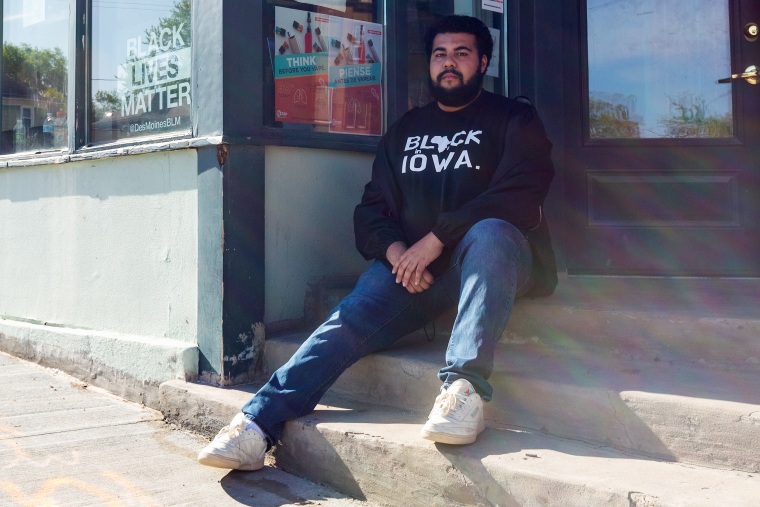 "It's the progression of the movement," he said. "We've built up so much power, I feel, on the street through our activism, through our mutual aid efforts, and now we're taking the movement to get political power on the inside."