Hundreds of thousands of skittering red crabs have again swarmed beaches in Southern California in the past week — so thickly that municipal workers and volunteers are having to scrape them away with hand rakes.
The 1- to 3-inch-long translucent red crabs have washed up for several years along the California coastline, usually in sync with unusually warm weather and the climate phenomenon called El Niño.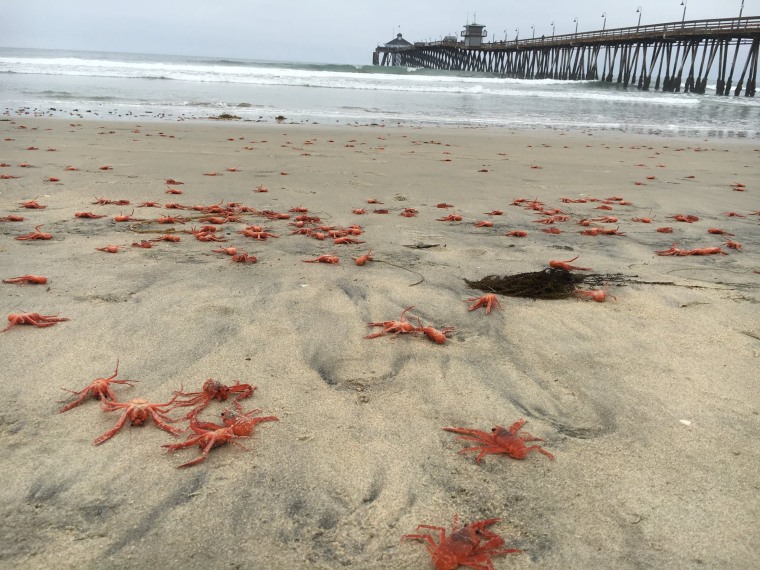 Local birds found a veritable seafood buffet last week at Imperial Beach near San Diego, where hundreds of thousands of the red tuna crabs washed up, the beach lifeguard service said.
Whatever's left "will remain on the shore until they decompose or are swept back into the water," the service said.
Municipal and state records show that such red tides have washed up on area beaches for at least the last 15 years. Just last year, workers and volunteers painstakingly raked away 8 tons of the crustaceans on Balboa Island and at China Cove, said the City of Newport, in Orange County near Los Angeles.
And Friday, the city declared: "They're back." Another thick blanket of the open-ocean crabs had washed up at China Cove.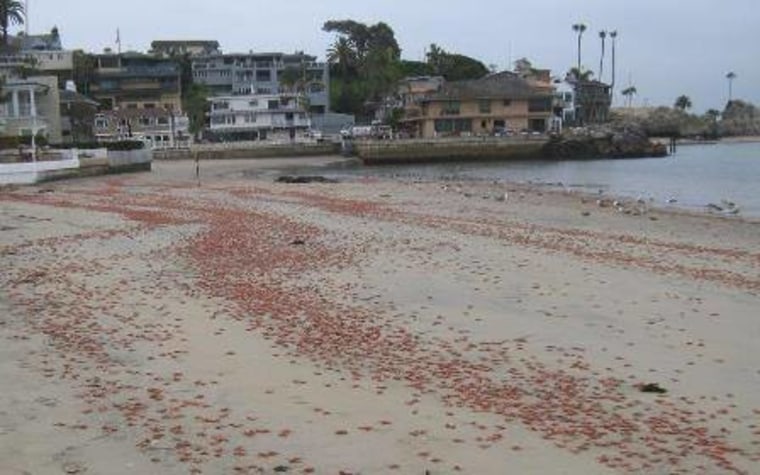 Scientists at a National Oceanic and Atmospheric Administration symposium in San Diego reported last year that climate change in general and El Niño in particular were suspected of causing such mass swarms.
The pooling of warmer water in the North Pacific can "cause warm-water species of ocean fish and invertebrates to be found farther north" than their usual homes, which are usually off the coast of Mexico, according to the symposium's final report.