CHICAGO — Darrion Johnson knows exactly what to do if he sees someone get shot.
On a Friday night this year on the South Side of Chicago, Darrion, 14, watched while another teenager practiced putting pressure on a fake bullet wound, checked for a pulse and began two-handed chest compressions on a teen pretending to be a gunshot victim. Along with a dozen other teens, Darrion was attending a first responder training course held by a youth-led anti-violence organization, Good Kids Mad City.
"Just don't panic," Darrion firmly repeated aloud to the instructor, a member of Good Kids Mad City, as she explained that it can take just minutes to die from blood loss after being shot, while an ambulance can take up to 30 minutes to arrive.
Darrion, a soft-spoken rising ninth-grader who lives in the South Side neighborhood of Englewood, was there to learn life-saving skills in case he comes across a shooting victim. One out of every five teens ages 15 to 17 living in Chicago's South and West Sides has witnessed a fatal shooting, according to data collected by the Chicago Center for Youth Violence Prevention at the University of Chicago. From September 2011 until 2018, nearly 1,700 children under the age of 17 were shot in Chicago, and 174 were killed, according to The Chicago Tribune.
Last September, Darrion's brother Delmonte, 19, an anti-violence activist with Good Kids Mad City, was shot in the chest and stomach blocks from his home. He died 45 minutes later at a hospital. Darrion, who was down the street and heard the shots, wondered aloud to the other teens at the recent training if his brother might have survived if someone who was nearby had known how to help him.
That's why Darrion wanted to be trained in applying tourniquets using a jacket or shoelace and doing CPR — to help other gunshot victims, or potentially even himself. "You can do it on yourself," he said of holding pressure on a wound. "So, if I actually get shot and nobody's there, I can do it to myself instead of just sitting there and dying on the scene."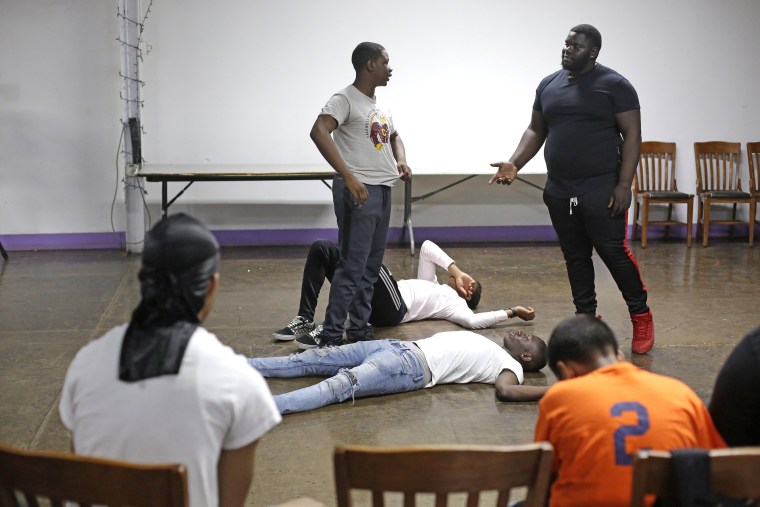 The training was a sobering reminder that many young people in Chicago's most distressed neighborhoods are expected to fend for themselves in the face of gun violence and gang activity. Chicago pre-teens and teens who spoke to NBC News described coping with the deaths of friends and family members and navigating dangerous situations with little expectation of support from adults or city institutions.
Since 2012, Chicago has consistently ranked highest in the nation for total number of killings, with 561 murders last year, more than New York and Los Angeles combined.
The city has already surpassed 270 homicides this year, with nearly a quarter of the victims under 21, according to The Chicago Tribune. In early June, Chicago endured its most violent weekend of the year, with 52 people shot and 10 killed. For children living in Chicago's poorest areas, "it's like navigating through a war zone," said Deborah Gorman-Smith, dean at the University of Chicago's School of Social Service Administration and director of the Chicago Center for Youth Violence Prevention.
While politicians debate solutions and police officers face trial on charges of corruption and excessive use of force, some of Chicago's children are taking matters into their own hands by acquiring skills unheard of in most communities, but necessary to survive in theirs. In addition to the first responder trainings, there are "know your rights" classes about safely interacting with police, and sessions that show kids safe passage routes to get to school.
Carrying these burdens takes a toll: Children 12 to 17 in Chicago's most violent neighborhoods are nearly twice as likely to suffer depression and anxiety as teens nationally, according to survey data collected by the Chicago Center for Youth Violence Prevention at the University of Chicago.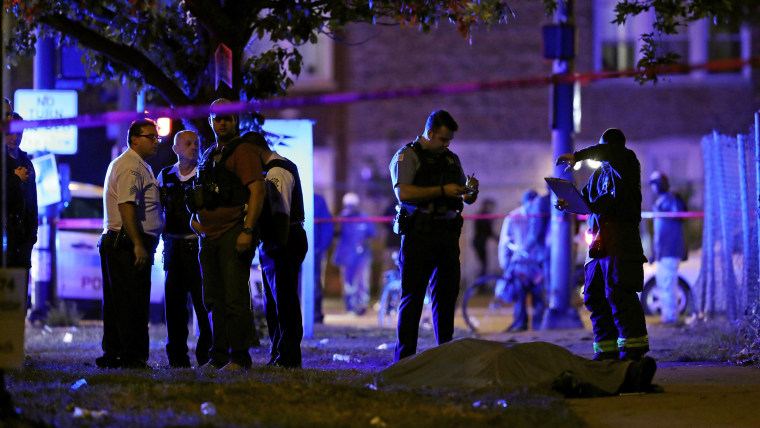 "Young people aren't able to be young people. They're being forced to be adults starting at a young age," said Carlil Pittman, 26, founder of Good Kids Mad City, who organized the recent first responder training session. "They're losing best friends at young ages, losing brothers and sisters at young ages to violence, walking around with PTSD, and learning how to treat gunshot wounds and stab wounds. They've already lost so much before they even made it to school at 9:30 in the morning, and you expect them to cope and act the same way throughout the entire day."
'They're like soldiers to me'
In Parkway, the South Side Chicago neighborhood where Michelle Obama grew up, a group of 30 elementary and middle school children, some as young as 6, listened carefully during a recent lesson on Miranda rights, which allow people suspected of crimes to stay silent during police questioning.
The kids weren't learning about the Fifth Amendment for a test in class — they were at an after-school program in the basement of a public housing complex, preparing for what to do if they're ever questioned or detained by police.
"How many of you are fearful of the police?" asked Jennifer Maddox, a Chicago police officer and founder of the after-school program, called Future Ties.
A handful of arms bolted up, followed by a couple more.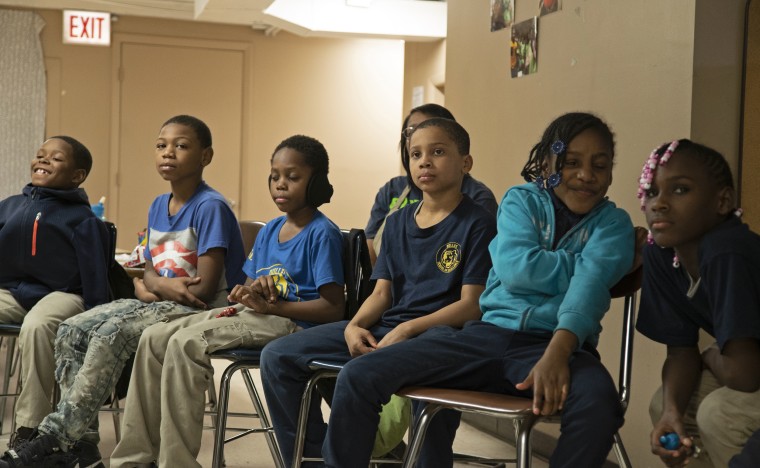 K'Juan Williams, 12, wearing a gray sweater over his charter school uniform, was worried about being arrested for a crime he didn't commit. "What if you come across a police officer who isn't like how most police should be, like they're not friendly, and they don't listen to what you say and take you in?" he asked.
Diaonte Lawson, 12, was nervous about police custody. "What happens if the officers that take us in to the station don't let us use the bathroom or get some water?"
Ke'Meriell Hunter, 12, asked Maddox what would happen if the stress of police questioning causes her to "snap off" at an officer.
"Why do you need to snap off? What do you say so that they can stop talking to you? What do you say?" Maddox asked.
"I will not talk, I want my lawyer," the girl answered.
The children's concerns surrounding police conduct are not unfounded. Young black men are 14 times more likely to experience use of force by a Chicago police officer than young white men, according to police data obtained by the Invisible Institute, a nonprofit journalism organization based on the South Side.
Nearly half of the 262 people shot by police in Chicago from 2010 to 2015 were black people between the ages of 12 and 25, according to The Chicago Tribune. This includes Laquan McDonald, 17, who was shot by Chicago police Officer Jason Van Dyke in 2014, sparking mass protests. Van Dyke was convicted of second-degree murder in the teen's death last fall.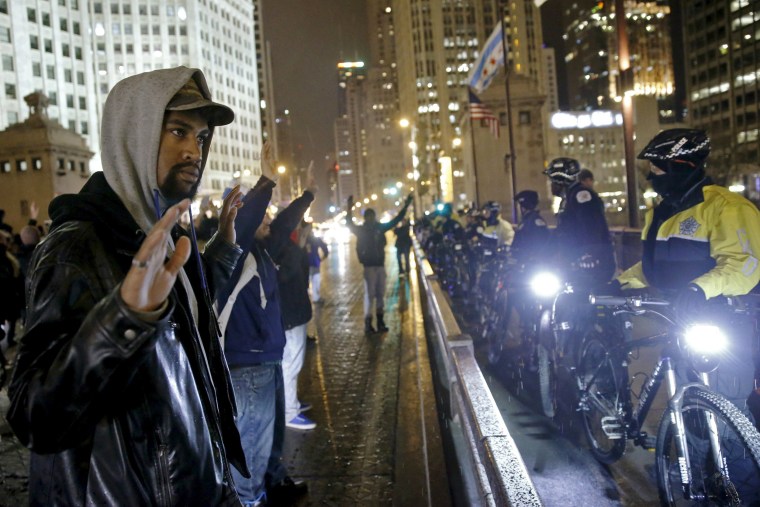 The city's racial disparities remain stark: A 2017 Justice Department report found Chicago police officers used force almost 10 times more often with black suspects than with white suspects. Chicago is in the process of implementing a consent decree, which involves dozens of changes to discriminatory policing practices.
Shaquita Wells, a parent volunteer at Future Ties, told NBC News that knowing their rights "can be the difference between life or death" for many young people living on Chicago's South and West Sides. Children have to learn from an early age to be extra careful, calm and respectful to police. "Don't cuss, try to lessen the abrasiveness," she said. "One abrasive interaction can lead to death."
After the lesson, K'Juan said he doesn't anticipate having a confrontation with a police officer, but he feels more comfortable knowing his rights.
"I know I'm not a troublemaker, but if I was to get mistaken identity, and the police come to me, I know that I have certain rights," K'Juan said. "Some police do violence. If I were to dig in my pocket or get something, even though you're not supposed to do that, the police might shoot you or react violently, so that's why I'm glad they are teaching us what we're learning down here."
Maddox, the police officer who leads Future Ties, doesn't want kids to be afraid of police. But she also knows that encounters with officers are inevitable in communities with high rates of gun violence, and that's where she hopes the training kicks in. "You don't have to make it something that's confrontational," she said. "If you know you have the right to remain silent, then just do just that, remain silent."
Still, she recognizes the burden this training places on children who are already coping with the effects of gun violence.
"They have a lot on their plate that they have to deal with day-in and day-out," she said. "They're like soldiers to me."
In June, a few months after the "know your rights" training, Future Ties was shut down by building management after four people, including a pregnant woman, were shot inside the Parkway Gardens complex.
Deep impacts on young people
When Antonio Magitt was 9, he witnessed a shooting at a park near his home on Chicago's South Side. Afterward, he was afraid to leave his room. "I just felt like the more I stay in my room, the safer I will be," Magitt, now 21, said. "I didn't want to die at a young age."
It took him several years of therapy to manage the fear of being shot. Other than going to school, he avoided all interactions with people, including at home, where he was also dealing with verbal abuse from his mother's boyfriend, who was living with them at the time. "But staying in my room, isolated, also took a mental toll on me," he said. "I didn't know how to build relationships with people. It really caused a lot of emotional and mental trauma on me."
Young people exposed to violence on a regular basis experience far-reaching mental and emotional effects, said Liza Suarez, co-director of the Urban Youth Trauma Center at the University of Illinois at Chicago.
"It can cause problems like impulse control or isolation from the community," she said. "If you're always expecting harm in the community, it affects the ability to trust in relationships."
The effects can manifest themselves physically. Children who are constantly in high-alert survival mode are more likely to report difficulty sleeping, stomachaches and headaches, Suarez said. In the long run, problems can include hypertension and a compromised immune system.
"So much energy is put into survival that many of these kids have no extra energy to devote to the things most other kids are paying attention to," Suarez said.
Chicago has struggled to meet these mental health needs, experts say. According to a report by the National Alliance on Mental Illness, Chicago has a "crisis level shortage of mental health professionals, a significant shortage of inpatient psychiatric beds, and a famine of funding for community services."
On Chicago's southwest side, which had more than 300 shootings last year, there is less than one licensed clinician for every 1,000 people, according to a report by the Collaborative for Community Wellness, a Chicago-based coalition of mental health and community organizations.
Many young people who spoke to NBC News said they were never offered support services or counseling after experiencing trauma from gun violence. The ones who were given referrals said waitlists to see a mental health professional were sometimes several months long.
"We could surely be doing much more to support them given the challenges they face," said Max Kapustin, research director at the University of Chicago Urban Crime Lab.
Magitt was able to receive counseling through a social worker at his public high school when he was in ninth grade. He said he was one of the few "lucky ones" who got onto the social worker's limited schedule — many other students were turned away.
In addition to counseling, he said getting involved with Good Kids Mad City as a youth leader a year ago helped because he was around people who genuinely cared about him. He was raised to believe that he needed to be strong and bury his emotions, and that's something he hopes to change among the kids he's working with.
"We stigmatize the whole black community because we've been fed that ideology that black people are meant to be strong," he said. "And you're supposed to be savages and not cry, just keep our problems to ourselves."
Magitt is now in community college studying public administration. After getting a bachelor's degree, he hopes to create a nonprofit to serve the mental health and nutritional needs of his South Side community, and he wants to run for office in his childhood district one day.
'Being a kid means you can be safe'
Activism is one way to cope with feelings of powerlessness. In the past few years, several youth-led organizations, including Good Kids Mad City, as well as Peace Warriors and B.R.A.V.E., have held marches, spoken to lawmakers about gun violence and offered mediated conflict resolution called peace circles.
Darrion has gotten more involved in Good Kids Mad City since his brother's death and recently volunteered for a community shoe drive held by the organization. One day he hopes to be a leader in the group — just like Delmonte.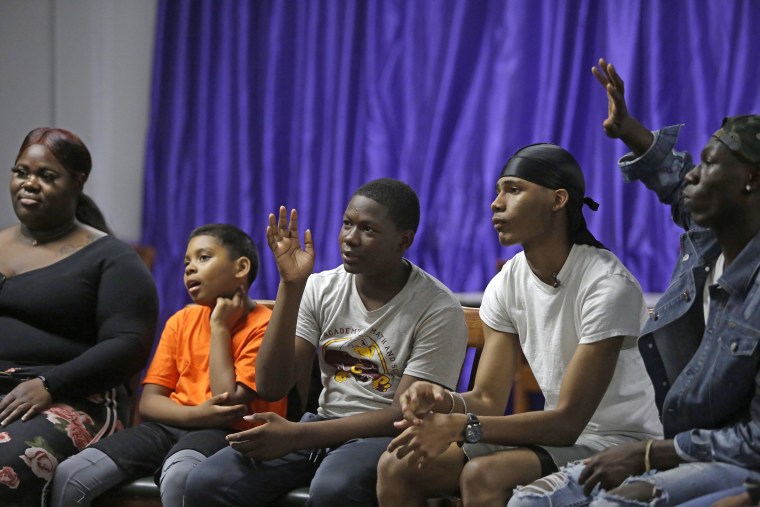 Since taking the first responder training this year, Darrion, who is the youngest in his family, has taught his five remaining siblings how to treat a gunshot victim. He plans on teaching more people.
Darrion is also trying to stay focused on playing basketball for his school team and figuring his way through an algebra problem — all the while blocking out the pop of gunshots, which he sometimes hears daily on the South Side.
"You can be a kid, but you're not really at the same time because being a kid means you can be safe," he said. "You can play without worrying about anything happening. But when you're living on the South Side, it's hard to do that. Because being a kid here means you have to live an adult life."