The clinician at International Community Health Services in Seattle took his time before entering the checkup room. He tried not to think about the clinic's dwindling resources or the challenges of getting coronavirus testing kits as he soaped and scrubbed his hands pink, wrapped a heavy-duty mask around his face and snapped on disposable rubber gloves and a pair of goggles.
The full outfit is necessary every time he meets patients — largely low-income Asian Americans and immigrants who have Medicaid or no insurance at all — even as the clinic's orders for medical supplies come in short and disinfectant levels run low.
Administrators reminded all the nurses and doctors to be careful, especially after the clinic admitted their first confirmed coronavirus case: a patient who arrived from a nearby nursing home, the Life Care Center of Kirkland, where several residents and workers have fallen ill.
Still, the potential risks are hard to forget: The news is preoccupied with the coronavirus outbreak and the state of Washington has reported 572 cases of the disease and 37 deaths as of Saturday.
Once the clinician entered the room, he took down his patient's medical history, noted whom they may have come in contact with and weighed whether he would be allowed to administer one of the clinic's few coronavirus tests — all while assuaging his patient's fears after traveling to Vietnam at the start of a pandemic.
Time and resources at nonprofit community health centers, which serve approximately 29 million low-income Americans across 1,400 facilities like this one, are being stretched to their breaking point amid the coronavirus outbreak even as they could prove essential in combating its spread, Dr. Asqual Getaneh, the center's medical director, said.
Their ability could be further handicapped very soon: Federal funding that accounts for 70 percent of these nonprofit health centers' budgets will run out in May.
"The unknown is an added stress for everyone," Getaneh said, who noted their pharmacies are running short on essential medications. "There's also stress associated with whether or not we have the supplies to protect ourselves and take care of patients who are symptomatic. We're told this is the tip of the iceberg for this epidemic, so we're seeing a lot of people coming in and trying to figure out how best to deliver care."
The front lines of a health crisis
That is a challenge for these nonprofit health centers, which were first funded by the federal government more than 50 years ago as part of the "War on Poverty." These clinics located in every state, from dense urban centers to rural towns and communities, have served a vital role in combating national emergencies such as the opioid crisis and the HIV/AIDS epidemic.
The trouble is they don't know how long they can hang on, which would inhibit efforts to stymie the spread of the disease.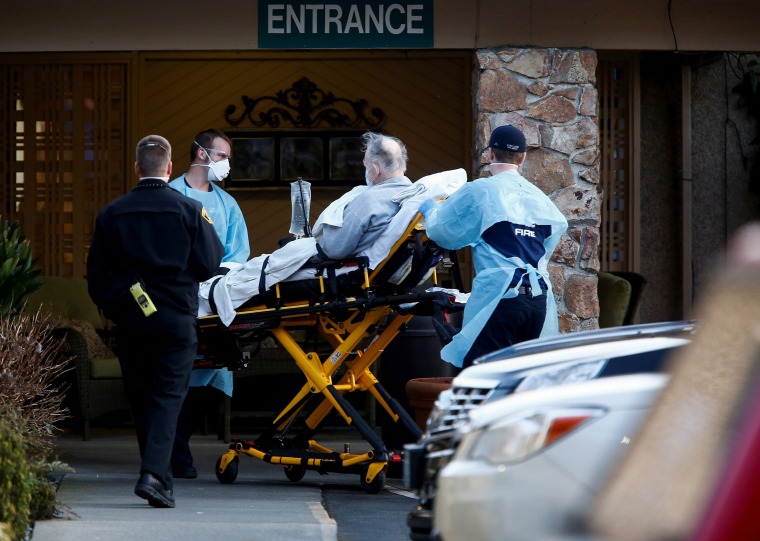 Because the House and the Senate have failed to reauthorize the Community Health Center Fund — a piece of the Affordable Care Act that provides more than 70 percent of the budget for these medical nonprofits — and make a commitment beyond temporary measures, many health centers have experienced staffing shortfalls and have cut back the services they provide.
The National Association of Community Health Centers sent a letter to Senate Majority Leader Mitch McConnell on Thursday asking that he prioritize the reauthorization of their funding, warning that millions of people are at the cusp of losing access to healthcare services through them.
Their situation is particularly concerning since they predominantly provide care to low-income people and immigrants on Medicaid and Medicare, as well as the uninsured who pay on a sliding scale at these nonprofits. These are all populations of people who are more likely to avoid going to the doctor for fear of the cost, but these clinics relieve the stress on hospitals and help flatten the spread of the disease.
Washington is seeing the worst of these cases, but the coronavirus is quickly spreading across the United States. Those states with fewer resources and larger uninsured rates are increasingly nervous about a wider outbreak — especially when they lack the ability to test for the disease.
With the fifteenth coronavirus case confirmed in North Carolina this week, the 42 community health care centers in the state that serve its 100 counties are gearing up to respond. But unlike Washington state, they will see a larger gap in health care coverage because North Carolina did not expand Medicaid.
North Carolina remains one of 14 states that hasn't accepted the ACA's federal funding, which would provide coverage to 194,000 more people. The conservative state Legislature has consistently cited fiscal and ideological reasons for their opposition to the program, causing them to turn down an estimated $40 billion since 2014.
With community health centers in the state largely serving those people who fall in that coverage gap, as well as those able to sign up for Medicaid, health care workers are preparing as best they can for the spread of the coronavirus at the level seen on the West Coast — albeit with even fewer resources.
"Between the federal funding challenges and covering a lot of uninsured patients, it makes it really hard to do anything when you are not financially secure and you have to plan month to month," said Leslie Wolcott, the emergency preparedness coordinator for the North Carolina Community Health Center Association.
'A drop in the bucket'
There are approximately 30 million people in the U.S. living without insurance and more than half of American adults put off medical care last year due to the cost, the Kaiser Family Foundation reported. Without these health centers, there is even more concern that these individuals will not visit the doctor because of the expense — a serious problem during a pandemic.
"In the best of times that funding situation is challenging to manage for these health centers," Jennifer Tolbert the director of state health reform at the Kaiser Family Foundation, said. "But when you're dealing with a pretty significant health crisis on top of that, it just really creates more challenges and puts the care of these vulnerable populations at risk."
While they have been alloted $100 million out of the $8.3 billion appropriated by Congress to address the outbreak, community health centers haven't been able to get more than two years of funding since 2016, and it has put them in a difficult position to address an outbreak.
And it's not outright partisan opposition to the health centers that's stalling efforts. Despite their ties to the ACA, community health centers enjoy support from both parties. Even now Sens. Debbie Stabenow, D-Mich., and Roy Blunt, R-Mo., said they are working together to push a five-year funding measure through Congress that would expand the program further.
That funding, however, has often gotten tied up in unrelated political fights, and Stabenow said she was not particularly hopeful that they would get any legislation through until the last minute.
"We are very hopeful that in May, when their temporary funding runs out, that we can do a full bill and get the full authorization so that community health centers can plan," she told NBC News, though she emphasized that it was much too late and the funds offered by Congress's appropriation was too little.
The $100 million they're receiving will quickly be exhausted by the clinics at the frontlines of this outbreak, said Dr. Ron Yee, chief medical officer of the National Association of Community Health Centers.
"We have no problem telling Congress this is a drop in the bucket in terms of the demand and how fast this disease is spreading," Yee said.
Limited access to virus tests
Yee noted they are also concerned about testing for the disease. He said clinics on the West Coast are rationing test kits and triaging those who come in with symptoms.
But a fearful public demanding more evaluations and a shortage of tests are further straining these health centers. While the White House announced that 1 million more tests would be available by Monday, doubts were raised about whether they will meet their own self-imposed deadline — one they already missed last week — and how many these nonprofits would receive.
Yee said they are in constant communication with the Centers for Disease Control and Prevention, but the federal agency has not said how many tests they will be provided. The agency did not respond to NBC News' request for comment.
Meanwhile, North Carolina Health and Human Services Secretary Dr. Mandy Cohen told the state Legislature on Tuesday that there are only 300 test kits in the entire state to serve its population of 10.4 million people. This comes on the same day that Gov. Roy Cooper, a Democrat, declared a state of emergency there.
Even if the clinics had tests, however, because of the backlog of samples to be checked by the states' public health departments, it can take several days to get results. The labs are just so overwhelmed.
As of now, the best many health care workers can do is tell patients to go home, stay there, take acetaminophen and call back if they experience shortness of breath.
"We've shown that we're there on the front lines taking care of people," Yee said. "Maybe Congress will come up with more funds or shift things, but we'll take what we can get and use it the wisest way we can."