At the Bozeman Help Center, a 24-hour hotline and referral center in Montana, Perrin Lundgren had just finished a busy overnight shift fielding calls from people in crisis when she heard the news.
It was 8 a.m. last Friday, just a few days after fashion designer Kate Spade's suicide, which led to a 30 percent increase in calls to the hotline. Lundgren, a licensed counselor, was driving home when she learned of another suicide: celebrity chef Anthony Bourdain.
"I pulled over and sent a message back to the help center saying this is breaking news, they're not sure it's suicide-related," she said, "so the person on shift if they hadn't heard, did."
Lundgren knew that once again, the center — one of more than 160 certified crisis centers across the U.S. through which calls to the National Suicide Prevention Lifeline are routed — would need to put backup counselors on standby to handle additional calls, as happened on Tuesday after Spade's suicide. Call levels remained high into the weekend.
In a dizzying week that saw two celebrities taking their own lives, phone numbers for suicide hotlines were ubiquitous: published by news outlets and plastered across social media, with reminders to reach out to places like the National Suicide Prevention Lifeline for help.
The result was a surge of traffic to crisis hotlines, some of which beefed up staffing twice last week — once after Spade's death and again after Bourdain's.
Samaritans of Greater Boston, a volunteer suicide prevention organization, saw a 60 percent increase in calls from Wednesday, the day after Spade died, through Saturday, the day after Bourdain died, compared to what the service has been averaging in recent months.
"Friday night, one of our long-term volunteers said it was the busiest night he had handled in about 12 years," Steve Mongeau, the organization's executive director, said.
At Crisis Text Line, an intervention service that uses texts, "spike teams" — volunteers who sign on at a moment's notice when needed — were activated to account for a large increase in requests for help over the weekend, said Liz Eddy, Crisis Text Line's director of communications. There was an 116 percent increase in volume from Friday to Sunday compared to the weekend before, she said. That's far more than the usual surge of 20 to 30 percent after a high-profile suicide, she said.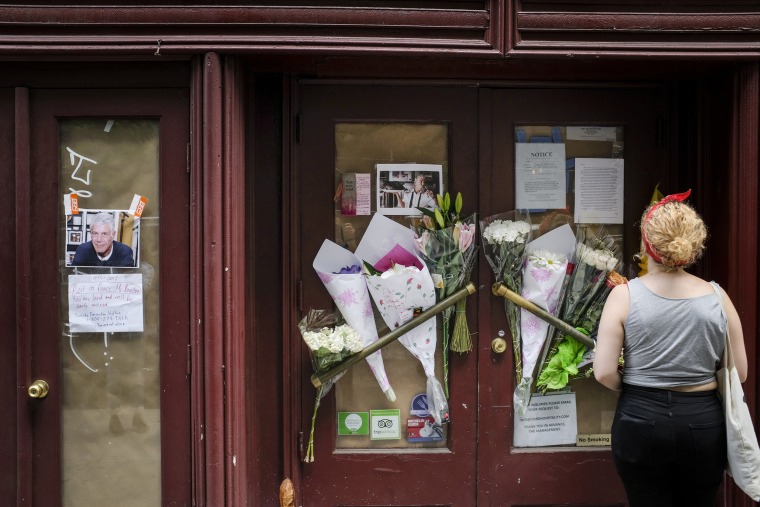 The National Suicide Prevention Lifeline, whose number appeared in many news articles and social media posts, saw a 25 percent increase in calls nationally as of Friday morning, said John Draper, the lifeline's director. The organization did not immediately provide updated data following the weekend.
Draper said the reason for the uptick is two-fold: a celebrity suicide can trigger suicidal thoughts in people who might already vulnerable to them, and publicizing the phone number to call for support increases odds that people will call.
"When the public is aware of a resource that can help them, it increases calls considerably," Draper said.
At the Long Island Crisis Center in Bellmore, New York, there were distinct spikes after Spade and Bourdain's deaths, according to Theresa Buhse, the associate executive director. The center asked for volunteers to pick up extra shifts over the weekend to meet demand.
Buhse said that the center typically fields eight to 10 calls routed through the national suicide hotline each day. On Wednesday, following the news about Spade, it received 15; on Thursday the number was down to 10, and then on Friday, it rose to 22.
(The center, which assists with other mental health issues as well as domestic violence and other crises, also receives dozens of calls each day through its main hotline number, a local line.)
Spade and Bourdain's deaths come at a time when suicide in general is on the rise. Last week, a report from federal health officials found that suicide rates have increased by 30 percent across the United States since 1999.
As the rates have gone up, so have calls to outreach centers. Draper said calls to the national lifeline increase every year, with more than 2 million calls answered last year.
The calls are free and confidential, he said. Callers speak to trained counselors who assess the severity of their problem and then connect them with local referrals.
The lifeline calls 911 if a counselor feels a caller's life is in imminent danger, but that doesn't happen often.
"People call because they want help," Draper said.
At the Crisis Text Line, counselors have a similar process, asking those who mention suicide if they have a plan and how soon they intend to act on it, said Dr. Shairi Turner, the group's chief medical officer.
"Then we try to de-escalate that situation, bring them from that hot moment to a cool moment, and help them to develop a safety plan that would include tapping into resources, a family or friend network, who can help you," Turner said.
In the rare event that crisis counselors aren't able to help, they call the police.
"We have interrupted suicides in progress by doing that," Turner said.
Calls to crisis lines are not always from the people in distress. Sometimes it's their loved ones.
That was the case on Sunday for Long Island Crisis Center hotline volunteer Angie Kitchell. She said there seemed to be a greater awareness after Spade and Bourdain's deaths of the need for people to check in on each other.
"They did mention the specific celebrities," Kitchell said of the calls she fielded. "Since these two famous suicides, a lot of people don't know how to handle this, so it's great that they pick up the phone and they call the hotlines and they find out what the right thing is to say."
The centers recommend knowing signs of depression and suicidal thinking and then calling the suicide lifeline for local resources.
At the Bozeman Help Center, Lundgren was reminded last week of other high-profile suicides, including Robin Williams in 2014 and Linkin Park singer Chester Bennington last year. If the previous patterns hold, call volumes will likely stay high for a while after last week's losses.
"It's very painful to lose a person, even a high-profile person," she said, adding that reaching out for support is the most important step. "Thoughts of suicide are painful and overwhelming and scary, both for the person who has them and for their friends and family as well."
If you or someone you know is in crisis, call the National Suicide Prevention Lifeline at 800-273-8255, text TALK to 741741 or visit SpeakingOfSuicide.com/resources for additional resources.