A third man charged in a still-unfolding, multi-million dollar lottery rigging scandal investigation surrendered to authorities in Iowa on Thursday, his attorney said.
Robert Clark Rhodes II was arrested last spring in his home state of Texas by authorities there, after Iowa prosecutors charged him with two counts of fraud for helping a then-top lottery security official allegedly rig multiple jackpot drawings.
Rhodes challenged the arrest in court, claiming investigators did not have sufficient proof to arrest him, but earlier this month a judge rejected that argument, paving the way for today's voluntary surrender. Rhodes was held on $10,000 bond and was expected to be released after processing, his attorney told NBC News.
"After speaking with [Iowa] prosecutors, we flew up last night and Mr. Rhodes surrendered at the Polk County jail this morning," said attorney Terry W. Yates.
"Struck By Lightning"
In an announcement last year that sent shockwaves through the industry, the Iowa Attorney General's office charged that the man responsible for securing America's lottery jackpot drawings secretly rigged the system –- and cashed in on at least five jackpots in various states since 2005.
They said that Eddie Raymond Tipton, long-time director of information technology security at the Multi-State Lottery Association (MUSL), netted millions by manipulating computer software, donning disguises and either playing the right numbers himself, or passing along the right combinations to friends and family. MUSL is a non-profit that helps states run their lotteries, including picking the numbers and maintaining security for games in 37 states.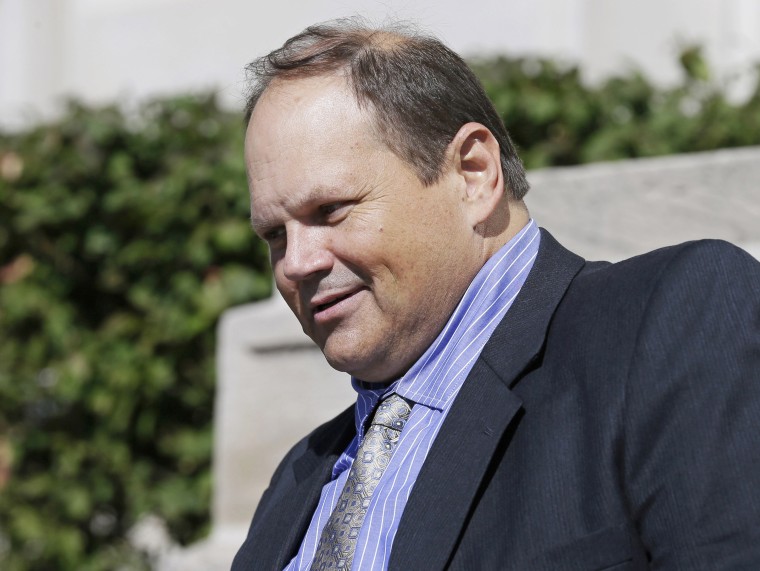 Investigators claim that they have tied Tipton to the winning tickets in at least six jackpots, all of them drawn on either November 23 or December 29 between 2005 and 2011. Tipton's attorney Dean Stowers has insisted his client is innocent of all charges.
For a dozen years prior to his arrest in 2015, Tipton, now 53,was the IT director at MUSL, and led a team that wrote the software programs that generated random numbers for many of the games. He was convicted last July of rigging a $16.5 million Iowa jackpot in 2010. At trial, the lead prosecutor, Assistant Iowa Attorney General Rob Sand showed jurors video of the winning ticket being purchased at a convenience store on the outskirts of Des Moines, by a man wearing what authorities suggested may have been a fat suit and fake beard.
Prosecution witnesses subsequently identified the man as Eddie Tipton.
The odds of winning a $16.5 million prize, one expert has noted, are "akin to being struck by lightning while at the same time being eaten by a shark."
Multi-State Rigging Schemes
Tipton was sentenced to 10 years in prison for fraud. He is appealing the verdict as he awaits a second trial this summer.
In the upcoming trial, Tipton is charged with ongoing criminal conduct and money laundering for allegedly rigging lottery jackpot drawings in Colorado, Wisconsin, Kansas and Oklahoma. His younger brother, Tommy Tipton was charged earlier this year with participating in the alleged Colorado drawing scheme.
The winning ticket for a December, 2007 Wisconsin lottery drawing was cashed in by a limited liability company controlled by Rhodes, according to court papers. Prosecutors also charge that he was involved in ultimately unsuccessful efforts to cash the $16.5 million Iowa jackpot.
When Tipton was convicted last summer, prosecutors were not yet aware that he was Rhodes's friend and former college roommate.
For decades, lotteries in the U.S. have generally been judged to be trustworthy, experts say, and the so-called central "Draw Room" hidden inside MUSL's innermost sanctuary, is designed to reflect that faith. The computer is housed inside a glass-walled chamber with a surveillance camera trained on it 24 hours a day. It can only be accessed by two people at a time. It's not connected to the internet or other networks, and only five people can get inside.
That's how, authorities say, Tipton was able to slip into the chamber and slide what they believe was a thumb drive containing an undetectable, self-destructing piece of malware that generated pre-specified numbers at a given time.