The legal eagle has landed.
Prominent Chicago lawyer Thomas Demetrio has signed on to represent David Dao, the doctor who suffered a concussion after being unceremoniously dragged off a United Airlines flight this week.
And the heavy-hitting attorney is sending a clear message to everyone involved: Bring it on.
"Are we going to continue to just be treated like cattle? Bullied? Rude treatment?" Demetrio asked at a press conference for Dao's case on Thursday.
"We all have had enough ... angst for flying as it is. Don't treat the people who helped make you be the corporate entity you are like Dr. Dao was treated," he said, adding that the City of Chicago may also be liable in the incident.
While no lawsuit has been officially filed yet, Dao's lawyers on Wednesday filed an emergency "bill of discovery" against the carrier in Illinois State Court in order to preserve evidence in the case, including all surveillance videos and cockpit voice recordings.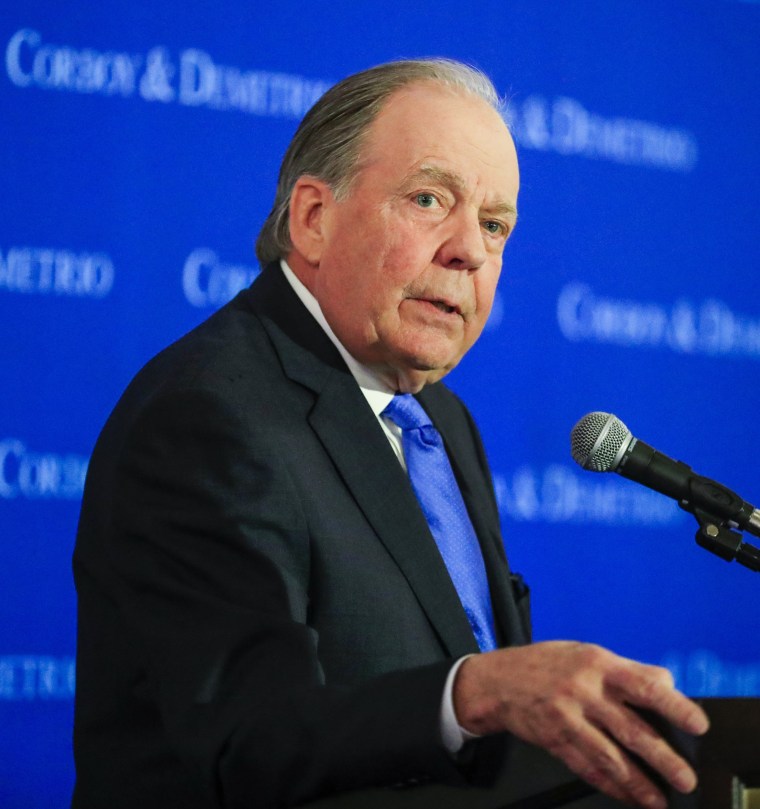 "People have asked me, 'Well, why don't you just file the lawsuit?'" said Demetrio. "When we file our lawsuit, it's going to be because every word, every preposition, is in that lawsuit for a reason," he said.
"If unreasonable force and violence is used, under a set of circumstances, the airline, in this case United Airlines, is responsible," he said.
The airline will have a stiff opponent in the Chicago lawyer who is ranked as one of the top one hundred plaintiff's lawyers in the country, according to the invitation-only Inner Circle of Advocates.
Demetrio, a graduate of the University of Notre Dame and the Chicago-Kent College of Law, is no stranger to battling Goliath defendants in the courtroom.
In 2012, he won a $1 billion settlement against the NFL and NHL by players and their families in a concussion class action initiated by the family of late Chicago Bears player Dave Duerson, according to the Chicago Tribune.
And he represented victims of a scaffolding accident at the John Hancock Building in Chicago, where each of the ten victims got $75 million in the settlement in 2006.
"He's the everyman's lawyer," said retired Cook County Circuit Judge Thomas Hogan in an interview for SuperLawyers magazine in 2009. "He has an ability to connect. He doesn't condescend to a jury. They understand that he's an advocate and that he has fulfilled the promise he made to them at the opening statement," he said.
Related: Doctor Dragged off United Plane Has Broken Nose and 'Significant' Concussion: Lawyer
Demetrio also has a long history of taking on airlines, most notably for victims of plane crashes.
He represented the widow of a man who died in a 1973 plane crash that also killed musician Jim Croce in Louisiana and also the family of musician Stevie Ray Vaughan, who died in a helicopter crash in 1990.
In 1999, he won $30 million in settlements for victims in two American Eagle plane crashes in Morrisville, North Carolina, and Roselawn, Indiana.
The Chicago native has also worked pro bono on behalf families who lost loved ones at in the 9/11 attacks, according to SuperLawyers Magazine.