A pit bull recently found himself a long way from home — a few thousand miles away, to be exact.
Thor, a sixteen-month old pooch, was picked up by the Del Norte County Animal Shelter in October, after somehow making his way from San Marcos, Texas, to Crescent City, California. Thor's owners were forced to abandon him and their two other dogs when they evacuated their Texas home in May during severe flooding.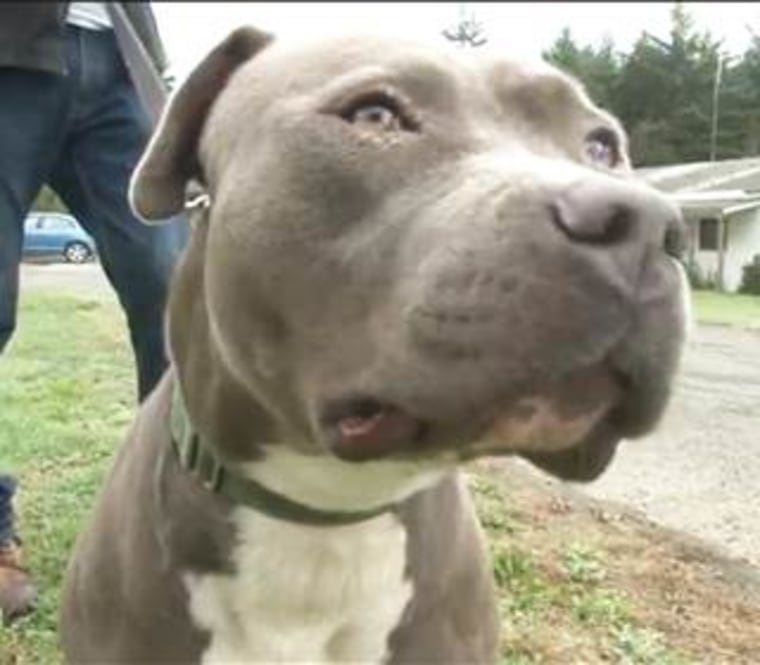 It is unclear how Thor made it all the way to California — but Justin Riggs, director of Del Norte County Animal Control, guessed that someone probably drove him to California. Thor was seen jumping out of the back of a truck, which then drove off without him, before being taken to the shelter.
Riggs told NBC affiliate KIEM that Thor was micro-chipped, allowing him to track down his owners.
"In this case, it was one of the rare situations where an animal was chipped and the information was correct," Riggs said. "So we were able to get a hold of the owner pretty quickly."
Although Del Norte has been in contact with the family, they were forced to delay Thor's trip home again as more heavy rains and flooding swept through Texas, forcing the family to evacuate again.
The owners' other two dogs were returned not long after the floods, but Thor was not found until October.
Thor's owners said that they could not afford the estimated $1,500 it would cost to return Thor to Texas, but the station reported that a long-haul truck driver had volunteered to take Thor home.
In the meantime, Riggs told the station that they will take care of Thor as long as they need to. "Certainly after everything they've been through the least we can do is keep him safe here."