It's showtime for James "Mad Dog" Mattis.
Mattis, 66, President-elect Donald Trump's pick for defense secretary, went before the Senate Armed Services Committee on Thursday. And unlike many of Trump's other Cabinet picks, he appears to have support from politicians on both sides of the aisle.
The selection of Mattis — a blunt-spoken retired Marine general who led the lightning capture of Baghdad during the U.S. invasion of Iraq in 2003 — has drawn praise from regular Republicans, Trump loyalists and even some Democrats.
Related: Who Is 'Mad Dog' Mattis, Trump's Pick for Defense Chief?
Mattis earned his nickname for comments like those he made at a panel discussion in 2005, when he admitted that he enjoyed killing the enemy.
"Actually, it's quite fun to fight them, you know. It's a hell of a hoot," Mattis said. "It's fun to shoot some people. I'll be right up there with you. I like brawling."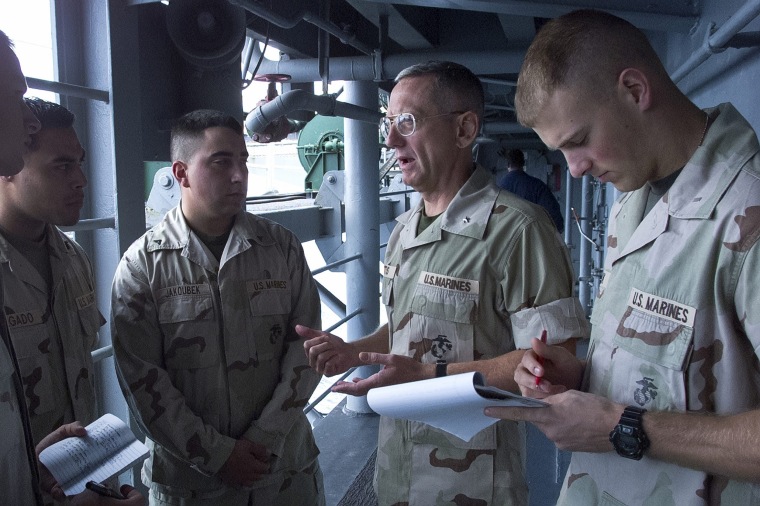 Mattis, however, was also widely hailed for hiring experts on the Middle East to train his men and women in cultural sensitivity after an internal survey showing that many Marines wouldn't report a colleague for abusing civilians.
"Whenever you show anger or disgust toward civilians, it's a victory for al-Qaeda and other insurgents," he told Marines in 2007 at Camp Gannon in Iraq near the Syrian border.
But Mattis, who last served as commander of U.S. Central Command, faces two difficult hurdles on his path to confirmation.
First, Mattis needs a waiver from the law that bars recently retired military officers from leading the Pentagon. He retired in 2013, well short of the seven-year requirement.
That has happened only once before, in 1950, when President Harry Truman nominated Gen. George Marshall, who was Army chief of staff during World War II, to be defense secretary.
While the House of Representatives has no formal role in confirming Cabinet nominees, it would have to join the Senate in approving a waiver for Mattis. And that's not a given.
House Democrats said many members of their party were distressed at the cancellation of Mattis' scheduled appearance Thursday before a House Armed Services Committee hearing on civilian control of the military.
Rep. Adam Smith of Washington, the ranking Democrat on the committee, said Trump's transition team canceled Mattis' appearance without explanation. He encouraged his Democratic colleagues to vote "no" on granting the waiver "if we don't hear from him."
A Democratic spokesperson for the committee told NBC News that the hearing had been canceled because of Mattis' non-appearance. The full House is scheduled to vote on the waiver Friday.
"This is not a minor issue," the spokesperson said. "This is a major issue affecting the principle of civilian control of the military."
Then there is the alleged blot on Mattis' otherwise sterling record that is likely to come up at his confirmation hearing.
A former Army Special Forces officer has accused Mattis of "leaving my men to die" after they were hit by friendly fire while fighting in Afghanistan in 2001.
Mattis hasn't commented publicly on the incident, which was detailed in the 2011 best-seller "The Only Thing Worth Dying For." People involved in the operation told NBC News last month that Mattis, then a brigadier general commanding a nearby group of Marines, refused repeated requests to send helicopters to rescue the Marines.
The book's author, Eric Blehm, told NBC News that he interviewed six of the 11 surviving Green Berets involved in the operation.
"Every one of them said, when they were this mass casualty situation — either wounded [or] tending to the wounds of their buddies — every one of them were thinking, 'Where in the hell are the Marines?'" Blehm said.
Mattis' actions weren't formally investigated at the time.