Ventura County Sheriff Sgt. Ron Helus was used to running toward danger.
As a 29-year veteran of the department and a member of its SWAT team for several years, Helus was one of the first officers to rush inside the Borderline Bar and Grill in Thousand Oaks, California, late Wednesday to answer the call of an active shooter.
He exchanged gunfire amid the chaos, authorities said, and was struck multiple times before another officer dragged him away from the line of fire. He later died at the hospital.
Sheriff Geoff Dean choked back tears during an early-morning news conference, noting how Helus — who had a wife and son — risked his life when he arrived within three minutes of the first reports of gunfire.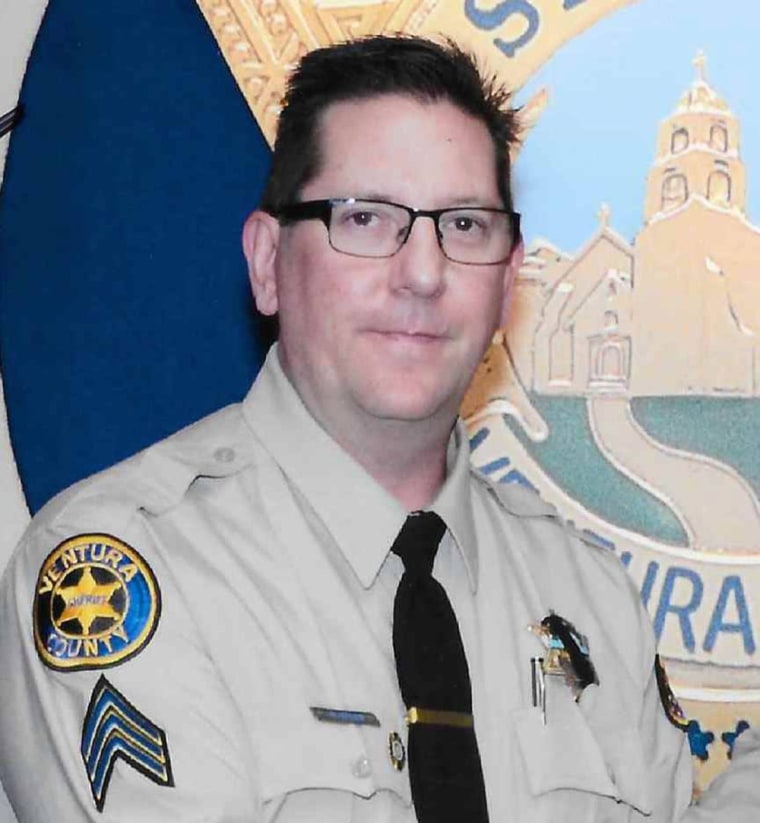 Eleven others inside were killed, but officials feared the death toll could have been higher if Helus hadn't intervened. The gunman is believed to have killed himself inside the venue, Dean said.
Helus "gave his all, and tonight, as I told his wife, he died a hero," Dean said. "He went in to save lives, to save people."
Dean added that he would often work out with Helus at the gym, and he was about a year away from retirement.
Police received reports at about 11:20 p.m. PT (2:20 a.m. ET Thursday) for a shooting at the Borderline, a country western bar packed with patrons during a college night for people 18 and older.
Witness Matthew Wennerstrom told NBC Los Angeles that the shooter was dressed in "all black" and armed with a handgun when he began shooting. Patrons tried to flee out of his path as he made his way to the bar.
"He didn't say anything, at least not that we could hear," Wennerstrom said. "Everyone was just trying to get out."
Others described hearing a volley of shots, then seeing bodies on the ground. About 10 to 12 people were also injured, police said.
As reports of the shooting came through, Helus was on the phone with his wife. He told her he had to handle a call and said he loved her, according to Dean.
He arrived at the Borderline, located about 40 miles west of Los Angeles, along with another officer with the California Highway Patrol.
Helus — trained to enter a building when there is a report of an active shooter — went inside, and was met with gunfire. He exchanged bullets with the shooter, Dean said.
"He was willing to sacrifice his life for the sake of others," Dean said on "Today." "He ran into danger — he didn't walk."
Helus, 54, had a firearms training business in Ventura County, offering instruction on how to use and maintain various types of guns and the laws for carrying in California. On his website, Helus said he teaches in the Ventura County Sheriff's Office, which he joined in 1989.
His personal Facebook page includes photos of him fishing and enjoying the outdoors along the San Joaquin River.
"He was a cop's cop," Ventura County Sgt. Eric Buschow said on MSNBC. "He's the guy that if you were the victim of a crime, he's the guy you'd want investigating it, because he'd go to every length to find the person responsible."
A motorcade along the 101 Freeway led Helus' body from the hospital to the Ventura County Medical Examiner's Office in Ventura.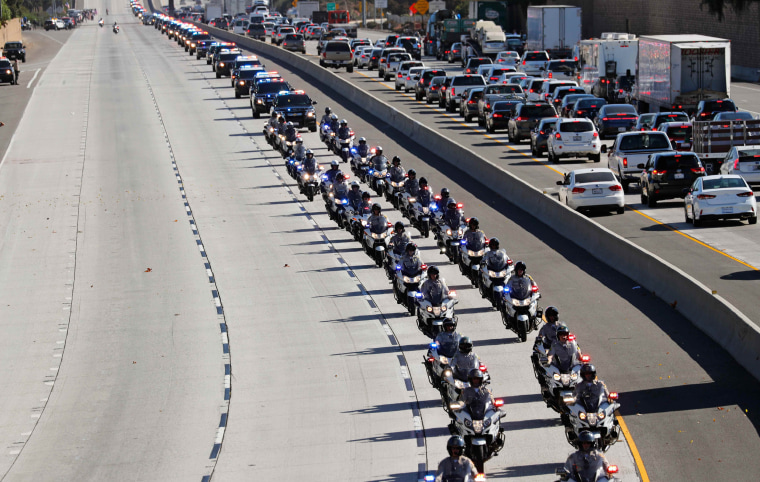 The gunman in Wednesday's mass shooting was named Marine veteran Ian Long, 28, Dean said. Several law enforcement officials had earlier said he was 29.
Dean said officers found Long dead at the scene. He was armed with a Glock 21 handgun with an extended magazine.
Long had not been carrying any form of identification, and his fingerprints had to be run through databases, Dean said.
About 150 to 200 people may have been inside the bar during the rampage, and hours after the shooting, families and friends were waiting anxiously nearby for word about their loved ones.
"This is, by far, the most horrific thing I've seen in my 41 years," said Dean, who had already planned to retire from the department Friday.