PITTSBURGH — Jews and gentiles gathered in synagogues, community centers and college campuses around the world one week after a gunman killed 11 at a synagogue in Squirrel Hill, a historic Jewish neighborhood in Pittsburgh. Many took the opportunity during services on Friday night and Saturday morning to embrace and say two simple words: "Shabbat Shalom."
The phrase is a traditional Hebrew greeting used to wish others a peaceful Sabbath.
The deadly attack on Oct. 27 led the American Jewish Committee and the Jewish Federations of North America to create a campaign and hashtag that encouraged people to "#ShowUpForShabbat" this week — regardless of their religious beliefs or lack thereof.
Rabbi Noam Marans, the American Jewish Committee's Director of Interreligious and Intergroup Relations, wrote a column on Thursday encouraging all to attend services, stating that "This Shabbat cannot be like any other Shabbat."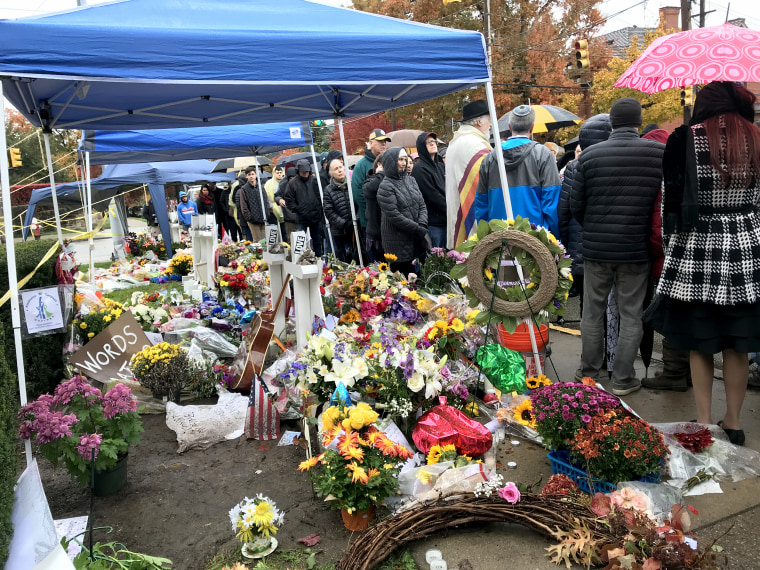 "Synagogues all over the world will be more filled, rather than less filled," Marans wrote. "We will not run away. We will not cower. We will not allow the hate of a few to drive out the love of the many. We have been blessed by the many beyond the Jewish community who have joined us in our sorrow and defiance, not only by their presence in our synagogues this Shabbat, but by their statements and vigils of solidarity, declaring unequivocally: We are all Jews."
Congregations as far from Pittsburgh as Hiroshima, Japan, and London held services for anyone wishing to take part. In Boston, 1,500 people attended services on Friday night to support the victims of last week's shooting.
Political leaders and celebrities supported the campaign on social media.
The accused shooter, Robert Bowers, 46, reportedly yelled "all Jews must die," before opening fire on the Tree of Life congregation in Squirrel Hill. Six additional people were injured in the shooting, including four police officers. Bowers is charged with 29 felony counts, including 11 counts of use of a firearm to commit murder and 11 counts of obstruction of the exercise of religious beliefs resulting in death.
In the days since the shooting, Pittsburgh residents have marched, prayed and sang with their Jewish neighbors to show their support. Thousands attended services across the city on Friday and Saturday to stand against the anti-Semitic attack.
Joanne Rogers, the wife of Fred Rogers, who created PBS's"Mister Rogers," attended and spoke about the tragedy during Friday night services in Squirrel Hill, where the couple raised their two children.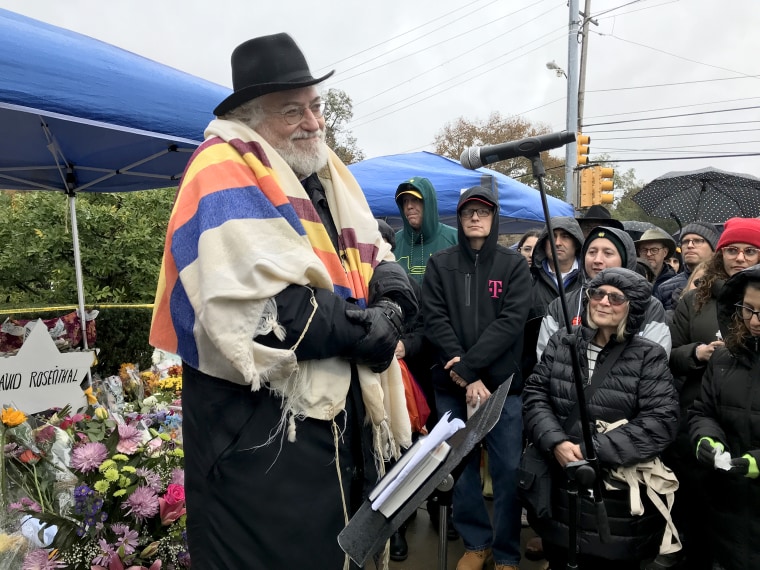 "The most important thing is the love and the care that came out of that from the people here," Joanne Rogers said. "And that won't go away — it won't. We just can't let it go away."
After traditional services on Saturday, hundreds of Pittsburgh residents gathered around a memorial outside the Tree of Life Synagogue — still wrapped in police tape — and prayed together.
It was an impromptu moment led by Rabbi Chuck Diamond, who served this congregation for seven years.
"It's healing. It's very painful, but it's healing," said Dea Fern, who attended Tree of Life Synagogue and knew the people who died. "I've been to the funerals. That was hard. I haven't been able to come here, and I'm able to be here now with my dear friends. It's a sad Shabbat, but I remember them with joy."
Ezra Kaplan reported from Pittsburgh and Phil McCausland from New York.